Pros:
Kenwood is an old company with a reputation for quality, and it really shows.Everything about these car stereos is top notch, from the craftsmanship to the quality of sound. Plus, we were very pleased to see that there are several options and models of aftermarket receivers that you can choose from.And that's what we love most about it.
Cons:
There isn't much negative feedback to give Kenwood car stereos.However,the receivers we've had the opportunity to get our hands on are pretty expensive and it's definitely an investment.
Kenwood car stereos are impressive car stereos. They're pretty popular on today's market and represent one of the handful of major brands.They specialize in car entertainment and other after market accessories, selling car stereos, speakers, subwoofers and external amplifiers.
Kenwood has been around a long time.This is an historic in-car entertainment company with a great reputation.They've been around since the bad old days when putting an eight-track stereo in your car was what you got for christmas or graduation.From 8 tracks to cassettes,from CDs to DVDs,from old school cell phones to the latest in digital smartphones,Kenwood has always been on the cutting edge of the industry.The company has a proven record for providing high quality car audio systems, and their head units are surprisingly impressive.They provide several different car stereo types, with the eXcelon Series being the best car audio head units Kenwood has to offer. eXcelon headunits incorporate  the most advanced techniques and technologies.This ensures greater efficiency and an unparalleled sonic performance.
It's very easy to see that Kenwood puts a lot of energy into creating a good car stereo. The design is sleek and straight-forward with easy to see and use buttons and display.However, The price tag is quite a good deal. Floating around $60-$100 (and even more for their top-end stereos), it's a significant investment for the average Joe. So, the question we want to answer is: For those of you who have access to dozens of other car receivers from just as many manufacturers, are Kenwoods car receivers worth the price?  Let's find out.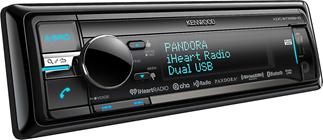 The Kenwood KDC-BT958HD is the leading model of the KDC series and it offers the best features available in this car audio series.The KDC-BT958HD is one of the priciest model in this round-up, but it's probably worth it. It provides an excellent sonic performance,built-In Bluetooth for Hands-Free calling and wireless audio streaming,a high number of RCA outputs, as well as the flexibility to customize the sound and display.As the flagship model of the Kenwood KDC series, this model shows off what the series has to offer.
The KDC-BT958HD also features an easy to read 3-line display that can be switched to a 2 line mode for larger, easier reading of text.The receiver's display and illumination colors can also be changed to match your car's dash or your mood;moreover,the KDC-BT958HD's display can be configured to show bouncing graphics of the spectrum analyzer,a clock or just a blank display.
This head unit has a CD player, as do all the models in the KDC category,and the dust covers conceal and protect the CD slot, aux input, and USB port.It also comes with two versatile USB ports for accessing and controlling music stored on your iPhone ,Android phone or thumb drive.
The next feature you may or may not have already is Bluetooth connectivity.The KDC-BT958HD has built-in Bluetooth and includes an external Bluetooth microphone that you can place in an optimal location within your vehicle for improved hands-free communication.Bluetooth is a great feature as it gives you hands-free calling convenience as an innovative safety feature. It will also save you from tickets and hefty fines,as many states enact or consider banning hand-held calls or texting while driving.You can also use Bluetooth to stream music files from your phone or use music apps like iHeart Radio and Pandora.
The KDC-BT958HD is an outstanding head unit with plenty of power to drive your speakers.It's sleek and functional look, coupled with other features including bluetooth connectivity,multi-line display,HD-Radio,two versatile USB ports … etc,make this head unit the finest model in the KDC series.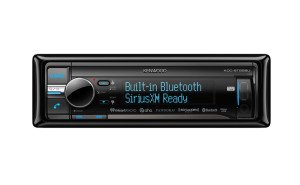 Kenwood head units tend to be quite durable and reliable,and the KDC-BT858U headunit is no exception.It's been designed to be a user-friendly,luxurious center for entertainment in your vehicle.Its multi-function control knob and a few buttons give you a quick access to an impressively large array of features,including hands-free calling facility,wireless music streaming,Internet Radio , and more.
Stay safe and obey state laws that forbid the use of hand-held phones with built-in Bluetooth.The SSP technology (secure simple pairing) makes pairing you smartphone to this head unit as easy as a pie.The headunit's Simple Secure Pairing system automatically detects and pairs phones in close proximity to the receiver without having to enter pin codes or go through complicated settings, ensuring hassle-free hook-ups.This technology will make your life way easier as you can simply pick up your calls by simply touching the dedicated button when you receive a call.Moreover,the headunit can be configured to reply automatically to your text messages to let your contacts know that you are busy driving.
Additionally,you can change the headunit's display and illumination colors to match your car's dash.If you're of a certain age, with the kind of eyes that come with that certain age, you'll be happy to know that you can switch the 3 line display to an easily readable 2 line format with a larger font.Notice that you can also configure it to just show the clock or a blank display.

The brother of the KDC-BT858U, the main difference between that receiver and this is its lack of bluetooth connectivity; That might be a huge drawback for those of you who don't like pulling over to the side of the road to make or receive a phone call.
One of the hallmarks of Kenwood KDC series are their durability; if you get one of their receivers, you'll be sure to have it last for years and years, and the KDC-HD455U is no exception.The look of it is nice and solid without being too flashy.
This receiver is very much like the rest of the receivers in the Kenwood KDC series line.It comes with a decent array of features for the price including HD Radio™ Technology as a standard feature that highlights Kenwood's commitment to bringing the latest digital entertainment technologies to their customers.HD Radio is a technology that has been revolutionizing the AM and FM broadcasting industry , eliminating the noise and disruption that cause the static, hiss, pops and fades associated with today's conventional analog radios.This will add a valuable element of "realism" to your music making AM sounds FM-like, and FM broadcasts almost like CD's sound quality.
Additionally,if you enjoy listening to Pandora® Internet radio with your iPhone,you'll be happy to know that this receiver supports Pandora , which means you can browse stations,bookmark songs and rate them without having to pick up your smartphone.
When it comes to audio controls,the KDC-HD445U features a 3-band equalizer with 8 preset EQ curves,high- and low-pass filters as well as selectable bass boost.Moreover,you can retain the convenience of your car's steering wheel audio controls using an adapter (not included) which is just a matter of connecting a few wires, and then programming the adapter for your particular car and stereo.