Pros:
Undoubtedly, this is a world-class loudspeakers manufacturer.Infinity loudspeakers have a very long tradition of quality and reliability. It's not by coincidence that Infinity speakers are the best selling car speakers on the market.If you don't care anything else besides getting a well-engineerd set of speakers at a reasonable price, we would definitely recommend you infinity speakers.
Cons:
There aren't a lot of cons here. However, the bass response could be a better.Mid range notes could also be a bit more powerful.Overall, there's a lot of room for improvement.Actually I think Infinity speakers are a good deal for what you pay for.Lastly, the sound experience of Infinity speakers varies pretty widely depending on which model you buy.
Before we dive into the reviews,let's first remind ourselves just what we're dealing with here.Infinity is another example of superior American manufacturer of loudspeakers founded in 1968.Like Pioneer,JBL and others we've reviewed,Infinity provides an above par sonic experience at competitive prices.It's one of the iconic brands in car audio industry.
Infinity has been around a really, really long time.They offer a wide array of products for various audio applications, including multichannel surround sound home theater systems,in-wall speakers,marine speakers and car audio speakers,amps,and subwoofers.
They've mastered it all … the quality,the performance and especially the pricing which is actually very affordable when compared to other brands.However,with any brand,there are some who love it and some who aren't too fond of it.We consider infinity speakers to be a bit lacking in terms of bass, but Hey isn't that what external subwoofer are made for? You Got That Right.If you already have or you intend dropping an external subwoofer into the mix down the road, then you won't need to worry about bass.A decent subwoofer can cover those low frequencies.The point is: Although we consider infinity speakers to be great products and we do recommend them,we also recommend you choose a set of speakers with deeper frequency response if you've no intention adding an outboard subwoofer to your sound system– Which is by the way highly recommended.
Although we have previously stated that infinity speakers will do well for both aftermarket stereo systems and factory stereo systems,we've found that many people use them as factory speakers swaps.Having a set of aftermarket speakers paired to a factory headunit might seem to be a bad move, simply because these speakers require more power than what a typical stock headunit can put out.With that being said,make sure you match your headunit power ouput to the speaker's RMS you're about to purchase.
The Infinity Reference series speakers are some of the most popular,and the top selling aftermarket speakers around.People just tend to like the way they sound.They come in all the standard sizes for replacing factory speakers and in various configuration to meet virtually the requirements of different applications,and they're great for upgrading on a budget.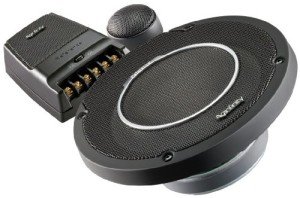 The 6030cs (linked to above) is a 2-way component system rated at 90 watts RMS power handling with a sensitivity of 93 dB.These speakers will do well in both premium sound systems as well as in typical stock sound systems.However,in order to take full advantage of them ,it's highly recommended to pair them to an external amplifier or at least to an aftermarket headunit.Their power handling,mainly RMS is high enough to sustain amp's power output.Moreover,their sensitivity is considered moderately high which means they get louder with less power.
The 6030cs speakers deliver far more detailed notes than any stock speakers,certainly there are speakers out there with smoother sounding tweeters and more accurate mid range drivers, but you'll often pay quite a premium to get that kind of improvement.However,if you're seeking a moderately priced set of door component speakers that will give you an above par sonic experience than your stock speakers, these are speakers  that have been well and truly proven in the field, and so you can't really go wrong with them.Our only complaint was that these speaker's frequency range lacks much of the low-end bass – resulting in punchy , alive bass sounds that lacks much of the fullness you'd usually hear with speakers with deeper frequency response.
The soft dome tweeters can be mounted in a variety of factory speaker openings thanks to the supplied unique Starfish™ mounting brackets that allow you to install the tweeters in factory dash location without having to modify and without having to build any custom brackets.It's a great time saver,and it also allows you to avoid having your tweeter stick out of the dash.
The external crossovers act as a middleman, forwarding frequencies flow to proper drivers for great clarity and high efficiency.
Type : 2-way Component
Size :

6.5″ inch

Overall Frequency Response :

53 – 21,000 Hz

Nominal Impedance :

2 Ohms

Power Handling

RMS :

90 Watts

Peak : 270 Watts

Sensitivity :

93 dB

Warranty : 1 year
---
If you've read the last review and thought "component speakers aren't what I've been looking for", you'll be happy to know that Infinity also offers almost the same speakers but in coaxial configuration.Matter of fact there's even a shallow mount 6-1/2 inch speakers (Infinity Reference 6032si) for fitting in narrower doors.
Infinity Reference 6032cf speakers can fit both 6-3/4″ inch and 6-1/2″ inches enclosures.These speakers feature a Plus One+ woofer design that allows speakers to have up to 35% larger surface on all the woofer cones,which results in a significant bass increase and more low-frequency punch.Sitting on top of that woofer is a 1″ inch textile dome tweeter that comes with a level control that allows you to fine-tune the tweeter's output to your specific vehicle and listening taste.Furthermore,the tweeters can be pivoted so you can adjust the sound output for perfect stereo-imaging.
In terms of drawbacks,the major downside is the frequency response range which doesn't reach as low as we would like,so don't expect ground-pounding bass out of these speakers.Don't get us wrong here,they sound fantastic playing non-bass heavy tracks.If you want to pump up the bass however,get an external subwoofer and enjoy both worlds (Full,rich bass & clear,accurate high frequencies).
Type : 2-way coaxial
Size : 6.5″ inch
Overall Frequency Response: 53 – 21,000 Hz
Nominal Impedance: 4 Ohms
Power Handling

RMS  : 60 Watts
Peak: 180 Watts

Sensitivity: 93 dB
Warranty : 1 year
---
Kappa car speakers are Infinity's high-performance line of car speakers,and there are some compelling reasons that make them very desirable.First of all,their woofers are made with glass fiber which allows them to hold their shapes well even under severe pressure, and most demanding conditions.Glass fiber has great advantages over traditional materials as it's lightweight, yet rigid ,so you don't need a ton of power to power this woofer,moreover it contributes to low cone flex, reduced distortion, and enhanced acoustic clarity.
Furthermore,and as we've already said, Infinity's Plus One+ woofer technology is what makes these speakers so special and so effective when compared to most comparable speakers.Plus One+ woofer technology extends the cone surface area right up to the edge of the basket – resulting in more bass that complement the superior high-frequency response.
The best part about these speakers is that although they're just coaxials,they come with a separated crossover.Coaxial speakers aren't normally equipped with external crossovers, but because these are built with high-performance in mind, Infinity wanted to make sure the right frequencies are forwarded to the right part of the speaker — low frequencies to the woofer, high frequencies to the tweeter — and that's what makes them shine out above the rest.
Additionally,their edge-driven 1″ soft dome tweeters deliver smooth response way down into midrange frequencies that aren't usually covered by smaller V-shaped domes, which basically means more soundstage and detailed notes.Infinity's UniPivot design plays a huge role in this as it allows pivoting tweeters so they can broadcast towards your ears which therefore leads to an excellent stereo imaging even if the speakers are mounted in the bottom door corner.Each tweeter features a 3db tweeter attenuation switch which simply allows you to fine-tune your tweeters output for your particular application and music taste.For example, if you've got a couple subs in your trunk, you might want to switch on the 3 dB attenuator so you enjoy balanced sound.Otherwise,you can switch it off  – cutting the highs a little bit to avoid overpowering the sound output.
Type : 2-way coaxial
Size :

6-3/4″ (also fits 6.5 enclosures)

Overall Frequency Response: 45-25,000 Hz
Nominal Impedance:

4 Ohms

Power Handling

 RMS : 75 Watts
Peak  : 225 Watts

Sensitivity:

95 dB

Warranty :

1 year
---
The 609CS is one of the best Infinity's component car speakers.It's another reasonably priced set of speakers, but again, it's very well-engineered and would be a great investment for anyone who's looking for a set of component speakers that doesn't cost an arm and a leg.
If properly powered, we guarantee you that these component speakers will truly revitalize your overall listening experience.Their fairly steep sensitivity rating of 95 dB,combined with an impressive 90 watts RMS power handling make these speakers an unbeatable value at an affordable price point. As for the sound quality,it's quite impressive,comparatively speaking.They will sound great running off an aftermarket receiver, but they'll really shine when driven by an external amplifier.
I think people who are looking for an easy replacement for factory speakers no fuss no muss,you might want to skip on these to some of coaxial speakers we've reviewed previously;like we said before,component car speakers installation process can be a bit tedious, but it's worth it.I'm not even sure whether to register this as a complaint, but I'd say that component speakers will give you a whole different experience.
Type : 2-way Component
Size : 6-1/2″ And 6-3/4″ 
Overall Frequency Response: 45 – 35000 Hz
Nominal Impedance: 2 Ohms
Power Handling

RMS : 90 Watts
Peak : 270 Watts

Sensitivity: 95 dB
Warranty : 1 year