Pros:
Kenwood is an old company with a reputation for quality, and it really shows.Everything about these car stereos is top notch, from the craftsmanship to the quality of sound. Plus, we were very pleased to see that there are several options and models of aftermarket receivers that you can choose from.And that's what we love most about it.
Cons:
There isn't much negative feedback to give Kenwood eXcelon car stereos.However,these receivers are pretty expensive and it's definitely an investment.
To save you time and effort,we've distilled the greatest, exclusive and truly unmissable eXcelon receivers that Kenwood has to offer. We realize that you fellas have different needs, preferences, etc. So, please have a look at our recommendations from Kenwood.
Any of these receivers would be great buys. Much of it comes down to personal preference. Like with any product, you can get some really, really great head unit if you're willing to shell out some serious cash, but there really are great products in every price range.
Ok, now we're just having fun. This is one of the most badass, crazy, luxurious head units on the market. And, assuming you've got the cash to throw around, it's one of the highest quality car stereos you can buy. Buying one of these headunits is like buying a Cadillac for your stereo system. It's just a whole different experience.
Obviously, these are some pretty expensive receivers. So what really are you buying? Well, first, like all Kenwoods receivers, it comes with various features and benefits.So, lot of what you're paying for here is the features.
Each version of the eXcelon is more advanced than the one before (so KDC-X397 is the entry-level and KDC-X998 is the advanced), and more features and performance = a higher price tag.The KDC-X998 head unit is the forerunner high-powered model in the eXcelon series.It is loaded with all the best features and options available making it the best example of what to look for when you're on your quest to find the best car stereo for your vehicle.
As the flagship model of the eXcelon series, the Kenwood KDC-X998 boasts a healthy concentration of features and great sonic performance.And to assure you that this versatile receiver is reliable and trustworthy,Kenwood offers a 2-year warranty.
The Built-in Bluetooth® Wireless Technology allows for hands-free calling and audio streaming from most Bluetooth-enabled smart phones.When you pair your phone with this car stereo, a world of possibilities opens up.With SSP (Secure Simple Pairing),you can easily pair a Bluetooth enabled smartphone to this headunit without going through complicated or tedious procedures  such as entering pin codes everytime your smartphone is detected.The headunit automatically detects and pairs registered Bluetooth devices in close proximity to the receiver.The headunit can connect to two Bluetooth devices simultaneously, and you can assign priority to one over the other.
If you're an iPhone® user,the KDC-X998 gives you full Siri Eyes Free control with compatible Siri-equipped iPhones.Moreover,the KDC-X998 can reply to text messages to let your contacts know that you're busy driving.Your incoming calls can be set to pick up automatically or at the touch of a button if you prefer to screen incoming calls.For the outgoing calls,you can either choose to go through your phonebook on the easy to read multi-line display or by voice dialing (if supported by your mobile phone).This headunit comes with an external Bluetooth microphone that can be placed in an optimal location within your vehicle for an improved hands-free communication.
Additionally,the KDC-X998 is compatible with Pandora, Aha Radio and iHeart Radio apps, giving you access to even more stations that you can scroll through,bookmark songs, and give a thumbs-up or thumbs-down right from your receiver's face.Furthermore,you can also download the Kenwood app to control the head unit with your Android smartphone-(This free Kenwood App can now be downloaded from Google Play).
This model also offers a great expansion capability with its 6 channel preamp outputs,which allow adding additional components such as speakers, subs,and external amp for an extra boost to your car audio system.The headunit has built-in low-pass and high-pass filter controls that let you send your components only the frequencies they're best equipped to handle.
The KDC-X998 features an easy to use multi-line display (3-Line Max) that
shows a great deal of information including but not limited to phone numbers, song titles,stations names, and source data.You can also choose from various display and illumination colors that match your car's interior.The three line display can be switched to two line for more convenience and safety.It can also be configured to show the clock,bouncing graphics of the spectrum analyzer or just a blank display.
Comfort and safety come first with this receiver as it let's you retain your vehicle's steering wheel controls to help keep you safer on the road.Buy an adapter, connect a few wires and program the adapter for your car and this unit.
To put it simply, the KDC-X998 comes with everything you'll ever need.And, assuming you've got the cash to throw around, it's one of the highest quality receivers you can buy.
General Features :
CD receiver with AM/FM tuner
TDF(Theft Deterrent Faceplate) with selectable 2- or 3-line display, plus variable color display
Anti-Dust Flip-up door
Built -in HD Radio
Built-in Bluetooth
Built-in MOSFET amplifier
Front AUX & Dual USB Interface (Front/Rear)
MP3/WMA/AAC/WAV Files Playback
Remote control
Built-in iPod, iPhone, and iPad control
The KDC-X697 is another beautiful and trusted car head unit by Kenwood. Admittedly, like other stereo reviews we have done, the KDC-X998 is yet another great headunit from Kenwood.This receiver is beautifully crafted with a very sleek finish.However,It doesn't come with as many features as the receiver we've reviewed above.And less features = low price tag.
This receivers has all the essentials to get your started. It comes with a decent set of features such as dual front and rear USB ports,6-channel preamp outputs and remote control.It also comes with multiple entertainment options including Pandora Internet Radio and iHeart Radio and you'll be able to scroll through your stations and give a thumbs-up or thumbs-down right from the receiver's great looking pixel display which can be switched from three-line to an easy-to-read two-line configuration with larger font size.You can also  adjust the color of the button illumination to match your dash lighting.
If you're looking for a mid-range eXcelon car stereo,look no more than the KDC-X697.One of the single most complaints about this car receiver was its lack of bluetooth connectivity which keeps it from being a truly excellent, affordable head unit.
Note that this receiver is covered with Kenwood Excelon's remarkable 2-year warranty, which is great.
General Features :
CD receiver with AM/FM tuner
Pandora & iHeartRadio
Built-in MOSFET amplifier
Detachable face
Adjustable multi-line display
Variable-color button illumination
High- and low-pass filters
3-level bass boost
6-channel preamp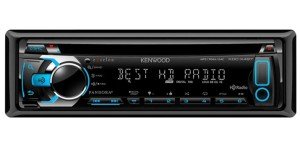 For those of you who read the last reviews and thought "these receivers are too expensive" will be happy to give this bad boy a try.It is very reasonably priced at just around $90.Like the previous receiver we included, this receiver also comes with lesser features than the top-end receiver (KDC-X998).However,it makes a great entry level receiver.
While retaining an AM/FM tuner, the Kenwood KDC-X497 also includes a built-in HD Radio that allows you to hear your favorite songs and music in crystal-clear HD Radio clarity.Furthermore, the KDC-X497 is compatible with the Pandora,so you can hook up your iPhone to the USB input and enjoy your favorite stations with with thumbs-up, thumbs-down, and bookmarking possibilities.If you are an Android user,the downloadable Kenwood's free music Control app comes handy as it allows you to enjoy a variety of features such as search ,playback,RW,RR …. when your phone is plugged in via the USB.
In terms of quality and performance, Kenwood Excelon receivers are built to deliver impressive sonic performance,and this receiver is no exception.It features 4-volt preamp outputs for an easier upgrade in the future.The KDC-X497 also comes with three band parametric equalizer that allow you to adjust the centerpoint of your treble,midrange, and bass controls,while the frequency filters send your speakers,tweeters and subwoofers the frequencies they're best equipped to handle.And Kenwood backs up this versatile receiver with a 2-year warranty.
General Features :
CD receiver with AM/FM tuner
Built-in HD Radio tuner
Built-in MOSFET amplifier
Remote control
Pandora control with iPhone
High-pass filters & low-pass filters
6-channel preamp