Pros:
There's no denying these are world-class double DIN head units. Pioneer double din head units have a very long tradition of quality, and it's immediately apparent as soon as you start using one. The head units we review here come with some exclusive and impressive set of features which results in excellent sound clarity and purity,not to mention entertainment and enjoyment.
Cons:
There isn't much negative feedback listed for Pioneer double DIN head units.However,they tend to cost an arm and a leg when compared to some other headunits in the same category;when you pick one of these up,you'll see immediately where the extra money went.
General Thoughts on Pioneer Double DIN Head Units
Pioneer is another example of superior Japanese car audio equipments.Like Kenwood, and others we have reviewed.Pioneer provides a variety of specialized car audio equipments that feature high-quality sound and stylish design.Pioneer audio components were introduced to the market in 1938, and have since flourished in the audio industry.Today, we're reviewing two of the most popular Pioneer double din head units.
It's very easy to see that Pioneer puts a lot of energy into creating a good double DIN head unit.The materials are high quality and the finish is pure premium.However,the price tag is (and always has been) fairly steep especially in high-end and high performance head units.Floating around $100-$300 (and even more for their top-end double din head units) it's a serious investment for the average Joe.So, the question we want to answer is : For people for have access to dozens of other double din head units from just as many manufacturers,are Pioneer head units worth the price? Let's find out.
Pioneer Double DIN Head Units : AVH Series
Obviously, these are some pretty expensive head units.So what really are you buying? Well, first of all the build quality, ergonomically speaking, it's outstanding!. With the AVH series,you can either select the entry level or the most advanced model.So, lot of what you're paying for here is features.Each version of the AVH series comes with extra features than the one before (so AVH-X1500 is the entry level and AVH-X8500BHS is the top-end ) , and more features = a higher price tag.The size of these head unit doesn't really affect how well (or not well) the head unit performs, though, so the size you choose will probably be personal preference based on how big you like your receiver or on you car's dash opening size.
These models boast the very latest designs and specification and offer impressive sound quality,features and plenty of cool entertainment options, which makes them perfect for today's on-the-go lifestyle.
Enhanced touch slide user interface, Apple/Android devices control, USB connectivity, SD card playback, Bluetooth® for hands-free calling and audio streaming, SiriusXM ready ,not to mention programmable functions and remote operation are among the many features that these models offer to end-users.With such a wide range of capabilities it is easy to see why Pioneer is the forerunner company of choice for its clients.
The models linked to above feature large , beautiful touchscreen displays ranging from 6.1-inches to 7-inches,their sturdy design and innovative user interface makes the access to desired functions smoother and simpler than ever,the slide interface for instance enables users to quickly navigate through the menus by touching and dragging the text on the screen,it also allows smooth and easy navigation through large media lists and phonebook contacts list.
Pioneer didn't stop at this stage , but they went the extra step and built a variety of multimedia options to ensure that you will be properly entertained while you are hitting the road.

Pioneer Double DIN Head Units : FH series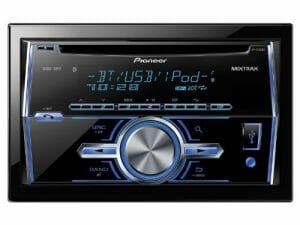 Pioneer offers a range of small double DIN stereos.Most of their head units come in different sizes, but a few are particularly small like  the Pioneer FH-X700BT and Pioneer FH-X500UI. These a re great small double DIN head units ,but depending on your vehicle's dash opening size , you might look to using one of these as your go-to receiver.It's Pionner's best-selling car stereo receiver,probably because it's in more of a middle-high price range. You can get this receiver for about $100-$120.
With Pioneer's innovative and exclusive illumination feature "MIXTRAX" you can choose from over 210k colors to match your receiver's display to your vehicle's dash illumination , with these real showstopper you can also separate your receiver's control buttons and display using different colors creating the look that makes you grin from ear to ear .
All these features will make your ride truly enjoyable, and will liven up your car's stereo and make it look as great as it sounds.
If you prefer a small double DIN stereo receiver, both the FH-X700BT and the FH-X500UI share all the characteristics of Pioneer FH series: MIXTRAX,hands-free calling and wireless audio streaming ,super high-quality and a well-conceived design,high-pass and low-pass filter settings.
Our only complaint was that these models are a little flashy and bright. Some of you may really like that.However,that's not a major concern