Pros:
There's no denying this is a world-class speaker.Polk Audio speakers have a very long tradition of quality, and it's immediately apparent as soon as you pick one up.The speakers we review here (DB and AA series) come in various shapes,sizes,and performance and they produce an excellent sound quality.With any luck you'll find something that meets your needs and fits your vehicle.
Cons:
There aren't a lot of cons here. However, while the sound is excellent, it doesn't live up to some of our favorite high-end speakers. It also has the occasional tendency to distort at high volume levels.These make fantastic OEM replacement speakers.
So, we've already reviewed a few Polk Audio speakers on this site. We thought it was time to introduce you guys to the brand!
Before we dive into the review,this is an historic audio company with a great reputation.Polk Audio have been around since 1972,they hold numerous patents in the world of loudspeaker design.We don't just mean car speakers,but amplifiers,subwoofers and FM tuners.Polk is also a leading manufacturer of home theater equipments. To us, this means that Polk has mastered the art of providing quality products,while ensuring affordability and rock solid reliability, combined with design and aesthetics.As with any purchase of quality products,you must feel that your investment incorporates your personality and reflects your style.
All these features are covered by various speaker types (full range & components),five sizes across speakers range (6×9, 6.5, 5.25, 5×7, 4) and varying configuration options.Polk Audio™ only uses the highest quality materials and the latest technology,thus ensuring reliability and sound accuracy.
>>Click here to see prices, specs and reviews of Polk car speakers<<
General Thoughts on Polk Audio Speakers
We've come to really like Polk speakers.We've found that they are of a much more consistently good quality than their other products. One thing we have noticed across the board with Polk speakers,is their stylish look.They feature stainless steel mounting hardware and tough-looking ABS grilles with brushed aluminum look finish that will add stylish touch to your car's interior making it look as good as it sounds.For the price, we believe Polk is a great brand to try.Their speakers are reasonably priced and they make a great option for beginners and audiophiles alike.Note that Polk Audio db Series speakers are  certified for marine use, so they are perfect for use in boats of all types.Moreover,when Correct Craft offers Polk speakers in their award-winning Nautiques ski and wakeboarding boats,you can't simply ignore the fact that they're great.
We included a few different options for you fellas. We realize that you guys have different vehicles, preferences, etc. So, please have a look at our recommendations from Polk Audio.
One thing to note with this, is the quality of sound you experience in your car will increase with the quality of speakers you buy.Speakers built with cheap materials will not deliver the highest quality and will not be able to withstand regular and sustained use in the longer term.Whereas, high-end speakers will truly breathe a new life into your sound system while ensuring reliability and performance.
So how do Polk's car speakers measure up?
Size : 6.5″ inch
Overall Frequency Response: 35Hz-23kHz
Nominal Impedance : 4 Ohms
Power Handling

RMS : 100 Watts
Peak : 300 Watts

Sensitivity : 92 dB
Warranty : 1 year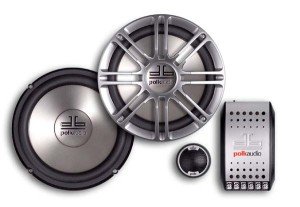 The Polk Audio DB6501 is going to be the most expensive pick of the lot by far.If you have read some of our reviews of component speakers,you will know why.You truly get an impressive sound with this type of speakers.They are made to last.
Polk's versatile db6501 component speaker system features 6-1/2″ woofer made from a polymer/mica composite for big sound with little distortion , as well as durable rubber surrounds that are age proof and allow high cone deflection to facilitate the delivery of higher quality bass and to withstand extreme temperatures and sunlight for long-lasting use.Furthermore,this two-way component system features 25mm liquid-cooled silk/polymer dome tweeters with Neodymium magnets for clear, detailed and sharp highs,immersing you in a pleasurable atmosphere.With the included swivel-mount cups you'll be able to either surface or flush-mount your tweeters.Whichever approach you decide to take,just make sure you pivot your tweeters so they broadcast towards you for improved stereo imaging.
These speakers fit perfectly into the OEM locations and give crisps and accurate sound reproduction while maintaining your car's interior appearance.The supplied mounting brackets enable the db6501 to fit both 6 1/2-inch and 6 3/4-inch openings, ensuring an easy and smooth installation process in everything from domestics to imports such as VWs,Audis,BMWs and other European imports.
External crossovers send your speakers and tweeters the frequencies they're best equipped to handle , which results in efficient, yet accurate sound that will amaze you.Their housings on the other side let you hide all wiring for a clean, professional look.
Size : 6.5″ inch
Overall Frequency Response : 35Hz-22kHz
Nominal Impedance : 4 Ohms
Power Handling

 RMS : 60 Watts
Peak  : 180 Watts

Sensitivity : 92 dB
Warranty : 1 year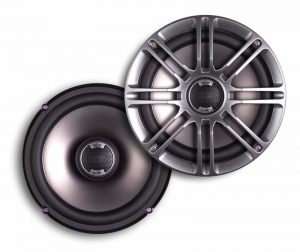 This is a similar product to the previous speakers we have reviewed. However, you are forfeiting a bit by going with these speakers rather than the others (I mean, it is less than $50). The main difference is these speakers are coaxial while the others are components.Although some people enjoy the sound delivered by coaxial speakers, most and especially trendy audiophiles prefer bright musical detail delivered by component speakers.
If you aren't willing to plop down some serious cash on a set of component speakers, but you still want a brand name and decent quality product, this set of coaxial speakers should suffice.
This set of speakers can be ordered in two configurations: the standard and the slim configuration. And that's what we love most about it.Polk Audio db651s is 2-way shallow-mount car speakers set that comes with a new slim mount design and a short tweeter post for an easy fit behind ABS mascular grilles.
Like all Polk db Series speakers,the DB651 and DB651s are built with high quality materials and a level of craftsmanship seldom matched.Their polymer/mica composite mineral filled cone is stiff yet lightweight allowing big and distortion-free sound.The pole plate heat sink on the other hand promotes better heat dissipation for maximum cooling performance and reliability.Additionally,the included multi-hole mounting brackets make for an easy drop-in installations in practically any car on the road.As we've said before Polk db Series speakers are built tough to withstand the harshest environments,so they are perfect for use in boats of all types.
The built-in two-way crossovers direct the right frequencies to the proper drivers for seamless, efficient audio and accurate sound.
Size : 6×9
Overall Frequency Response : 35Hz-22kHz
Nominal Impedance : 4 Ohms
Power Handling

RMS : 100 Watts
Peak :  300 Watts

Sensitivity : 93 dB
Warranty : 1 year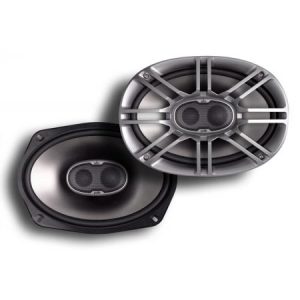 This 3-Way Speakers coaxial speaker system is a truly versatile high-performance coaxial loudspeaker that comes with all Polk features and technology that make it a great choice for any vehicle.It doesn't quite hold the quality of sound as a component system, but it is certainly a step up from your factory speakers.However,you are still getting a set of speakers that will revitalize your music.We have come across a ton of you who have tried and loved this set of speakers,and for the price,this was an incredible buy.It is a great replacement for factory speakers.It also includes a stainless steel mounting hardware and muscular ABS grilles that will add a stylish touch to your car's interior.
If you're on the lookout for the best 6X9 car speakers,look no more than DB691.Its just-right frequency range,along with a high RMS continuous power handling of any type of 6×9 speakers that we've reviewed,make the db691 a great buy.Additionally,its four-ohm impedance grants you more flexibility in terms of wiring your sound system.Its two built-in tweeters on the other hand handle high frequencies ,while the main driver covers lower frequencies reproduction (bass), stretching the frequency response down to an impressive low level which is usually covered by subwoofers.
Size : 6.5
Overall Frequency Response : 40-25kHz
Nominal Impedance : 2 Ohms
Power Handling

RMS : 200 watts per pair / 100 watts each
Peak : 400 watts per pair / 200 watts each

Sensitivity : 94 dB
Warranty : 1 year
Certified for marine use
The Mobile Monitor (MM) Series by Polk Audio is the result of many years of experience,research and development.MM series speakers are built using only high quality materials and the newest loudspeaker technology to make brilliant-sounding speakers in stylishly designed packages,bringing the listener an unforgettable listening experience.Moreover,their affordable price make them a great value.
The new MM series speakers have been designed to emit unparalleled sound quality with exceptional dimensions to fit almost any opening.Through the use of high-tech composite baskets, extra-strong and extra-small neodymium magnet that saves space and weight, as well as a state-of-the-art woven glass composite woofer cones that respond very quickly for an accurate, crisp, and powerful sound.Polk was able to build high-end audio performance normally found only in the most expensive and advanced loudspeaker systems.
If you're in the market for a small-sized set of speakers , here are some great options:
Conclusion
All Polk speakers are made using the best materials and the most advanced manufacturing techniques. Polk engineers use laser imaging to determine which materials and designs are best-suited for speakers thus eliminating unwanted resonance, distortion and securing a quality product.Moreover,their speakers pass the industry's most exhaustive quality tests such as extreme signal response and UV , drop testing & salt exposure testing.Long story short, Polk speakers are built to perform for a lifetime.