Pros:
Kicker subwoofers are a mixed bag.If you choose the right one, it can definitely add a considerable amount of value and bass to your sound system.Admittedly,Kicker subwoofers are by far the most reasonably priced subwoofers out there, therefore the best selling car subwoofers.These subs are great for guys who a bit more budget-minded and still want to add enough bass to their audio system.
Cons:
There aren't a lot of cons to Kicker subwoofers.However, while these subwoofers sound great,they're not designed to deliver ground-pounding bass.
Kicker subwoofers are mid-range subwoofers. They're the best selling subwoofers on today's market and represent one of the handful of major brands.They specialize in audio products selling everything from speakers and subwoofers to amplifiers and loaded enclosures.
Kicker offers various series of subwoofers.Bear in mind that these subwoofer aren't the hardest hitting subwoofers out there.However,ultimately, the performance of a subwoofer is far more a matter of the enclosure it's mounted in and how good it couples with the acoustics of what particular vehicle it is in.
To help you make an informed decision,we've compiled and reviewed a list of the top rated Kicker subwoofers on the market.Read on to find out what exactly sets these subwoofers apart from the competition.
>>> Click here to see ratings, reviews, specs and prices of Kicker subwoofers <<<
Size : 12 (also available in 8″ and 10″ inches)
Power handling – RMS : 150 Watts
Power handling – Peak : 300 watts
Frequency response : 27-500 Hz
Sensitivity : 88.3 dB
Mount depth : 5-3/4″
Warranty : 1 year
We'll start off this review with possibly some of the best Kicker subwoofers around – Comp® subwoofers.These babies provides the best bass for the buck.You'll hear and feel the power of Kicker bass without the need to shell out a hefty amount.Kicker Comp subs are the best car subwoofer under $100.They present a great value for the price.I mean, less than $65? That's a major bargain.
Comp subs come in a variety of sizes ranging from 8 inches to 15 inches to accomodate various application types.They also come in various configurations and power handling capabilities.
The sub linked to above is 12-inch in size and configured to handle up to 300 watts of power and 150 watts of power on continuous basis.It's configured to handle 4-ohm impedance load which makes it compatible with just about every amplifier on the market.The 10C124 can be mounted in either a sealed or ported enclosure,it's even suitable for free-air applications.
The 10C124 subwoofer is built on solid steel basket made specifically to be a reliable foundation even under excessive and heavy bass.Its extensive venting keeps the sub's internal components cool and ensures long-lasting performance that won't break down over time or when the bass gets heavy.
Size : 12 (also available in 10″ inch)
Power handling – RMS : 400 Watts
Power handling – Peak : 800 watts
Frequency response : 25-350 Hz
Sensitivity : 88.3 dB
Impedance : Single 4 Ohm
Mount depth : 4-1/4″
Warranty : 1 year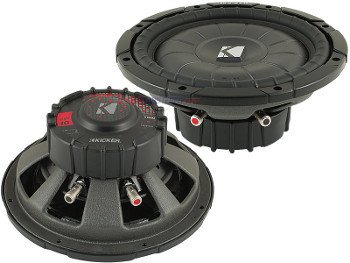 Limited space is (and always has been) a huge drawback to people seeking big bass,loud and clear music.The Kicker 10CVT104 is a nice alternative to regular subwoofers that require enough mounting space.The 10CVT104 is a shallow mount subwoofer with a super compact profile that allows it to fit in tight spaces.
KICKER® has already introduced a few shallow mount subwoofer models with a reduced mounting depth a few years back, and they were an immediate success.Who wouldn't want a slim subwoofer that can deliver ground pounding bass even from the slimmest locations? The next generation of Kicker shallow mount subs is the CompVT® series.Subs in this series come in various sizes with different power handling rating to cover different applications.These subs are available in multiple impedance load (single 2 ohm and 4 ohm) which allows for a variety of wiring configurations, giving your subwoofer true versatility.
Kicker CompVT® subs are precisely engineered in such a way as to handle serious amounts of power and therefore deliver great bass without the bulk.The woofer's rigid, customized-spoke,injection molded SoloKon cone is designed to provide higher excursion capabilities from a slender basket.Additionally,the ribbed Santoprene surround used allow for more rigidity and optimum performance.Our only complaint was that this particular CompVT series Shallow mount subwoofer is lacking in terms of sensitivity, making it less sensitive when compared to subwoofers in the same range,therefore,you'll need a powerful amplifier to drive this sub.
Size : 8″ inch
Power handling – RMS : 150 Watts
Built-in Amp RMS : 150 watts
Frequency response : 25-120 Hz
Width : 14-1/4″
Height : 3-1/4″
Depth : 9-3/8″
Warranty : 1 year
This powered subwoofer is by far the most expensive, given then fact that it combines an amplifier and an 8″ inch subwoofer in one single box.If you're looking for an easy off-the-shelf,space-saving bass system, then a powered sub is a great way to go.Kicker designed their "Hideaway Compact Powered Sub" to be one of the best in this category,all things considered.At just around 14-inches wide and 3-inches tall,the Hideaway™ will fit under your vehicle's seats or in storage areas where it would usually be impossible to mount a regular sub.The built-in 150 watts RMS amplifier supplies enough power to drive the built-in 8″ inch sub, resulting in strong bass,depth and punch added to your favorite music  (whichever is its type).
A powered subwoofer is a self-contained speaker/amplifier configuration in which the specifications of the amplifier and subwoofer – mainly power handling and sensitivity, are optimally matched and are both housed in the same enclosure.And that's what we love most about them.Powered subs solve the problem of inadequate power handling capabilities or other related specifications of both the built-in amplifier and subwoofer, which eventually saves you a ton of effort matching your subwoofer to an amplifier,wiring them and choosing the best subwoofer enclosure to mount your sub in.
The only drawback of powered subs is that their smaller drivers and amps may not deliver satisfactory sound power, especially if you're a seasoned audiophile who's looking for really ground-pounding bass.That being said,these subs can do pretty well and can be very effective bass producers without taking up a lot of room in your vehicle, which makes them best suited for compact and sport vehicles.
Size : 12″ inch (also available in 10″ and 15 inch )
Power handling – RMS : 400W
Power handling – Peak : 800W
Impedance : 87 dB
Frequency response : 25-500 Hz
Mounting Depth : 6-1/4″
Warranty : 1 year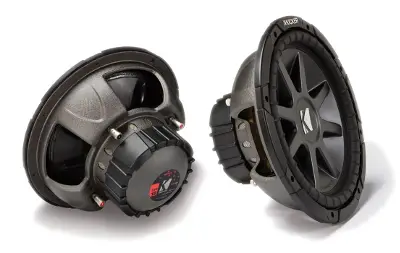 For less than $100 bucks, this sub will blow you away.It hits super hard.Subs in the CompVR series are engineered to the highest quality and  technical standards of performance and durability,ensuring great power handling and therefore clearest,loudest bass.
Subwoofers in CompVR series feature a customized,flex-resistant injection-molded cone with 360-degree back bracing for eliminating distortion.The frequency response in these subs is pretty wide.They can hit as low as 25HZ and as high as 500Hz; the high frequency reach of 500 Hz means that it can boost the low-mid notes, where you hear much of the warmth in a guitar or male vocals, which results in balanced sound output.Additionally,their highly-engineered motor structure that can handle huge amount of power on peak as well as on continuous basis,plus the ability to withstand excessive loads are all due to Premium KICKER Solo-Baric® technology which is and always has been the first and foremost authority when it comes to bass.
The sensitivity rating of 87 dB, is slightly below average.It indicates how efficiently the sub converts power applied to it into sound volume.We'd like to see some improvement in this area.That doesn't mean that you can't turn your ride into a rolling thunderstorm of bass and shake the rearview mirros off the cars when stopped at red lights;they simply require more power to do so when compared to speakers with higher sensitivity rating.