Is it time to upgrade your car stereo system? You will be surprised by the numerous car speaker brands available in the market. An even greater challenge is if you have no brand preference. You are likely to make a misguided choice. 
A top trusted and highly recommended car speaker brand is Kicker. Their car speaker series never disappoints. Launched way back in 1973, Kicker has progressed to be one of the most reliable producers of top-notch car stereo systems. 
Initially, their main focus was on trucks and cars. But over time, their expertise has expanded to produce a wide variety of sound system accessories including noise-canceling headphones and their car speaker quality only gets better. 
Many car owners swear by the amazing sound experience from any Kicker speaker. All their car speakers are made with the highest level of expertise and precision to provide an unmatched listening experience. 
On top of that, all Kicker car speakers are specially made to accentuate each music note to replicate a live performance. They are keen to include modern touches and upgrades to all their car speakers for a flawless listening experience regardless of your type of car. 
Whether you love to listen to music with very high notes, or you are all about the bass, Kicker has got you covered. 
In this Kicker spirit, below is a comprehensive review of the best Kicker car speakers guaranteed to give every music tune on your playlist a Kicker vibe.   
5 Best Kicker Car Speakers
Below is an in-depth review of the best kicker car speakers. You'll find an exhaustive review of each of the 5 options, plus the pros and cons of each.  
Want to know more? Let's dive in. 
Key Features & Specifications 
6.5 inches 
4 speakers 
Max power of 240 watts each pair 
RMs of 60 watts each pair 
Mounting Hole Diameter 4-13/16inch, 123mm 
Top Mount Depth 3/8inch, (9mm) 
Bottom Mount Depth 1-11/16inch, (43mm) 
Domed tweeters with 13mm polyethylene naphthalate  
Acoustic foam surround 
Most factory car stereos are dated with terrible sound output. Thus, there is a need to upgrade to a better car speaker. If you are looking for a car speaker option that will provide a much better listening experience without being too loud, then the Kicker 41DSC654 is a perfect choice.  
With a 6.5-inch car speaker, it is damn obvious that the bass won't punch as hard as a sub or a larger speaker. However, as with other kicker products, the treble and bass of this Kicker car speaker are still very impressive. 
That's not all. The installation process of these speakers is a breeze. They fit perfectly in most car models. And, you can install them and start listening to music from your new speakers in less than 10 minutes.  
If you want to experience a better sound experience and forget about the terrible stock speaker, search no more. These speakers sound great and offer great value for your hard-earned dollars.
Pros 
Low power intake with loud audio output 
Minimal tweeter protrusion 
Great bass, treble, and midrange 
Simple installation 
Clean and crisp highs 
Cons 
Bass could have been better 
Slight sound distortion on high volumes 
Key Features & Specification
 Max power handling: 450 watt
 RMS: 150 watt
 Sensitivity: 92dB
 6 x 9 inch
3-way design
 Impedance: 4 ohm
 Top-mount depth of 3 ¼ inches
 2 speakers
Next on this list, we have another of the best kicker car speakers, the kicker 40CS69334 6 x 9-inch full-range speaker. As with all other Kicker speakers, it is well made and is produces clear and clean sound. The mid-range and high-frequency music are crystal clear.
However, as you would expect with any other car speaker within this price range, the bass is not as deep and punchy. This is not to mean that the bass is horrible, but the bass from this speaker is not loud enough to wake the neighbors up.
If you are searching for a speaker that will give bass that is deep enough to make the entire car tremble, a good idea would be to add an amp or sub for your car stereo. And since this speaker can handle a max power of up to 450 watts, its optimal performance is impressive.
Pros
 Durable
 Great sound even on high volumes
 Excellent mids and highs
 Quick installation
Cons
 Bass could have been deeper
 Tweeters could have been better
Key Features & Specification
360 watts max
 70 watts of RMS
 2 speakers
 4-ohm impedance
 92dB sensitivity
 3-way speaker
 6 x 9 inch
 Top-mount depth of 3 ¼ inch
 Frequency range: 30 to 20 000Hz
The New Kicker 43DSC69304 is the newest car speaker entry in the DS series, thus its performance in music output only gets better.
This 3-way speaker includes an extra sound driver referred to as the super tweeter that is designed to handle the high frequencies of any music tune. Therefore, the speaker produces clear sound even on music genres with very high frequencies.
The PEI dome tweeters and the huge polypropylene woofers work together with the super tweeters to ensure you get a smooth listening experience with no (or very little) sound distortion.
Overall, these are not the greatest speakers out there but they are way better than most stock speakers. Plus, the performance of these speakers outdoes most other options on the same price range.
Pros
Super crisp highs
 Better performance than other D series speakers
Durable and well made
 Zero to minimal distortion
Cons
 Bass could be deeper
 Could have been louder
Key Features & Specification
 3-way design
 The peak power rating of 300 watts
 RMS of 150 watts
 Rubber surround
 Mid woofer made of polypropylene
 6 x 9 inches
To add to the list of the best Kicker car speakers is another equally great 6 x 9 inches full-range speaker that is worth considering. The Kicker 41KSC6943 is carefully made with you, the listener, in mind. By the mere look, these speakers are often mistaken for component speakers due to their design.
The speakers can handle a continuous power of up to a whopping 150 watts and max power of up to 300 watts. On top of that, these 3-way car speakers have an impressive sensitivity of 92dB which is healthy for your eardrums and will as well produce clear sounds for all music genres.
Their bass quality is also great. Are you searching for an affordable car speaker with the decent sound quality? These speakers will not disappoint you.
Pros
 Decent punch on the bass
 Great design
 Easy to install
 Excellent power handling
Cons
Sound quality could have been better
Key Features & Specification
6.5 inches
 4 ohm impedance
 2 speakers
 Doomed tweeters made from polyethylene-naphthalate
 Power rating of 240 watts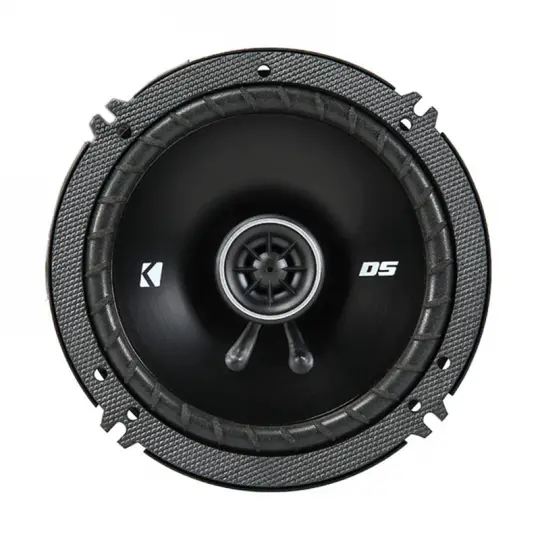 As you can see from this list of top 5 Kicker car speakers, speakers from the Kicker's D series are the most popular. And to wrap up is yet another of the best Kicker car speakers from the D series. It has a power rating of up to 240 watts and an impedance of 4 ohms.
The sound quality is amazing for its price tag. Plus, the speakers are well made and will last you for years.
As expected, the bass from this pair of speakers is not very throbbing. But, their performance is better than that of factory speakers.
You can connect them to an appropriate external amp to get better sound and more pumping bass.
Final Thoughts
From the above review, you'll see that car speakers are not geared to producing a lot of basses. Rather their focus is to provide a better listening experience. They are ideal for anyone looking to replace their factory stereos.
All the top 5 options reviewed above are well made and are designed to give crisp and clean sound. The sound has no (or very minimal) distortion on high volumes.
Also, note that car speakers are not generally designed for a punching base. Thus, if you want to boost the bass of your system, you may have to invest in an amp or a sub.
We certainly hope this article helps you to choose the best Kicker car speaker. Happy shopping!