Double DIN head units are a god send for cars with relatively low-tech and older infotainment units.
If your dash has room for a double DIN head unit, then you can consider yourself extremely lucky. Not only because a double DIN head unit makes your life on the road significantly easier, both by being functional and keeping you entertainment at the same time, but also because of how relatively easy they are to install.
In fact, when it comes to double DIN car stereo receivers, you're more likely to spend more time choosing the right one.
"Choice overload" is a term coined that perfectly describes the market for double DIN head units today. With plenty of buyers, and plenty more manufacturers, the market is filled with head units that look and feel like they are on and the same unless you really look into the meat of things, which can pose quite a challenge for the average person with little to no knowledge of car audios outside of knowing how to operate them.
Lucky for you, we've taken care of the difficult bits of the selection process.
Whether you're looking to upgrade your misinformed-choice for a double DIN head unit for a more feature-packed stereo receiver, or you're replacing your stock one, you'll find plenty of information below that will help you make the right choice.
Best Double DIN Car Stereo Receivers Reviews
Invalid table id.
When you say top of the line head unit, you expect audio and video clarity, as well as seamless integration and connectivity. It's also expected that the car stereo receiver be easy to use.
All things considered, the Pioneer AVH-W4500NEX delivers.
In fact, the Pioneer AVH-W4500NEX more than just delivers – it exceeds any and all expectations.
Built with the modern, tech-savvy driver in mind, the head unit comes equipped with a huge 7-inch display that lets you switch between iOS and Android devices, connected either via one of the two ports or via Bluetooth, and see everything that you want, making it perfect for navigation or for entertainment purposes.
As for sound quality, the builtin 14W-RMS amplifier makes sure that you can enjoy listening to your favourite tunes without compromise.
With multiple features that you need and didn't know that you needed – the detachable screen is a huge time-saver when cleaning and the wireless remote control is nice to have – the Pioneer AVH-W4500NEX makes for the ideal road trip companion that will make you fall in love being behind the wheel.
Pros:
Extra-large detachable screen
Wireless remote control
Supports backup camera
Cons:
You can't use Android Auto and Apple CarPlay simultaneously
Touch screen response time could use some work
Sony's been really taking it to the competition as far as car stereo goes in recent years, releasing fairly-priced head units with innumerable feature sets.
The Sony XAV-AX100 is no exception.
At 6.4-inches, the Sony XAV-AX100 doesn't boast the most real estate around. But, that's okay. What it lacks in screen space, it makes up for in accessible and ergonomic buttons and knobs that allowed you to choose music with ease.
Hands-free functionality with Apple CarPlay and Android Auto is also thrown in, albeit it's to be expected.
Where the Sony XAV-AX100 really shines the most though is its responsive high-quality touch screen and the Dynamic Stage Organizer. The former makes it the perfect companion to have on the road, since you'll neither have to squint to see the information displayed, nor have to fidget around too much to navigate your way around the head unit. Meanwhile, the latter allows you to add more virtual speakers to your dashboard for a more immersive audio experience.
A real entertainment powerhouse, the Sony XAV-AX100 will have you taking the long route home more often than you'd like to admit.
Pros:
High-quality and highly responsive touch screen
Incredibly easy to use, with manual controls for better accessibility
Hands-free controls for pretty much most of its functions
Cons:
Smudge-prone screen
The screen MAY be hard to see when there's too much direct sunlight
All of the bells and whistles, or so to speak, are nice to have, but not everyone needs the most feature-packed car stereo receivers. Sometimes, what someone needs is a noticeable step-up from their stock head unit that works.
Consider the Pioneer MVH-S600BS as a good example of that.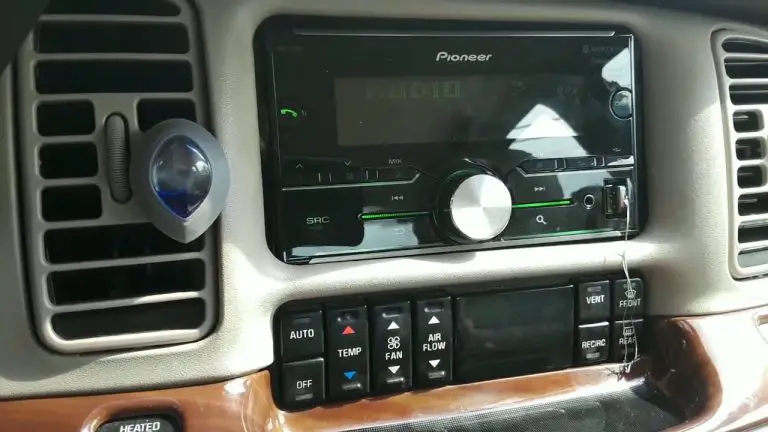 You'll never confuse this double DIN car stereo receiver as top-of-the-line. It's not. It doesn't come with Apple CarPlay nor Android Auto. It doesn't even come with a disc slot for CDs or DVDs.
So, what does it come with?
Well, for starters, an affordable package in a traditional yet somewhat modern design is nice to have. Plus, it's illuminated, and you can change the color to match your mood or the colors of your ride, which is a huge plus as far as aesthetic value goes. However, it's not just all looks, because it has Bluetooth connectivity for making hands-free calls, and you can play music via USB device or thrown a smartphone app.
Again, if you're looking for a robust feature set, feel free to look elsewhere.
If, however, all you're looking for is a good-looking and noticeable upgrade to your car's aging head unit, the Pioneer MVH-S600BS will not disappoint.
Pros:
Can be controlled via a Smartphone app
Bluetooth connectivity
Basic but eye-catching design that blends traditional and modern aesthetics quite well
Cons:
Doesn't come with a CD/DVD slot nor Apple CarPlay and Android Auto
It doesn't take a rocket scientist to know that the JVC-KW-V85BT is the run-away winner when it comes to features alone.
Seemingly built for the sound enthusiast, the 24-BIT DAC delivers will sing melody to your ears. Meanwhile, the seamless smartphone integration with both Android Auto and Apple CarPlay means that you won't have problems importing essential apps from your smartphones and displaying them on your dash.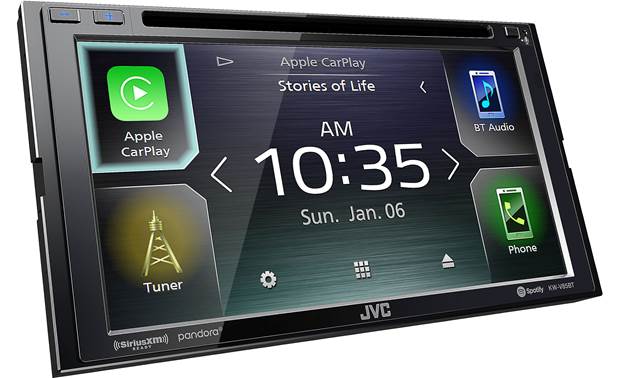 Also, an underrated feature of the JVC-KW-V85BT is that it allows users to pair two phones simultaneously – you can make calls while choose music at the same time with different phones!
With its easy-install and easy-fit design, the JVC KW-V85BT is a dream to install and just pure heaven to use.
Pros:
Class-leading sound quality
Packed full of easy-to-use functions that you will actually need while on the go
Rather large screen for better visibility
Two-phone-pairing
Cons:
Noticeable sun glare on the screen can be quite distracting
Cumbersome radio presets
When it comes to heavy-hitters and flagship products, choosing becomes a matter of preference, gut feeling, and small features that one might have that others don't.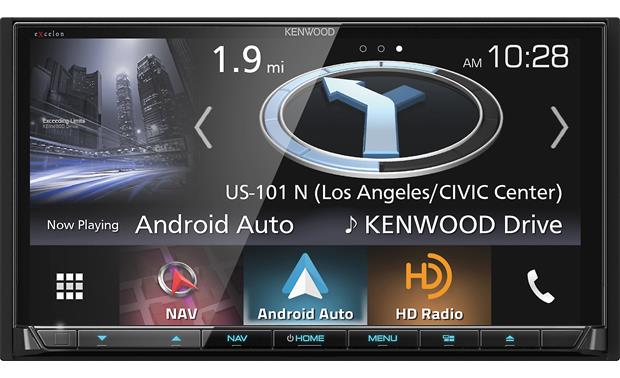 With the Kenwood Excelon DNX994S, you have a little bit of everything that you'd expect from a premium double DIN car stereo receiving, like its high-quality 13 band EQ audio, bluetooth capabilities, and support for Apple CarPlay and Android Auto, but you also get a lot more features and inputs as well.
A proven product that's been out for many years already, the Kenwood Excelon DNX994S also makes it case with two camera inputs. This is an underrated feature that not a lot of head units seem to have. Because of this, you can put a rear-view camera and a dash cam at the same time, which ensures maximum safety while you're on the road.
You also get a free 2-year traffic data subscription courtesy of Kenwood, after which you'll have to pay to have it renewed.
If you're okay with not having the latest model, the Kenwood Excelon DNX994S is a no-brainer of a choice from a reputable company that should last you for years if not decades.
Pros:
Maps load fast and update quickly as they change or are improved
Crystal-clear 7-inch display for easy navigation
Hands-free Bluetooth capabilities
Cons:
A little bit long in the tooth, or so to speak, so it doesn't come with modern features that you'd expect from other head units released in the past year or two
You can't play Android Auto or Apple CarPlay along with an external MP3 player at the same time
Why You Should Buy a Double-DIN Head Unit
Whether it's for listening to songs, audiobooks, or streaming media, or just for hands-free calling while on the go, a double-DIN head unit makes it easy to connect your smartphone or tablet, as well as other Bluetooth-compatible devices with your car's audio system.
In addition to the safety offered by hands-free calling, a double DIN car stereo receiver also lets passengers control the head unit using their phone or tablet. This way, the driver can focus solely on the road or on navigating. Meanwhile, the passenger, whether in the passenger seat or the back seat, can take care of pretty much anything else.
double DIN head units often feature advanced audio software that helps significantly improved the sound quality of your car's stereo system, making it sound better than it has any business of being.
Easy access and control –
The larger screen real estate afforded by double DIN car stereo receivers make for a better overall user experience.
There are also other advantages from investing in a double DIN head unit as well.
From steering wheel controls, to additional theft protection, remote control, switchable lighting, Wi-Fi, and even camera inputs, having a best double DIN car stereo receiver is a must-have upgrade if you're always on the road.
Final Thoughts
Upgrading isn't always easy. The plethora of options available on the market can make it difficult to know which one is better compared to the other. This applies to pretty much everything in life, including your cars, and especially with double DIN car stereo receivers.
Now that the hard part has been take care of, it's up to you to make a choice.
Of course, this isn't to say that our list is definitive by any means. Trying to create a list of ALL the high quality best double DIN car stereo receivers on the market won't be easy, impossible even. There's just too many options to cover. However, what we did manage to accomplish is give you five very good head units to choose from to make it easier for you to find something that fits your car's needs and your preferences.