Looking for the best car speakers? You've come to the right place.
Finding the best car speakers can be a tedious task.At ridebass.com,we've spend hundreds of hours testing and researching just to find out the answer for you. We've put together this resource – a one-stop-shop, all-inclusive guide to help you find the speakers that meets your needs and fits your musical taste.
Ultimate car speakers Comparison Guide and Key :
Only the top rated car speakers made by the most authoritative brands with the best sound, highest sonic output and clarity made our list.Therefore,any of the following speakers would be great investment.Much of it comes down to personal preference.However,like with any product,you can get some great speakers if you're willing to shell out a bit of cash,but there really are great car speakers in every price range.
Reviews of The Top 5 Best Car Audio Speakers of 2015
Design : 3 Way
Frequency response : 45 – 21 kHz
Sensitivity : 94 dB
Power Handling :

Peak : 300 watts
RMS : 100 watts

Impedance : 2 Ohm
Warranty : 1 Year
The JBL GTO speakers are one of the best car speakers on the market,all things considered.Most forums agree.We personally think they are worth every penny.Most importantly, these speakers deliver an excellent crisp and rich sound with punchy lows.JBL likes to brag about their patented Plus One® woofer-cone technology,which basically delivers a more overall speaker cone surface area than the competitor models of the same size.This translates to more bass.I mean, think about it: Speakers make sound by vibrating air,thus the larger the cone, the more air it can vibrate, and the more bass you will get.Furthermore,the larger the cone size,the wider the radiating surface area.
What we like the most about GTO series speakers is their high sensitivity rating which is the highest among the car speakers we reviewed.Sensitivity rating is a vital key spec that you should take into consideration before purchasing speakers for your vehicle.It measures how the speaker responds to power applied to it (the highest, the better).The amount of power required to deliver the same volume decreases almost by half with each increase of 3dB.This means that GTO speakers with 94 dB only needs 50 watts to produce the same volume of a 91dB speaker using 100 watts.That's a huge advantage.Thus,these speakers will sound great running off a factory headunit,but they'll really shine when driven by a powerfull aftermarket stereo or an external amp.
GTO speakers also feature one of the highest continuous power handling rating (RMS), which simply means these speakers can maintain a high volume level on a continuous basis without experiencing distortions or damage.Combine that with their highest sensitivity rating and you get speakers that are ready to rattle some eardrums and make dogs howl.
We've found that GTO speakers with small sizes sound great despite their narrow frequency range.Also, their bass isn't as full and punchy as the rear deck speakers.However,the mid-ranges and highs are where these speakers really shine.They can deliver highly detailed sound with satisfyingly deep levels of bass.You'll breathe a new life into your music with a set of these speakers being installed in your car's front doors.
JBL GTO speakers come in various configurations and sizes.If you're a seasoned car audiophile,you can opt for component speakers,which allows you to better fine-tune the sound output to your preferences because of their separated woofers and tweeters.However,this type of speakers require custom installation to mount the tweeters in optimal locations for better stereo imaging and sound stage but are worth it if you want to get the most optimized acoustical design from your vehicle.
Otherwise,if you're just wanting a significant upgrade from your factory speakers no muss, no fuss,there are two-way and three-way speakers.These speakers usually consist of a woofer with either one or two tweeters.With the woofer being the component that reproduces lower frequency sounds,and the tweeter(s) being the driver that reproduces higher audio frequencies.
JBL's UniPivot design allows you to aim and adjust the angle of the tweeters toward your ears, so you enjoy excellent stereo imaging even if the speakers are mounted deep down in your front doors.And since every car is built with its unique acoustical properties,having adjustable tweeters is a plus that most speakers we've come across don't provide.
At around $60, the price isn't anything to sneeze at, but these are very well-engineered speakers, and you can't go wrong with them.
Design : 4 Way
Frequency response : 27 – 38 kHz
Sensitivity : 91 dB
Power Handling :

Peak : 550 watts
RMS : 100 watts

Impedance : 4 Ohm
Warranty : 1 Year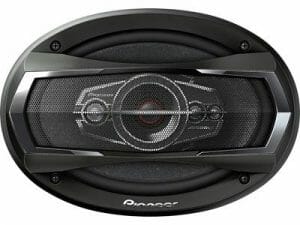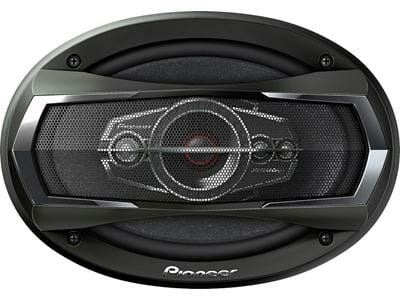 Pioneer A series speakers are another one of the best car speakers out there.They're not that expensive,but again ,they're very well engineered and would be great investment for anyone who's tired of the flat, boring sound produced by worn out factory speakers (believe me, I've been there).
So what's so special about these speakers? First of all, they feature the widest frequency range in the market,and they're highly sensitive.Combine that with their impressive power handling rating and you get speakers that can really shine.No matter your musical preference,and no matter your vehicle's acoustical properties, you'll enjoy crisp, concert-quality sound throughout your car.
The design of these speakers is great as well.It's really well-conceived.They actually come in various sizes and configurations.The 6×9 speakers for example come in three way,four way and five way.An N-way speaker has N sound drivers in it,and the more "way", the better.4-way speakers for example comprise of the woofer,the tweeter,the mid-range and an extra component called the super-tweeter.
These additional tweeters enhance and widen speaker's frequency range.The advantage that a wide frequency range presents is special realism.In fact,sound is created when the speaker vibrates air molecules,thus audio isn't only heard but also felt,although you may not realize it much of the time.Much of the fullness and sound warmth is felt from frequencies you can't actually hear.
What sets the Pioneer A-Series apart from most 6 x 9 speakers is that they also come in five-way configuration, which is a major step above other speakers from other brands.That being said,Pioneer A-Series five-way speakers will make it possbile to feel your music,mainly the low bass frequencies, which can reach as low as 27Hz.
Pioneer's 6 x 9 speakers are built to perform.They're build to handle 100 watts of power on a continuous basis without experiencing damage.They also back their RMS power handling capability up with 600 watts of peak-wattage to give the speakers plenty of room to handle huge spikes and eventually prevent them from clipping and distorting as wattage fluctuates throughout a song.That being said,you'd have to push really hard to damage Pioneer A-series speakers.
Pioneer A-series speakers come in a wide array of door speaker sizes,with the 6.5-inch circular speakers being the most common,though this depends on your car model.Some cars require 6×8 speakers,others require 5.25-inch speakers.Generally speaking,the only difference between these speakers sizes in the Pioneer A-Series is the low-end bass.Since the 6.5 car speakers feature a relatively larger woofer with multiple tweeters,you'll experience crisp highs, clear mids, and strong bass.No matter what speaker size you pick, Pioneer A series speakers are fully capable of blasting whatever you've got on your playlist without distortion.
Design : 3 Way
Frequency response : 46-30 kHz
Sensitivity : 94 dB
Power Handling :

Peak :  300 watts
RMS : 100 watts

Impedance : 4 Ohm
Warranty : 1 Year
Infinity is one of our most-reviewed car audio brands. They're a company known for their long tradition of making affordable speakers, and their Reference speakers line is no exception.Since 1983,Infinity has been part of the Harman International Industries group, which also includes JBL.
Infinity speakers can be found in a wide variety of applications including multi-channel surround sound home theater packages,marine applications,bookshelf speakers and in-wall home speakers.That being said , it's no coincidence that you'd also find them in vehicles.And besides speakers, Infinity also produces subwoofers and car audio amplifiers.However, we've found that their speakers and subs are of a much more consistent quality than their other products.
On their own, Infinity Reference speakers feature a well balanced frequency range no matter your musical preference,interests, or predilections.And to put it simply,this will save you from the hassle of fooling with your car stereo's EQ settings very much.
Our only complaint about these speaker's sound output was the lack of low-end frequency, which is only at 46Hz.I mean the bass sounds punchy and alive but it lacks much of the fullness that you'd usually hear with speakers that have a deeper frequency response.
The speakers linked to above are 6×9 in size.Their sensitivity rating of 94 dB is quite high, but these speakers are lagging behind the competition when it comes to power handling rating.However,since they're very sensitive,they don't need to handle tons of power.
Infinity Reference speakers come in a wide variety of sizes and configurations.Their 6.5 car door speakers are also available in shallow version.And just like their rear deck counterparts,these door speakers feature a sensitivity of 93dB and an above-average RMS power handling of 60 watts with a peak of 180 watts.And despite their narrow frequency range,Infinity Reference 6.5 speaker's audio was very crisp and well-balanced without requiring EQ tweaks.
Design : 3 Way
Frequency response : 35-22 kHz
Sensitivity : 93 dB
Power Handling :

Peak :  300 watts
RMS : 100 watts

Impedance : 4 Ohm
Warranty : 1 Year
Polk Audio is another authoritative brand in car audio industry founded on an obsession with sound .They hold numerous patents in the world of loudspeaker design,and has a long legacy of innovation and experience , creating the most impressive car audio systems out of pure passion.And when you name a series of car speakers after the abbreviation for decibels (a unit of measurement for volume),you're telling people who buy these speakers one thing – turn it up! This is exactly what you get with Polk's db series of speakers.
Polk speaker's sensitivity rating range between 92dB and 93dB in both door and rear deck speakers.That's quite high,given that the majority of speakers available on the market have a sensitivity ratings that range between 88dB and 90dB.An 88dB speaker would need almost three times wattage to deliver the same volume as a Polk's 93 dB speaker.With that being said,Polk speakers will make a day and night difference in the sound quality,making you feel your favourite tracks as much as you hear them.
Polk db691 (Linked to above) is configured for a 4-ohm impedance load, and it comes with two built-in tweeters,making it a "three-way car audio system",which means it combines three sound devices in one unit,targeting different frequency ranges.
Why Buy Car Speakers ?
There are a number of situations in which it might be preferable to install aftermarket speakers instead of  standard speakers , Particularly if your vehicle is old ,low cost model .
The following issues can be quite common in factory audio systems:
General sound equipment quality issues .
Damaged , or unresponsive speakers or components .
Flat, boring sound, mainly caused by weak/broken standard audio receiver, or head unit .
A lack of dynamic, variable sound output at every frequency level, which can be due to low quality equipment,inadequate magnets in the speaker driver, or the absence of an amplifier .
Lack of low frequencies (bass) which could be covered by a subwoofer.
You may not need to upgrade your standard car audio system if it fulfils your needs . This is generally the case with new , high end model vehicles. However fitting your vehicle with a good set of  speakers will certainly improve the overall performance of your sound system and immerse you in a pleasurable atmosphere .
Car Speakers : What to Look For
There are many car speakers brands on the market competing for your dollars . So, in order to make informed choices , here are a few important points  to take into consideration before jumping in .
Power-handling
In order to get the most out of your sound system , It's advisable to choose a head unit before looking at speakers . This way you'll get the most appropriate speakers that are able to handle the power that your head unit or external amplifier is capable of putting out.
If you haven't yet chosen a new head unit, then you have a little more freedom. In that case, you're free to choose speakers with the power handling characteristics you like, and you can then look for a head unit or external amp that will be able to take full advantage of them.
Power-handling lets you know how much power (measured in watts) a speaker can handle . If you've got a high-powered system, your speakers will need to be able to handle lots of power. On the other hand , a system with weak external amps won't require high power-handling speakers .
Bear in mind to pay attention to the max RMS power of the speakers you're about to purchase ,instead of the peak power .
RMS ratings realistically measure how much power the speaker can handle on a continuous basis, not just for a short period of time.
Sensitivity
So many people tend to believe that a speaker's efficiency rating is generally related to its sensitivity rating , which is wrong .
A Sensitivity rating tells how effectively a speaker converts power (watts) applied to it into volume (decibels) . The higher the rating, the louder your speakers will play .
Most people do not realize that the more sensitive the speaker is the better, as it uses less power to work. For instance a speaker with a sensitivity rating that's 3 dB higher than another speaker only needs half as much power to deliver the same amount of sound.
The chart below illustrates that a few dB in sensitivity can make a big difference:

| Speaker | Sensitivity rating | Power needed to produce a given volume |
| --- | --- | --- |
| Speaker A | 85 dB | 100 watts |
| Speaker B | 88 dB | 50 watts |
| Speaker C | 91 dB | 25 watts |
Build Quality
Most factory speakers are made with relatively cheap , low quality materials that tends to degrade over time , which is one of the biggest reasons to upgrade to high quality speakers .
Stock speakers upgrade can provide higher quality sound even if everything else related to sound system is kept untouched . Your speakers will also last a lot longer if you opt for speakers that are made with high quality materials .
Some of the materials you should look for include:
Rubber surrounds which tends to last longer and provide great sound quality.
Foam and cloth surrounds are less durable than rubber surrounds, however , they're much better than paper of foam.
Stiff, lightweight woofer materials like polypropylene mixed with mica or metal-coated synthetic fabrics last a long time and provide great bass response.
Upgrading In-Car Speakers Considerations
Most cars are initially equipped with four speakers including two front speakers in the front doors or the dashboard , and two back speakers in the back doors or the back dash .
Often times people (Drivers) tend to change the two front speakers which is ideal (in some cases), given that the driver is situated there .
if your goal is to increase volume , especially the bass , I would recommend changing only the back speakers to a set of 6×9 speakers. These type of speakers provide decent sound quality , besides being very easy to install in some vehicles that have an inbuilt parcel shelf to accommodate them , which is generally the case with hatchback cars.
The following factors should be considered before a final speaker purchase is made .
Speaker Sizes
Finding the right speakers to fit your vehicle doesn't have to be a confusing task.
There are approximately five speaker sizes that are used in cars . Before you start shopping , it's very recommended that you find out more  about speakers that are already installed in your car.The standard in-car speaker sizes include 6.5 , 6×8 ,6×9 , 5×7 …etc
If you are completely sure that you want to replace your car's current speakers, you can simply uproot them and take your measurements.Some online sellers often provide accurate info on the types of cars and models that their speakers are compatible with .
Types of Car Speakers
Coaxial Speakers
Coaxial speakers (also called full-range) are the most common type of in-car speakers . They contain all the speaker elements in one unit. In their simplest form they consist of a woofer for the lows, and a tweeter mounted onto the woofer to produce the highs.
You can opt for full-range speakers if you're looking to replace factory speakers with a minimum of muss and fuss. Given that most vehicles are released from factories with full-range speakers already installed, upgrading them is simply a matter of dropping new ones in the existing slots/enclosures.
Coaxial speakers are commonly designated into 2-way, 3-way or 4-way speakers :
1. Two-way car speakers : Two-way car speakers are the most common type speakers . They usually consist of a woofer which is the component that's responsible of lower audio frequency sounds , and a tweeter which is the driver that reproduces the higher audio frequencies . These type of speakers are capable of producing reasonably good quality sound .
2. Three-way car speakers : Three-way car speakers also referred to as tri-axial speakers . They usually consist of a woofer , a tweeter and an additional component called the mid-range . The mid range component will enhance the coverage of the middle frequency range and boosts overall sound performance by balancing the frequency slope and outputting the frequencies most natural to the human ear . That's why 3 way car speaker produce better sound quality than 2 way car speakers.
3. Four way car speakers : Four-way speakers consists of an extra component  (besides woofer,mid-range,tweeter) called "super-tweeter" . It's main role is producing an ultra high frequency sound . It makes a great difference especially when your vehicle is not in motion as those high frequency sounds cannot normally be heard is a noisy environment (travelling/on the road for example) .
Component Speakers
Unlike full-range speakers , Component speakers use a superior speaker design that will give you the best possible sound . Typically component systems consist of separate woofers , tweeters ,and external crossovers – all of which come designed to work in concert with one other.
The argument of component versus coaxial speakers is a bit complicated , and there's no simple answer to which one is better .
| Speaker Type | Advantage or Disadvantage |
| --- | --- |
| Coaxial or Full-Range Speakers | Less expensive; direct fit; crossovers not needed |
| Component Speakers | Superb sound quality; greater customisation opportunity |
If sound quality is the most important factor in your decision making process, then you should consider component speakers. Otherwise, full range speakers will probably get the job done just fine. Full range speakers are also the better option if you're planning to upgrade your setup and don't have a lot of experience.
Conclusion
So there you have a complete comprehensive buying guide that gives you all there is to know about and what to consider to help you in your quest to find the best car speakers. As there are many factors involved in making your decision, we can understand that it can a bit daunting . However , one good tip to keep in mind is to never lose track of your budget limits.
Once that has been determined, you can now choose which type of speakers fits your budget. Then you begin narrowing down your choices to which best fits your vehicle or lifestyle and finally, which features would suit your needs.
Secondly, make sure to read the car speakers reviews of those brands that made it to your top list. get to know more about their pros and cons .There's nothing more accurate than a testimonial from a real user of the product.
Finally , My personal vote goes for JBL GTO938 as it showed a very good set of advantages and only minor disadvantages. Furthermore, when 170 people recommend it, you cannot simply ignore the fact that they're satisfied with it and it is actually good.  Vital factors + lots of excellent customer reviews have convinced us that JBL GTO938 speakers are really the best car speakers out there.