Size is an important factor when you're considering purchasing a subwoofer.  If you're looking to get big bass in your car audio system, it's advisable to opt for larger sizes.
Obviously, right?
But smaller cars and trucks present a dilemma and they cannot accommodate these larger subs without major modifications.
You need a flat subwoofer.  (Or pancake sub if you will.  Something with a shallow mount.)
These subs feature a very slim profile for getting into the tightest spaces when compared with their regular counterparts.  These shallow mount subwoofers can be housed in small enclosures with very little modifications if any at all.
That's the reason why they've opened up a variety of subwoofer options for vehicles with limited space.
So, what are the best shallow mount subwoofers on the market?
Best Shallow Mount Subwoofer Reviews
BEST CHOICE
BEST SELLER
JL Audio 10TW3-D4 10" 400W Dual 4 Ohm Thin-Line Component Car Subwoofer

Rockford Fosgate P3SD2-8 8" Dual 2-Ohm Punch Series Shallow Mount Car Subwoofer

Rockford Fosgate R2S-1X10 Prime R2S Single 10-Inch Shallow Loaded Enclosure

MTX 10" Shallow 300 Watts RMS 4 Ohm Subwoofer 3510-04S (35 Series) 3.375" Mounting Depth

Power Handling : 150 Watts RMS / 300 Watts Max

Power Handling : 200 Watts RMS, 400 Watts Max

Power Handling: 300 Watts RMS / 600 Watts Peak

Nominal Impedance: Dual 4 Ω

Nominal Impedance: Dual 2-Ohm

Nominal Impedance (ea): 2-Ohm

Nominal Impedance (ea): N/A

Mounting Depth: 3.25 in (83 mm)
JL Audio 10TW3-D4 10" 400W Dual 4 Ohm Thin-Line Component Car Subwoofer

Nominal Impedance: Dual 4 Ω

Mounting Depth: 3.25 in (83 mm)

BEST CHOICE
Rockford Fosgate P3SD2-8 8" Dual 2-Ohm Punch Series Shallow Mount Car Subwoofer

Power Handling : 150 Watts RMS / 300 Watts Max

Nominal Impedance: Dual 2-Ohm

BEST SELLER
Rockford Fosgate R2S-1X10 Prime R2S Single 10-Inch Shallow Loaded Enclosure

Power Handling : 200 Watts RMS, 400 Watts Max

Nominal Impedance (ea): 2-Ohm
MTX 10" Shallow 300 Watts RMS 4 Ohm Subwoofer 3510-04S (35 Series) 3.375" Mounting Depth

Power Handling: 300 Watts RMS / 600 Watts Peak

Nominal Impedance (ea): N/A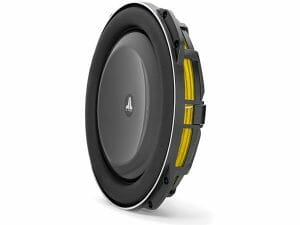 This is truly one of the best flat subwoofers that you can buy for your vehicle.  It's a bit highly priced, but it's very well-engineered and would be a great investment.
Our purpose here isn't to convince you guys to go out and splurge on the most expensive subwoofer.  Quite honestly, this sub isn't even close to the most expensive we've seen.
We do think you get a lot of great-sounding and deep bass for your money with this shallow mount subwoofer.
So what's so special about this bad boy?  First of all, this woofer is engineered for use in extremely small boxes, which makes it best suited for your sports car, truck, or any other compact vehicle.
Unlike other shallow mount subwoofers, the power handling is one of the most remarkable features of this woofer.  Coming in at 600 watts of RMS continuous handling and a maximum of 1200 watts of peak power.
The design of this subwoofer is great as well.  Its 2.5 inches mounting depth makes it ideal for tight spaces.  This sub fits in places where only 6-1/2″ or 8″ subs would usually go.  It's really well-conceived.
On the other hand it is build with high quality materials that won't fall apart under severe use or strain.
The cast-alloy frame for example provides a strong and solid base for the mica-filled polypropylene cone and its resilient santoprene rubber surround — You'll enjoy a sound that is accurate, with a full-bodied bass.
The low notes are full and round – though not as deep as we hoped due to the comparatively limited low-end frequency response range.
This set is handsome as hell, you won't be disappointed if you choose it.
Pros:
Class-leading combination of clarity and response
Extremely shallow mounting depth
High-quality components designed to last a lifetime
Cons:
Alpine's Type-R Thin subwoofers are one of the most expensive shallow mount subwoofer out there, and the second most expensive that we are going to review.  However, when you pick one of these up, you will know where the extra money went.
The power handling is impressive even compared to other shallow subs. The sub's sound quality is consistent, and you don't see any degradation in terms of performance with this sub.
We have reviewed several Alpine products on this site. We believe that Alpine makes a great product, and this shallow sub is no exception.
It features a combination of low-profile design and high power handling, which result in powerful bass coming out from your vehicle's hard-to-fit spaces.
This new slim subwoofer from Alpine features some innovative technologies.  Alpine's Type-R thin-line subwoofers feature a special spider design that uses a series of adjacent rolls to help the cone moving without requiring a lot of space.
Furthermore, The advanced motor structure come into play, reducing the sub's profile while maintaining accuracy.
Alpine went the extra step and  did an excellent job using a dynamic neodymium magnet structure which allows the sub to handle more power than a typical shallow-mount subwoofer.
This shallow sub offers a mounting depth of 3 1/2 inches, but its cone is nearly as long as that of its regular counterparts.
This can be a downside for those who are looking for strictly slim shallow-mount subs.  That being said, it's still an ideal solutions for applications with limited available space, such as pickup trucks and compact cars.
Pros:
Combines low-profile design with deep, powerful, and satisfying bass
Unique spider design
Works great right out of the box
Cons: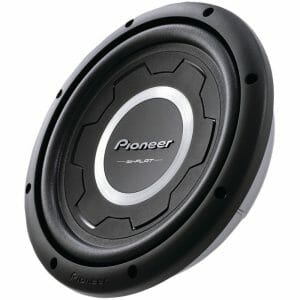 To ensure that you get a radically thin subwoofer, Pioneer had to develop a revolutionary subwoofer technology.
Regular subwoofers use the traditional spider design to keep the voice coil of the speaker aligned while it moves.  This design isn't best suited for shallow subs, simply because it would impact the sub's tightness.
For this reason, Pioneer developed their Air Suspension Control System which consists of locking air between the main cone and the drive cone.
The cones move together and simultaneously, with the locked-in thin air behaving like a spring.
The dual-cone structure results in a spider-less design and much shallower subs than conventional subwoofers.
The pressure from the locked-in air results in a consistent bass response across a wide frequency range. The result is a tight, accurate movement with powerful and full low end notes.
When it comes to build quality, Pioneer TS-SW3001S4 feels impressive.  And because it must be able to withstand heavy playing without deteriorating sound quality, Pioneer incorporated an innovative woven cloth reinforced radial urethane surround to reduce distortion, enhance power handling and improve durability.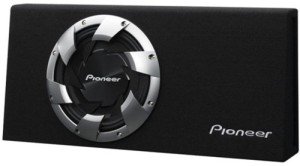 Additionally, the woofers surround consists of three layers; two of urethane and one of interwoven cloth.
The interwoven cloth layer is responsible for distributing strength all over the surround material resulting in high power handling capability and true line array acoustic performance.
This sub can be ordered in two configurations,2-ohm and 4-ohm single voice coil design.  For flexibility purposes, we highly recommend that you opt for 4-ohm configuration.
If you are on the lookout for an easy off the shelf solution to add some bass-boost to your sound, Pioneer TS-SWX310 is an ideal preloaded enclosure that can get the job done without fuss and muss.  It's built with the same materials and design concepts discussed above.
Pros:
Oversized cone surface design for loud and deep bass
Surprisingly affordable
Cons:
Not ideal for tight spaces and limited installations
Another contender in our lineup of the best shallow mount subwoofer, is the MTX FPR12-04.  This sub boasts a healthy concentration of features and great sound quality.
MTX built this thin subwoofer to give you big bass in your vehicle,no matter how space restrained or resource limited you're encountering.
With only 3-3/8″ deep, this sub can be mounted in low-profile enclosures that'll fit almost anywhere.
Additionally, this sub can handle up to 400 watts RMS, and delivers almost the same powerful performance that you'd usually only experience with a traditional sub.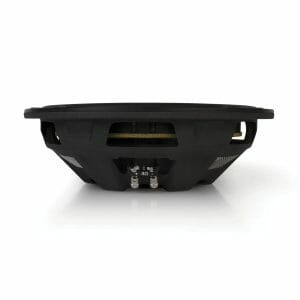 When it comes to build quality and reliability, we have to admit that this subwoofer is unique and well-designed.
It's unique in that the cone is attached directly to the spider, making the cone movement easily controllable by the spider.
Furthermore, the cone utilizes a curved design where it connects to the surround.  This is not only a better and easy way to connect to the spider, but it has a great impact on increasing the surface diameter of the cone.
This well-engineered design allows the subwoofer to freely move air and generate higher sound pressure levels (SPL).
MTX incorporated a mechanical cooling system called "Spider Plateau Venting" which is responsible for continually circulating air to the voice coil eliminating distortion resulting from excessive temperatures.
P.S : This sub requires a sealed box
Pros:
Comes with a five-year warranty
Thin 3.3-inch depth for tight enclosures
Cons:
Relatively low sensitivity at 83dB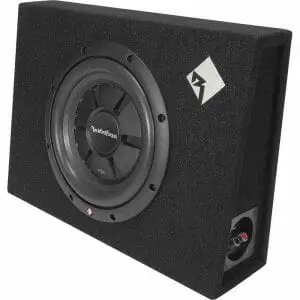 If you're looking for an easy of the shelf shallow subwoofer that features big bass in a tight space, Rockford Fosgate R2S-1X10 in another great option.
Coming in at 5-1/4″ deep, this enclosure is built with 5/8″ thick medium-density fiberboard protected by rugged black carpeting which makes it durable and long lasting.
This enclosure comes loaded with a decent 10 inch subwoofer (Prime R2SD4) that can handle up to 250 RMS.  The sub's dual 4-ohm voice coils gives you more flexibility wiring your system for 2- or 8-ohm impedance.
Additionally, Rockford Fosgate incorporated a special elevated motor structure which allows the subwoofer to handle plenty of power in extremely compact enclosures.
Furthermore, the sub features a 10″ mica-injected polypropylen cone with high-density poly-foam surround for accurate deep notes that you can feel.
Pros:
Compact and minimal design
Built for rugged users
Cons:
Relatively weak bass for its price
A relatively compact 8-inch shallow mount sub, the smallest speaker in Rockford Fosgate's Punch line punches well above its weight, or so to speak.
Despite its relatively diminutive size, it has a max RMS of 300W and a 82db sensitive rating, a combination that allows it to deliver some oohmph and sensitivity that should be perfect at balancing out any car's audio system, whether as an upgrade or as a replacement for the older stock subs.
The 2 and 5/8 inch mounting depth also makes the P3SD2-8 perfect for tight installations.
Durability-wise, you're looking at an anodized aluminum cone paired with a Santoprene rubber surround. It's also got a low impedance rating.
In the end, the P3SD2-8 isn't going to be blowing anyone way. But, it packs plenty of punch and is responsive, with a deep, powerful bass that makes the ideal complement for balancing out an already existing system that just needs a little bit of help.
Pros:
Made of high-grade, quality components
Responsive with plenty of bass
Very shallow mounting depth
Cons:
Loses a lot of power compared to other larger subs
The Kenwood Excelon line of subs is known for providing excellent products with some pretty serious headroom.
The KFC-XW1200F, in particular, is well worth a close look.
A 1400W max RMS packed into all of its compact 12 inches is way more than what most enthusiasts need, let alone the average person. Paired with sensitive numbers hovering at 91db and a 30-700Hz wide frequency range, and you'd be hard-pressed to find something just as good.
As for its build, you can rest easy knowing that the Excelon can take quite the beating. Using a high-tech carbon glass fiber for the cone, with a butyl rubber surround, the only cone is the single voice coil that, although helps with its heat transfer system, limits just how much more you can squeeze out of this speaker.
That's not, in any way, a deal-breaker though.
For most people, this sub is near-perfect, and with a 4-inch mounting depth, it should still be narrow enough to fit most applications.
Pros:
Plenty of headroom
Built to last for a long time
High sensitivity range
Cons:
Thanks to the JL Audio 13TW5V2-4 sub we featured earlier on our list, we've already established how JL Audio is pretty much the crème of the crop of professional car audio. But, the prohibitive prize makes the 13TW5V2-4 impractical for the average user, which is where the 10TW3-D4 comes in.
Sporting the same premium quality expected of JL Audio products, the 10TW3-D4 sacrifices quite a fair bit from its more expensive brother to come up with a relatively shallow (3.25-inch mounting depth), 10-inch subwoofer that can let you hear all of the low notes while going out for a ride without necessarily having to dedicate a lot of space for a larger subwoofer.
The cast alloy frame and polypropylene cone gives the sub a stable, long-lasting housing that won't flex in maximum power and the 100-400 watts RMS gives it wide enough power handling to project accurate and clean bass lines.
Pros:
Lightweight, shallow, and easy to install
Affordable
Clear and accurate bass
Cons:
Odd-size means that you might have to make some adjustments during installation
The Best Places to Put Shallow Mount Subwoofers
There are only a few good locations which are best suited for mounting shallow mount subwoofers, depending on what sound you're seeking.  Mounting your subs in these locations depend also on how much space is available inside your vehicle and how much bass is enough for you.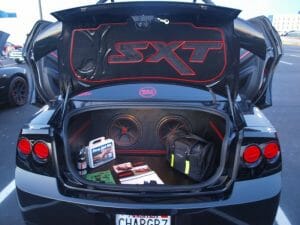 In your trunk : If you're after big bass, and want to to feel your music rather than hear it, then putting your subs in your vehicle's trunk is your best bet.  You'll get the loudest outside sound without compromising on high quality.  Furthermore, your music will be heard from far away.
In the rear speakers deck : If you're an audiophile who's striving for making the balance of clear, powerful low notes and resonant high notes, then you should consider installing your shallow sub(s) in your vehicle's rear deck or behind the back seats.  They add a more realistic dimension to your music, truly making you feel like you're right there.
Benefits of using a Shallow Mount Subwoofer
Lightness and portability are two major points of contrast between shallow subwoofers and regular subwoofers.
And due to the way these subs are usually mounted in your vehicle, they must be lighter than the regular ones and easier to install, remove and transport outside the vehicle.
Disadvantages of a Shallow Mount Subwoofer
Bass and sound quality are one the most major issues of shallow mount subwoofers.  Shallow subs have been known to lack bass and low-end frequencies reproduction.  This can be inconvenient.
Another concern to be aware of is that some shallow mount subwoofers tend to become easily dislodged, which means that it can fall apart or suffer other serious damages.
Disclaimer on Our Top 5 shallow mount subwoofers
This is not by any means a list of all the shallow-mount subs. There are hundreds of amazing, high quality slim subs on the market. Simply too many to possibly cover.  However, we did want to give you a few good options.
Our goal here is to find you something that fits in your car and meets your needs.  If you feel we missed a shallow-mount sub you love, feel free to hit us in the comments below.
Although you are able to get a shallow mound sub for under $80, and good shallow subs are much more expensive.  We recommend you spend a little extra money for what we think will be a much better listening experience.
BEST CHOICE
BEST SELLER
JL Audio 10TW3-D4 10" 400W Dual 4 Ohm Thin-Line Component Car Subwoofer
Rockford Fosgate P3SD2-8 8" Dual 2-Ohm Punch Series Shallow Mount Car Subwoofer
Rockford Fosgate R2S-1X10 Prime R2S Single 10-Inch Shallow Loaded Enclosure
MTX 10" Shallow 300 Watts RMS 4 Ohm Subwoofer 3510-04S (35 Series) 3.375" Mounting Depth
Power Handling : 150 Watts RMS / 300 Watts Max
Power Handling : 200 Watts RMS, 400 Watts Max
Power Handling: 300 Watts RMS / 600 Watts Peak
Nominal Impedance: Dual 4 Ω
Nominal Impedance: Dual 2-Ohm
Nominal Impedance (ea): 2-Ohm
Nominal Impedance (ea): N/A
Mounting Depth: 3.25 in (83 mm)
JL Audio 10TW3-D4 10" 400W Dual 4 Ohm Thin-Line Component Car Subwoofer
Nominal Impedance: Dual 4 Ω
Mounting Depth: 3.25 in (83 mm)
BEST CHOICE
Rockford Fosgate P3SD2-8 8" Dual 2-Ohm Punch Series Shallow Mount Car Subwoofer
Power Handling : 150 Watts RMS / 300 Watts Max
Nominal Impedance: Dual 2-Ohm
BEST SELLER
Rockford Fosgate R2S-1X10 Prime R2S Single 10-Inch Shallow Loaded Enclosure
Power Handling : 200 Watts RMS, 400 Watts Max
Nominal Impedance (ea): 2-Ohm
MTX 10" Shallow 300 Watts RMS 4 Ohm Subwoofer 3510-04S (35 Series) 3.375" Mounting Depth
Power Handling: 300 Watts RMS / 600 Watts Peak
Nominal Impedance (ea): N/A