Car subwoofers come in various shapes, variants and sizes. That's the reason why even the most knowledgeable person in this field feel a bit overwhelmed. However, it's also the reason why everyone is able to get exactly what they want.
Bear in mind that size is an important key to take into account when you are considering buying a subwoofer for your vehicle. The ideal subwoofer's size depends on many factors including your music taste, your vehicle and your sound application.
For example, certain subwoofer sizes are better for a particular type of music. Additionally, some subwoofer sizes, especially the largest ones might cause some problems during installation, which might lead to undesirable performance trade-offs.
The four most common subwoofer sizes are 8, 10, 12, and 15 inches.
In this article, we're going to focus on 12 inch subwoofers.
12 Inch Subwoofers are by far the most common subwoofer size available on the market. If you're seeking deeper and better overall sound, and more importantly, if you want to give your music a deep bass tone without sacrificing too much space, a 12 inch subwoofer is your best bet.
These 12 inch subwoofers generate a lot more bass compared to 8 and 10-inch subs, making them ideal for listening to a variety of music, including but not limited to country, metal, blues, and rock. However, they're also not as large to install compared to 15 inch and larger subs, making them the perfect compromise that combines ease of installation with optimal audio quality.
Disclaimer on Our Best 12 Inch Subwoofers
This is not by any means a comprehensive list. There' are tons and tons of great 12″ inch subwoofers out there. If you'd like more information, you can check out the lists on PriceGrabber and Wikipedia (car audio manufacturers and brands), both of which are excellent resources.
However, we did want to give you a few good options. These 12 inch subwoofers represent different price points, specifications and performance.
With any luck, you'll find something that meets your needs and works for your sound system.
If we missed a 12″ inch subwoofer you love, let us know in the comments!
>>Click here to see prices, specs and reviews of the top rated 12 inch subwoofers<<
Top 7 Best 12 Inch Subwoofers for 2020
To be honest, we weren't too familiar with this brand prior to using, but we couldn't resist not putting it through its paces after taking a look at the specs.
The Dual's BP1204 bandpass subwoofer enclosure showed a very good set of advantages and only minor disadvantages. We dare say that it might even be one of the best dual 12-inch subwoofers out there.
Besides pumping out great bass, Dual's BP1204 bandpass subwoofer enclosure comes with an "Illuminite" bulb system. This allows the enclosure to emit a cool blue glow to help improve the aesthetics of your vehicle's interior.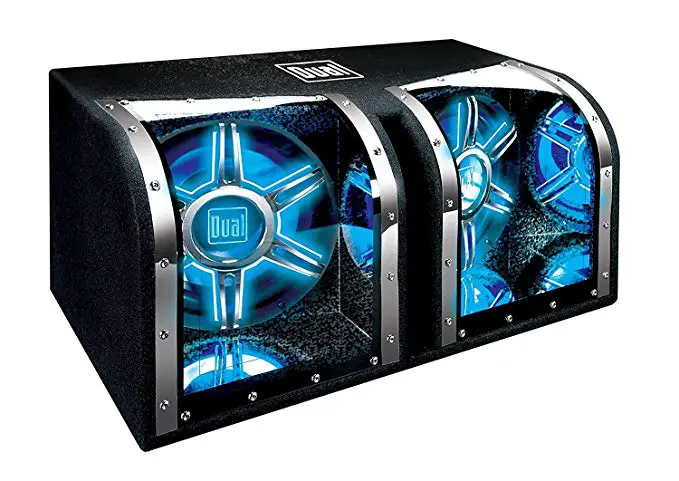 If you're looking to make your vehicle look as good as it sounds, then this is the way to go.
This dual chambered enclosure also packs two 12-inch subwoofers with a total RMS of 600 watts. It may not seem like much, but at the end of the day, it's way more than enough powerful to satisfy most people's cravings for heart-thumping bass.
Of course, no product is perfect. This one definitely isn't. However, the only drawback we found about this enclosure is its sensitivity rating that could use some improvement.
Outside of this sensitivity, or lack thereof, the Dual BP1204 is the closest thing that you can get to a perfect 12-inch subwoofer today that has the looks to match its audio quality.
Pros:
Illuminated and packed in enclosure for easy mounting
One of the prettiest subwoofers around, thanks to the "Illuminati" bulb system
Plexiglass windows
A set of two subwoofer speakers
Cons:
Underpowered at 250 watts RMS
Can get a little too bass-heavy
Rockford Fosgate is an American manufacturer of aftermarket and OEM car audio and In-Car Entertainment (ICE) products and accessories. They were founded in 1973 and they offer a wide variety of subwoofers. This particular subwoofer is one of the higher quality subs that RF offers.
The company on the other hand has brought radical changes to the industry, by introducing several new approaches to the differences between mobile and home audio.
By running audio in both stereo and mono modes simultaneously, Rockford Fosgate's amplifier models are the first to feature this approach, which results in more accurate and cleaner audio quality.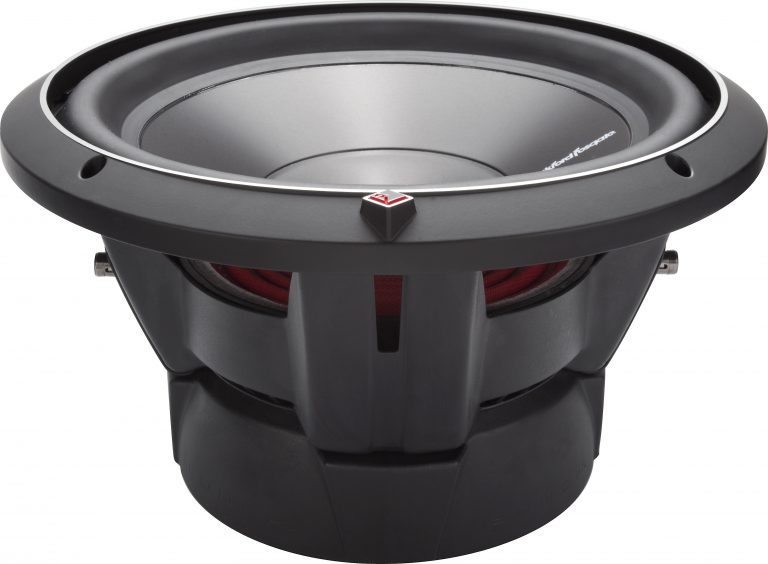 The most remarkable aspect of this sub is that it's available in both 2 and 4 ohm impedance configurations. It can also be ordered in various sizes including 10″ , 12″ and 15 inches (Please note that the specs vary from on size to an other).And while you will always have to match your amplifier to your car subwoofer, be sure to know the impedance of your subwoofer and try to match your amplifier's impedance accordingly.
The Rockford Fosgate P3D4-12 Punch P3 car subwoofer, despite its lower sensitivity rating, produces some impressive sound levels. In addition,the accuracy of its sound is noticeable.
This 12 inch subwoofers might not pack as much power as some of the other models we've reviewed, but its sound reproduction is exceptional, and it's truly a great deal for the money.
Pros:
FlexFit basket for multiple installation options
CEA-2031 industry standard certification
Can accommodate as much as 1200 watts
Available in 2 ohm and 4 ohm configurations
Cons:
Enclosure not included
You'll need a powerful amp to make the most of its features
Pioneer TS-W309D4 Champion Series
Founded in 1938, Pioneer has long staked its reputation as one of the most authoritative brands in audio industry.
At just under $80 and with a name like Pioneer backing it, the Pioneer TS-W309D4 is easy to recommend. In fact, this beautiful sub is one of the best at its price point, and above it.
The Pioneer TS-309D4 features dual 4 ohm voice coils, giving you the flexibility and control to wire the sub for 2 or even 8 ohm impedance. But, that's not all. It's capable of handling as much as 1400 watts of power, which is A LOT all things considered. Plus, it has a very high sensitivity rating, making it a pretty yet functional subwoofer that's capable of delivering heart-pumping beats anytime you want it to.
Another thing, the Pioneer TS-W309D4 sub is made to last and sound good for a long time. The new IMPP composite seamless cones are durable, and yet, at the same time, design to allow the subwoofer to maintain its powerful bass and accurate sound for many years.
Pioneer also used a dual layer elastic polymer surround in order to enhance the sub's durability and lightness which results in superior response and louder volume.
The only pitfall with this sub is that it doesn't quite dip into the subsonic frequencies that some other car subwoofers do. Other than that, it's as good as you'd expect if not better.
Pros:
Dual 4-ohm voice coils for wiring flexibility
Uses double magnet design for maximum bass performance
Can handle up to 1400 watts of power
Cons:
Doesn't really dip into subsonic frequencies
We have reviewed various Kicker audio equipment on this site before, and the story hasn't changed. Kicker produces quality products for a reasonable price.
If you are wanting to keep your box set under $80, we can't think of a better option for a subwoofer than Kicker 10c124.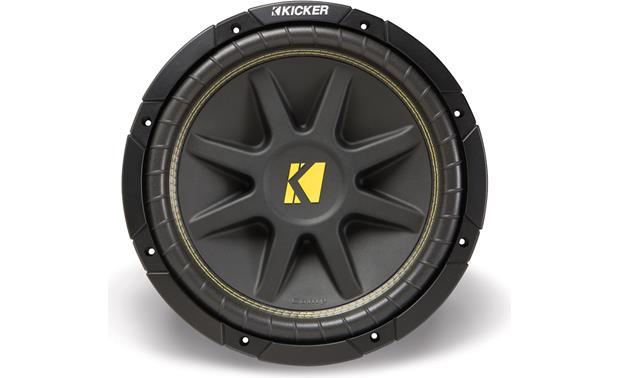 The Kicker 10C124 subwoofer is a smart alternative to people on budget. The bass is excellent and it's affordable. Although the power handling is a bit lacking, it's not half-bad, and is still fairly capable of bringing out the depth of your music. Not to mention, the sub also comes with flexible wiring configurations, thanks to its 4-ohm impedance load.
Again, the only downside is Kicker 10C124's continuous power handling at 150 watts. However, at $80, you'd have a hard time looking for anything that's remotely as good let alone better.
It's one of the best 12″ inch subwoofers at this price point and it's a good entry-level sub if you want to test the waters before upgrading to something a little more sophisticated.
Pros:
Arguably best bass at its price point
Can handle 4-ohm impedance load for flexible wiring configurations
88dB sensitivity
Double Spiralead tinsel leads for added durability
Cons:
Meager power-handling at only 150 watts
There's good, there's better, and then there's the best, which is exactly what we would describe the CT Sounds Strato as.
Equally as powerful as it is durable, the CT Sounds Strato was designed to not just shake your very core while listening to your favourite tunes but also last years and years worth of car meets and sound offs.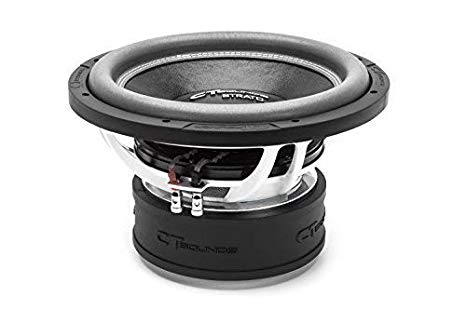 Capable of handling 1,600 watts of peak power, the CT Sounds Strato is a beast of a 12 inch subwoofer.
Mind you, it's not just powerful, nor strong. Thanks to its double-stitched paper cone design, the music, regardless of the genre, coming out of the subwoofers will be incredibly nuanced, perhaps the most nuanced you'll ever hear in your entire life. Or, at least, as far as subwoofers go.
The CT Sounds Strato can also be mounted inside both ported and sealed enclosures, as well as sports dual voice coils, to further sweeten up the deal.
So long as you're willing for the price of admission, the CT Sounds Strato will treat you to one hell of a show.
Pros:
One of the most powerful 12-inch subs out there
Punchy but detailed sound even at maximum volume
Nuanced sound
Cons:
Need a high performing amp to accommodate the sub
Not everyone can afford to spend money for the best 12-inch subwoofers that money can buy, but, even though you'll have no choice but to buy something less expensive, that doesn't mean that you'll have to compromise power and sound quality.
Featuring top-end quality at a mid-level price, the JL Audio 12W0V3-4 is for those who want more without having to spend for it.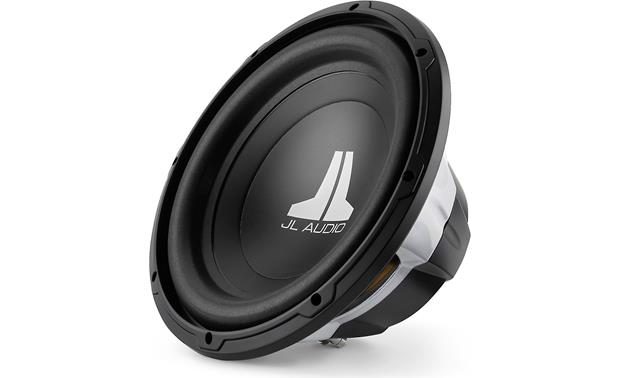 The 600 watts of peak power isn't much, but it's enough. Also, because of its 85 dB-ish sensitivity, you can rest easy knowing that the sound quality won't distort easily. Additionally, you shouldn't let the single voice coil configuration fool you. At the end of the day, it's still a 4-ohm subwoofer.
The JL Audio 12W0V3-4 is not a high-end subwoofer, but it's close.
Considering its affordable price, "close" is more than enough.
Pros:
Well-constructed and feels premium
Compatible with both sealed and ported enclosures
Patented optimized motor system technology for precise, linear cone movement
Patented elevated frame design for better cooling and power handling
Cons:
Lacks power compared to its contemporaries
Talk about punching above its weight, the Power Acoustik MOFO-124X Mofo Pro Subwoofer literally acts like a 15-inch car subwoofer even though it's technically just 12 inches.
The attempt alone is impressive enough, but the fact that it delivers is even more commendable. Rated at a 2700 Watt peak power, the 12-inch car subwoofer can really perform, and thanks to its die-cast aluminum frame, you won't have to worry about its durability at all.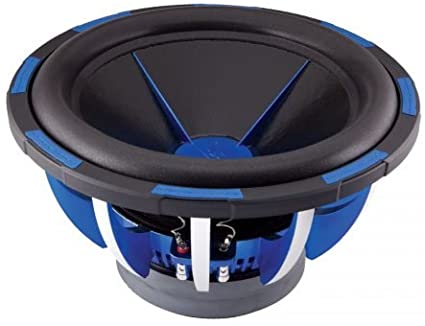 With a cast aluminum heatsink for maximum heat dissipation, a non-pressed pulp cone for enthusiast-class performance, and finally, a dual 4-hm 4-layer voice coil, the Power Acoustik MOFO-124X-MOFO is a no-brainer for enthusiasts who simply just got to have more.
Pros:
2700 Watt peak power
Die-Cast aluminum frame and cast aluminum heat sink
Relatively inexpensive for its power
Double coils
Cons:
Doesn't come with an enclosure
Lacks that premium-quality finish
Conclusion
Subwoofers make a huge different in the sound quality of your car's audio system. But, if you make the right choice, you don't have to worry about that at all, especially when you choose any one of the models that we have recommended above.
Any one of car audio systems we rounded up above are all designed to satisfy even the finicky of car enthusiasts.
So, regardless of which one of these you choose, you're definitely going to be happy.
Of course, if you really want wants best for your car's audio system, make sure that you pick one that actually fits your current set-up and the future set-up that you have in mind.