Trying to find car speakers with good bass and nice sound quality? 
Coaxial speakers can be a mixed bag of quality.  Sometimes you don't have the money to add a woofer so you need a little more punch from your speakers. But when you are looking for the best 6.5 car speakers for bass, what should you be looking for exactly?
In this industry, you really do get what you pay for.  Some coaxial speakers are very well-engineered and have a really nice sound balance.
They're also easy to install and require fewer wires.  These speakers are the choice of guys who are just wanting a significant upgrade from factory speakers, no muss no fuss.
If you are on the lookout for the best 6.5 car speakers for bass, then you are in the right place.  We did the research so you don't have to.  We've listed below some of the better options available to you when looking for quality sounding 6.5 car speakers.
Best Choice
JBL GTO939 GTO Series 6x9" 300W 3 Way Black Car...
Polk Audio DB691 6-by-9-Inch 3-Way Speakers (Pair,...
Pioneer TS-A1680F A Series 6.5" 350 Watts Max...
Best Choice
JBL GTO939 GTO Series 6x9" 300W 3 Way Black Car...
Polk Audio DB691 6-by-9-Inch 3-Way Speakers (Pair,...
Pioneer TS-A1680F A Series 6.5" 350 Watts Max...
Contents:
Reviews of the Best 6.5 coaxial car speakers
Polk Audio is an American company that was founded in 1972 and offers a wide variety of speakers for both homes and automobiles.  This particular set of speakers is one of the higher quality speakers that Polk Audio offers.
Polk's db651 speakers feature 6-1/2″ woofers made from high quality, durable rubber surrounds that won't fall apart under stress, heat, moisture or time.
The rubber surround adds to bass response and increases the lifetime of the speaker under any conditions.
The liquid-cooled 3/4″ silk/polymer dome tweeters use Neodymium magnets to deliver sharp and accurate high frequency notes, immersing you in a pleasurable atmosphere of bright musical details.
Additionally, these tweeters can be pivoted, so the sound would broadcast towards your ears for improved stereo imaging.  Moreover, the built-in two-way crossover keeps the audio frequencies flowing to the proper driver – high frequencies to the tweeters and low frequencies to the woofers, for seamless, efficient sound output.
The DB651 speakers are configured for 92 dB sensitivity and are able to handle 120 watts of power on a continuous basis.  Polk designed these speakers for audio enthusiasts who want to feel their music as much as hear it.
What I mean is that Polk thoroughly addresses every aspect of audio engineering in a way that leaves no room for negative critique.
I could go into detail and describe all the subtle methods and cutting edge technologies Polk implemented to improve the sound quality of their speakers, but suffice to say that these speakers have the ability to accurately reproduce fantastic, clean and precise music like you've never heard before.
The DB651 speakers feature stainless steel mounting hardware and muscular ABS grilles that will add a stylish touch to your car's interior, making it look as good as it sounds.  Almost all Polk Audio DB speakers including the db651 are marine certified, which means these speakers are built tough to withstand the harshest environments.
Being marine certified, the Polk DB651's will surprise you with its versatility and ability for use in various applications including boats of all types, off-road vehicles, as well as ATVs.
If you are tight on space, and you know these speakers won't fit your vehicle, you can opt for the shallow version – DB651s which features a relatively top-mount depth, so it can be mounted in shallow enclosures.
As for the downsides, it's really difficult to think of any.  If anything, I'd say the narrow frequency range.  Bear in mind that's pretty natural among 6.5 coaxial speakers.  That being said, don't expect ground-pounding bass out of these speakers.
Design : 2 way
Frequency response : 35-22,000 Hz
Sensitivity : 92 dB
Power Handling :

Peak : 360 watts per pair / 180 watts each
RMS : 120 watts per pair / 60 watts each

Impedance : 4 ohms
Top-mount depth : 1-11/16″
Warranty : 1 year
Polk Audio DXi651s 6-1/2" 360 Watt 2-Way...
6 1/2" DXi Series 2-way Coaxial Car Speakers
Comes with 6 3/4" adaptor rings for easy fit in VWs, Audis, BMWs and other European cars
Power Handling: Peak: 360 watts per pair / 180 watts each
Dynamic Balance polypropylene cone
Frequency Response: 35Hz-22kHz / Sensitivity: 92dB
Pioneer, a company we are rather enamored with, makes some of the best 6.5 car speakers for bass, in addition to the best car stereos.  The TS-A1675R are the best seller car speakers on the market, and that's no coincidence.
We've been Pioneer fan for a long time now, and honestly, this time they exceeded our expectations, all things considered.
The TS-A1675R speakers are designed from the ground up to breathe a new life into your music.  You'll enjoy clear vocals, chunky guitar riffs, powerful drums, and a decent distinct bass lines that have always been part of your music, but have remained hidden behind those worn out factory speakers.
A pair of speakers can sound terrible in one setting and epic in another.  You might find that Jazz sounds epic through the speakers whereas Punk Rock sounds flat.  Pioneer anticipated these issues and built their A series TS-A1675R speakers with sensitive, yet rigid materials so that they feature the widest frequency range among all 6.5 car speakers for bass.
Therefore giving you the best chance of finding a great listening experience and ensuring you are hearing every note of your favorite tracks.
Additionally, the TS-A1675R feature a sensitivity rating of 90dB which is quite high.  Combine that with 100 watts of continuous power handling and you get speakers that are able to deliver a perfectly balanced sound all throughout the audible frequency range and eventually to rattle some eardrums.  The TS-A1675R speakers can be ran off your factory stereo, but they'll really shine when driven by an aftermarket stereo or an external amplifier.
Long story short, Pioneer TS-1675R speakers are the deal of the century, all things considered.  You won't be disappointed if you buy these speakers.
Design : 3 way
Frequency response : 35-31,000 Hz
Sensitivity : 90 dB
Power Handling :

Peak : 300 watts per pair / 150 watts each
RMS : 100 watts per pair / 50 watts each

Impedance : 4 ohms
Top-mount depth : 1-13/16″
Warranty : 1 year
The Infinity Kappa 60.11cs is another "super sensitive" speaker, and we like it for a lot of the same reasons we like the Kappa.  It's supposed to be a bit expensive, but we found it to be just reasonably priced.  Noticing a bit of trend?
The highly sensitive speakers tend to feel like higher-quality speakers,which you can see reflected in the reviews.
So what's so special about the Infinity Kappa 60.11cs?  First things first, these speakers are very sensitive, which makes them best suited for systems powered by a factory headunit. Sensitivity is a vital rating that measures how the speaker responds to wattage.
The amount of power required to deliver the same volume decreases by half with every increase of 3dB.  This means that the 93dB Infinity Reference speaker only needs 50 watts to produce the same volume of 90 dB speaker using 100 watts
Additionally, Infinity Kappa 60.11cs speakers feature high roll rubber surround with a Plus One+ woofer design that extends cone surface area so you enjoy richer and deeper lows.  This also helps retaining the integrity of the sound.
The edge driven, larger textile dome tweeters on the other hand are equipped with an attenuation switch so you can fine-tune the degree of brightness to match your musical taste.
Our only complaint was that this particular series of speakers (Infinity Reference) lacks much of low-end frequency, which might not be what you're looking for, mainly if big bass is high on your list of requirements.  However, if you're going to drop a subwoofer into the mix down the road, these speakers would be a great buy.
Design : 2 way
Frequency response : 45-35000 Hz
Sensitivity : 90 dB
Power Handling :

Peak : 540 watts per pair / 270 watts each
RMS : 180 watts per pair / 90 watts each

Impedance : 2 ohms
Warranty : 1 year
You may be asking yourself what this set of speakers is doing on the list.  It's clearly outclassed by most of the other top 5.  So why did we list it?  Price.
The Pyle PL63BL speakers have a wonderful low price, and a fascinatingly flashy design, but might not sound quite as well as advanced models.
Still, they can absolutely get the job done for under $30.  They're one of the best 6.5 car speakers for bass – especially for that price point! They're a good entry level speakers if you want to test the waters before upgrading to something a little more serious.
Design : 3 way
Frequency response : 90Hz – 20,000 hz
Sensitivity : 89 Db
Power Handling :

Peak : 360 watts per pair / 180 watts each
RMS : 180 watts per pair / 90 watts each

Impedance : 4 ohms
Top-mount depth : 1-15/16″
Warranty : 1 year
6.5" Three-Way Sound Speaker System - 180 W...
180W RMS AND 360W PEAK: This 6" x 5" car speaker can provide up to 180 watts RMS or 360 watts peak power because it is a 20 oz magnet structure. A pair of 6" x 5" 180-watt speakers - carrying both the high and low end for a fuller range sound
TRIAXIAL SPEAKER SYSTEMS: The 6.5-inch woofer features an eye-catching blue poly injection cone for plenty of stiffness without added weight. The 1-inch ASV voice coil is ready for high-temperature, high-wattage situations
LOW IMPEDANCE: Pyle 4 ohm component audio speaker compensates the undersized wire found in many of today's cars. It also makes the most of every 360 watts your car stereo can deliver. Includes grills, wires and mounting hardware
MIDRANGE TWEETER: Pyle pro-three-way sound speaker system has a one-inch neodymium film dome midrange and 3/4-inch piezo tweeter that completes the package. It helps to provide smooth, loud and detailed sound in each pair
VOICE COIL: Our voice coils are able to withstand high temperatures yet maintain its strength and fatigue properties giving them the advantage of longer play times with lower weights, ensuring low distortion and providing an open sound stage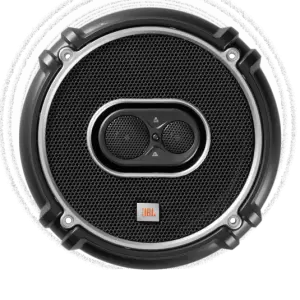 When looking for the best 6.5 car speakers for bass, you can't go wrong with the JBL GTO638 Car Speaker. JBL GTO638 is another example of genuine American engineering.  It's made with the same exceptional quality as the others we've come across.  JBL is one the most authoritative speaker manufacturers in the world.
You can find JBL speakers almost everywhere – your local rock venue's PA system; your aunt's fancy home theater; your best friend's Bluetooth speakers; your colleague's over-ear headphones.
It makes sense that you'd also find them in cars as well.
JBL GTO638 speakers feature a sensitivity rating of 92 dB and can handle 120 watts on continuous basis.With such high sensitivity and power handling ratings, JBL's GTO speakers will really rattle some eardrums and make dogs howl.
Design : 3 way
Frequency response : 50 – 21,000 Hz
Sensitivity : 92 dB
Power Handling :

Peak : 360 watts per set / 180 watts each side
RMS : 120 watts per set / 60 watts each side

Impedance : 2 ohms
Top-mount depth : 1-15/16″
Warranty : 1 year
Advantages of Upgrading to Aftermarket Speakers:
Better designs = better sound :  Vehicle manufacturers don't always bother themselves too much with the sound quality of speakers that they're going to mount in their new car model — they've got plenty of other issues to think about.  But car audio manufacturers do.  They're always trying and experimenting to make great sounding speakers.  You'll be able to notice the difference that commitment makes when you upgrade your factory installed speakers to brand-name speakers.  Aftermarket speakers feature more sophisticated designs than factory speakers.  If your existing factory installed speakers sounds muddy and muffled, a new set of 2-way or 3-way speakers will provide that extra crispness and detail you're looking for.Aftermarket speakers come with advanced crossover circuits, which divides music frequencies into high, low and midrange frequency ranges, and then directs these signals to the correct drivers – highs to the tweeters and lows to the woofers(In their simplest form these crossovers contain low pass filters and high pass filters to isolate the high and low notes). So the speaker operates efficiently and delivers balanced sound output.
Better materials = long life and improved performance :  Aftermarket speakers are built with solid materials that can withstand harsh environments and excessive use.  These materials aren't only durable, but also have superior sonic performance.  With that said, you'll enjoy deeper,fuller lows, cleaner and crisper highs, not to mention the confidence of knowing that your speakers will hold over time.
Brand-name speakers = the affordable option : There are various way to improve your vehicle's audio system, but adding new aftermarket car speakers is one of the most effective and affordable ways.  You'll notice a huge difference in the sound quality even if everything else is kept untouched.  That's the reason why speakers should be part of your upgrade plans.  Whether your project is large or small.