With so many amplifiers reviews on different models, brands, and types out there, it's natural to feel a bit overwhelmed. Making the wrong decision could cost you time and money! It could even put your speakers/subwoofers at risk! So before shopping for your upgrade, make sure you get all the info you need to make your purchase. In this guide, we walk through some of the best 4 channel amp to get you started on your amplifier upgrade!
External amplifier come with great advantages.  If you're seeking high volume levels for instance, amplifiers are definitely part of the picture.  Furthermore, if you aim at increasing sound clarity and bass, look no further than adding an external amplifier.
Adding an external amplifier is one of the most economical ways to upgrade your system without changing neither your speakers nor your receiver.
A 4 channel amplifier can really boost the power for both your front and rear speakers. The results you will get is night and day of a  difference in terms of sound quality and volume.
There are plenty of amplifiers out there that are small enough to be installed behind your car's dashboard,and they're powerful enough to breathe a new life into your sound system.
>>Click here to see prices, specs and reviews of finest 4 channel amps<<
Any of these amps would be great buys.Much of it comes down to personal taste. Like with any product, you can get some really, really nice amps if you're willing to spend a bit of cash. Luckily, there really are great products in every price range. Let's take a look!
Configuration : 4-channel car amplifier
Class : Class D
RMS : 100 watts RMS x 4 at 4 ohms (150 watts RMS x 4 at 2 ohms)
RMS : 125 watts RMS x 4 at 1 ohm
Bridgeable : Yes
Max Power : 1,200 watts
Features : variable high,low-pass filters ,preamp inputs and outputs
Warranty: 1 year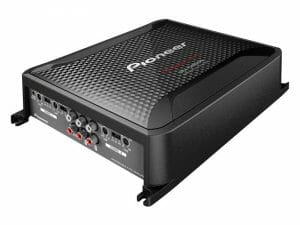 So, we're now big fans of Pioneer products.The GM-D8604 is a fantastic amplifier,and possibly one of the most stunning we have found.  We have reviewed a few Pioneer products before, and we believe that Pioneer makes great products, and this amplifier is no exception.
One of the most remarkable aspects of the Pioneer – GM-D8604 is its tiny size which makes it very versatile. and its features speak for themselves.
Additionally, the engineering, and the design of this amp couldn't be more convenient.Its continuous power output stretches up to 100W per channel at 4 ohm impedance,and it goes up to 150W at 2 Ohm.That makes it more versatile in terms of installation as well as performance.
Although this amplifier is a bit highly priced, it's a good choice for those of you who are in a budget.By that we mean,if you're building your car's sound system from scratch and in stages,it would be great to use this amplifier to drive a set of speakers with the front two channels while bridging the rear channels together to drive a subwoofer with up to 300 watts RMS ; Which will result in more bass and high quality sound.Later on you can opt for a mono-channel amp to drive your subwoofer, and switch this 4-channel amp to power all four of your speakers.
To prevent circuit shutdown,Pioneer went the extra step and enhanced its GM series amplifiers with a protection control system that senses the amp's temperature and automatically moderates input level accordingly.Pioneer definitely took the time to create a great 4 channel amp for anybody looking for a powerful amplifier that can properly power your sound system.
Configuration : 4-channel amp
Class : A/B
RMS : 50 watts RMS x 4 at 4 ohms (75 watts RMS x 4 at 2 ohms)
RMS : 150 watts RMS x 2 bridged output at 4 ohms
Bridgeable : Yes
Max Power : 300 watts
Features : variable high,low-pass filters ,Bass Equalizer
warranty: 1 year
Alpine is a brand that we haven't discussed much on our site.However,Alpine has made a name for themselves in audio industry.They were established in 1967, and they have been making quality car audio products ever since.They have built everything from car speakers and subwoofers to amplifiers and headunits.
Alpine MRP-F300 is one of the best selling 4 channel amp in its category.It can send up to 50 watts to each of your speakers.It can also be switched to 2-channel or 3-channel mode according to your needs.This amp comes with high-level speaker inputs and flush mount controls that will make the installation an easy and smooth process.
Alpine MRP-F300 has an extremely powerful built-in thermal management system that is monitoring amp's temperature on continuous basis ,ensuring nonstop performance and amp-level reliability.
Long story short, it's really tiny and pricey.There are lots of great things about this amp, but unless you're willing to invest a bit of money , you might consider passing on it for that reason alone.
Configuration : 4-channel amp
Class : A/B
RMS : 240 Watts x 4
Bridgeable : Yes
Max Power : 2400 watts
Warranty : 1 year
Features : Soft Turn-On Circuit,Remote Subwoofer Level Control,Input Sensitivity Selector,Thermal Overload & Speaker's Short Protection
Boss is a Japanese manufacturer that has been specializing in all sorts of musical equipment and accessories since 1973. They have mastered the art of providing amplifiers that bring full, high quality sound.
Boss makes a great, well-rounded collection of vehicle audio components.The Boss PH4.600 is no exception.It is a solid amp for a great price.
Boss PH4.600  made our list for its combination of price and quality.At most retailers,this amp can be found for under $110.With built-in high- and low-pass filters,you can adjust the output and get the best sound possible of your system.You can also dial in up to 18 dB of bass boost which will result in a new dimension added to your listening experience.
One thing to watch out for,however is the temperature.Some reviewers have noted that this amplifier quickly switches to protection mode. Which is a good way to impair the quality of sound you experience in your car.We didn't have that problem with this amp, but it's a major quality issue. Just something to look out for.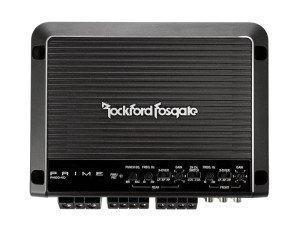 Configuration : 4-channel amp
Class : D
RMS : 75 Watts x 4 @ 4-Ohm
RMS : 200 Watts x 2 @ 4-Ohm Bridged
Max Power : 400 watts
Bridgeable : Yes
Bass Boost : 18 dB
Warranty : 1 year
Features : variable high- and low-pass filters,bass boost,
preamp inputs and outputs
To be honest, we weren't too familiar with this product prior to using. However, the Rockford Fosgate quickly caught our attention. One of the first things that we noticed were how versatile it is.I mean, if you've been missing clean music even at high volume levels,give this amp a try and you'll be able to notice a day and night difference in terms of sound quality.
Rockford Fosgate R400-4D is a 4-channel amp that can put out 75 watts to each of your speakers,giving them plenty of juice to immerse you in a pleasurable atmosphere.With that being said, you can use this amp's front channels to power your front speakers,and bridge the rear channels to power a sub with up to 200 watts RMS.You can switch this amp to 2 channel mode and use it to drive a pair of subs as well.
The rockford Fosgate R400-D is one of the finest 4 channel amps that will give you a premium sound quality experience.At $160,you might find it a bit pricey, however, with all this performance and features, we believe it's reasonably priced, and it's worth all the money you spend on it.