When last did you wash your car? No, we mean really washed it, like gotten under the hood and given the engine a good degreasing. If you are an average driver, chances are you've probably never even considered it! Car enthusiasts typically focus on making that vehicle look slick, with the best looking rims, or the loudest sounding beat with the best subwoofers. But one thing that people tend to neglect is the engine bay! You need some of the best engine cleaner if you want your car to run optimally.
Unfortunately your car engine isn't a self-cleaning machine. It needs some good old TLC if you want to have a nice functioning vehicle.
Like all machines, your car's engine needs to be cleaned so that it runs smoothly. And with regular degreasing, you can even extend its life. So, whether you are getting your car ready to sell, cleaning it before a major service (who doesn't do that?) or just want the satisfaction of seeing a shiny engine when you pop the hood, we've got an engine degreaser for you.
In this guide we take a look at some of the best engine cleaner to review and hopefully find the best one for you.
Top 5 Best Engine Cleaners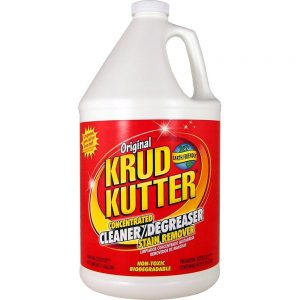 Tough on grime, but easy on the pocket, KRUD KUTTER literally cuts through the grease and crud. Available in different sizes to suit your cleaning needs, the powerful solution works best when diluted.
We like that it is biodegradable, which means it is environmentally friendly. The formula contains emulsifiers and detergents that are blended in a water-based solution, and there is no ammonia, bleach or petroleum. There is a slight odor, but it isn't picked up easily.
The versatile degreaser pretty much replaces the different cleaning products you find in the average home and will remove grease and grime from your engine as well as BBQ grills, gutters, glass, mirrors, appliances and furniture.
The only complaint when it comes to KRUD KUTTER is that it takes a little longer to dissolve tough stains, but once it works, it works incredibly well.
We get that you don't really care whether your engine has a fragrant smell or not, Meguiar's Super Degreaser smells better than most others and isn't overpowering.
Also, unlike other degreasers, this particular one doesn't leave a white residue behind, which also needs to be cleaned. Meguiar's is quick and easy to use, and it cuts through most of the muck in as little as 30 seconds. Once you're done cleaning, you simply wipe it off.
The solution is strong, and it is recommended to dilute it 10:1 for normal build-up or 4:1 for very heavy build-up. It can be used to clean wheel wells, panels, tires, engines and a whole lot more, and best of all, no scrubbing is necessary.
Gunk has been around for the last 55 years or so and has become the common term for degreasing. With its distinctive branding and rather unique smell, it's a popular choice for professionals as well as people wanting a deep clean at home.
The formula works on different types of engines including cars, bikes, RVs, mowers, and tractors. It has low VOC, which makes it safe to use and you'll see results within 10 minutes. The only downside to Gunk is the strong smell, but its low price and efficacy make it a popular choice.
Chemical Guys Signature Orange Degreaser is a powerful citrus-based solution that cleans every surface in the garage, from your car's engine and interior to the undercarriage, tires and rims.
The product can be used at full strength for deep cleaning or diluted 20:1 for light cleaning, and it's probably one of the most versatile heavy-duty degreasers around.
A word of caution, however, is to wear gloves when using this degreaser; even though it is citrus-based, it's potent.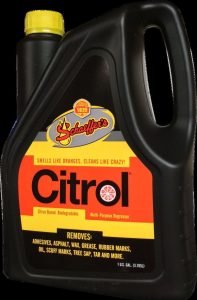 Schaeffer Manufacturing Citrol Cleaner and Degreaser is an industrial strength, biodegradable cleaner that can be used on almost any engine type, from cars and trucks to factory machinery and equipment. But it is gentle enough to clean tar, tree sap or stickers without damaging the paint.
The citrus fragrance is pleasant and won't irritate sensitive noses, and it is made using a combination of organic citrus-based solvents and is the perfect substitute for cleaners and degreasers that contain petroleum, alkaline, acid, chlorine and other harmful ingredients.
Everything You Need to Know about Buying the Best Engine Cleaner
There are different types of engine degreasers to choose from, including environmentally-friendly ones, foam degreasers and vapor solvent degreases.
The one you choose will depend very much on what you need to clean, how tough the dirt and stains are and whether you want to use it to clean other things around your home or workplace. Let's take a look at each one in a bit more detail.
Environmentally-Friendly Degreaser
Environmentally-friendly degreasers are made using natural or organic ingredients including lemon juice, baking soda, vinegar and cornstarch. It is safe to use around children and animals and can be used to clean engines as well as appliances and furniture.
Foam Degreaser
Foam degreasers can be used to clean car engines as well as appliances. Cleaning is easy, and the foam is wiped off without water.
Petroleum-Based Degreaser
Petroleum-based degreasers contain ethanol and distillates and is often used to remove grease, and can also be used to remove residue from oil, gasoline and other lubricants.
Vapor Solvent Degreaser
A vapor solvent degreaser works differently in that the parts that need cleaning are placed above the vapor.
Ultrasonic Degreaser
Ultrasonic degreasers are also different as it uses ultrasonic waves to get rid of grease and grime.
Important Factors to Consider when Buying the Best Engine Cleaner
When you choose an engine degreaser there are a few essential factors to keep in mind, like the product's versatility and the ingredients, whether it can be used on all types of surfaces and its odor. Cost is also a deciding factor because as is often case, the most expensive doesn't always mean the best quality.
You need to keep the following in mind:
Ingredients
Ideally, you want a degreaser that not only cleans your engine but maintains it too. You should also look for formulas that don't contain toxic ingredients and are non-flammable, especially if it's for home use.
Odor
Yes, we know that you don't really care what your engine smells like, but some engine degreasers have pungent odors and may be harmful. Look for a product that has a pleasant enough scent, or no smell at all.
Versatility
An all-purpose degreaser means one product will replace a whole lot of products, saving you space and money. Our reviewed degreasers can be used for engines as well as in and around your home.
Safe
Some engine degreasers are very strong, and it's recommended you test it on the surface you're going to be cleaning. The best engine cleaner are the ones that can be used safely on rubber, plastic, paint and steel.
Why You Should Use an Engine Degreaser
There are a couple of reasons to keep your engine clean with a degreaser, including:
It can prevent any mechanical issues
Keeps your car looking good and running well
Believe it or not, a clean engine will help with the resale value
It is easier to pick up any leaks in the engine
It is a safe and affordable way to maintain your car
How to Clean an Engine Bay with a Degreaser
By now you should have the best engine cleaner in hand, and be rearing to get cleaning. But before you get all "gunk-ho" there is a safe way of cleaning your engine bay without causing any damage. We prefer doing this without water, only because we don't like the idea of any of the electrics being soaked in water. But that is just us.
5 Easy Steps to Cleaning an Engine Bay
Step 1: start off by getting the engine ready. When it is cold, remove loose bits of debris and dirt and make sure you cover any fragile and electrical parts, such as sensors, ignition wires, coils and air intakes.
Step 2: Dirt tends to "bake" on the engine as a result of the heat. You must remove this with a wired brush before applying the engine degreaser.
Step 3: Using any of the degreasers from our list, apply the product to the area that needs cleaning. Let it work for the recommended time (as per the instructions on the packaging) and then use the wired brush again to remove the more stubborn grime.
Take note: Whatever you do, try and avoid getting the stronger formulas on any painted parts on your car. Some degreasers are potent enough to remove paint from the fenders and the body.
Step 4: Once you have removed all the dirt with the degreaser, use a microfiber towel to remove any leftover solution, making sure there aren't any pools of the solution near the wiring or under any compartments.
Step 5: (optional): Now is the time to apply a protective product. If you do this, make sure you spray it onto a (new) microfiber towel and rub onto the bay.
If you use a degreaser that needs water, it is a good idea to use the pressure washer on the widest setting possible. Or you can rinse the degreaser off with a regular garden hose. The most important thing is to not disconnect any wires or break the covers protecting the electronics.
There is nothing more satisfying than lifting your car's hood to find an engine clean enough to eat off of, and best of all it isn't as challenging as you thought it would be. By choosing any one of the degreasers featured in our review, you know you are using a quality product that will get your car's engine looking as good as the day you got it.