Unless you own a high-end vehicle, equipped with an expensive brand-name factory stereo option, your standard factory-installed stereo isn't going to be anything to write home about. Fortunately, you can buy a new car stereo and breathe a new life into your sound system.The first step along that path is to choose a new head unit that incorporates as many features as you want. By buying a new head unit you'll be able to enjoy features you didn't have before, such as Bluetooth wireless streaming, MP3 compatibility, MIXTRAX Illumination and more .
If you're on the lookout for a single din head unit that meets your needs and fits your car, and in order to make an informed decision, there are a few point that you might want to be aware of before you go online or to the stores to embark on your quest.
Sound Quality – A great head unit will enhance your overall listening experience by delivering high quality sounds.A head unit that sounds good on its own is a convenient choice if you have no intention to drop an external amplifier into the mix later.Bear in mind that it's recommended to opt for a headunit that offers as many extension options (outputs) as possible.Additionally,a headunit that features both high-pass filter and low-pass filter controls ought to be high on your list.
The best head units feature three RCA outputs – one for front speakers , one for rear speakes, and one dedicated solely for a subwoofer.
Features – A good-looking headunit will add an elegant and distinguished look to your car's dash.However,you also need to keep in mind the features that have more to do with function than looks.As many states enact or consider legislation to curb cell phone use and text messaging while driving, you'll certainly want to purchase a headunit with built-in Bluetooth® connectivity for hands-free phone calls and wireless music streaming.
An aux input and a USB port are very useful for playing music from any music player.USB port allows you to charge a mobile device while it is plugged in to your head unit.Some head units allow you to access and control your device through USB port.
Media Formats – You'll certainly need a head unit that can play various digital media types, such as MP3, WAV and WMA files.Some head units are also be able to play AAC files which are the standard media type of audio files downloaded from iTunes.Moreover,you'll also want to look for a head unit that is HD and satellite radio ready.
Other Features – Some of the best single DIN head unit features the ability to change their illumination color. It's actually a very good feature that let's you match up you headunit to your vehicle's dash,adding an elegant and refined touch to your car's interior.Additionally,and more importantly,you'll need to consider whether or not you can control the brightness of your head unit.
For security and anti-theft purposes,you might also want to purchase a head unit with a detachable faceplate.Along with this convenience,make sure your head units comes with a remote control for maximum comfort.
Also, if your car has stereo controls on the steering wheel,look for a head unit that support this option.Stereo control on steering wheel are very convenient!
>>Click here to see prices, specs and reviews of the top rated single DIN head units<<
Here are our recommendations for the best single din head unit!
Any of these single head units would be great buys. Much of it boils down to personal preference. Like with any product, you can get some really great head units if you're willing to spend a bit of cash, but there really are great products in every price range.
When it comes to car stereos there really isn't many more trusted companies in the market than Pioneer. Pioneer has been making car stereos for several years, and they have gained quite a fan base during that process.
We have reviewed tons of Pioneer products on this site. We believe that Pioneer makes a great product,and this head unit is no exception.Our purpose here isn't neither to preach at anyone nor to convince you guys to go out and splurge on the most expensive head unit possible. But we will say that in our experience, we have never been disappointed with Pioneer equipments.And quite honestly, this unit isn't even close to the most expensive head units we've seen.
Pioneer Pioneer DEH-X6600BT comes with plenty of features including Pioneer's MIXTRAX™ technology,built-in Bluetooth® for hands-free calling and wireless audio streaming.This versatile receiver also offers direct control of an iPod®/iPhone® via USB,as well as Pandora® radio ready for iPhone®.Additionally,this reasonably priced head unit features a multi-line LCD display with LED backlight which is 35% larger than the previous models,resulting in great visibility and legibility.To put it simply,the Pioneer Pioneer DEH-X6600BT has a great mix of style, form, and features.
We have been happy with Pioneer DEH-X6500BT through this process and we highly recommend it.
Highlights:
Built-in MOSFET amplifier (14 watts RMS / 50 peak x 4 channels)
Built-in Bluetooth
MIXTRAX
Pandora control through iPhone
Remote control
5-band equalizer
7 preset tone settings
Low-pass and high-pass filters
4-channel preamp outputs
Detachable Face Security™
Compatible with most factory steering wheel audio controls (adapter required)
1 year warranty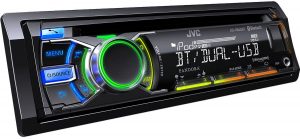 Another contender in our lineup of the best single din head units is the JVC KD-R840BT.Well, it's no secret, JVC just makes great sound systems.This head unit is no exception.This head unit's price is a bit higher, but it's not as high as some of JVC's top models. At around $115, it's not outrageous – and if you are an audiophile, it could be a great investment.
JVC KD-R840BT has been praised for its slender and sleek design, coupled with every feature you could dream of including built-in Bluetooth for wireless synching,PANDORA® Internet Radio,as well as a remote control for maximum convenience and comfort.
While most car stereos with Bluetooth can only be paired to a single phone at a time ,JVC went the extra step and built this headunit so it can support up to two phones at once which is what we love most about it.When a call comes in , your headunit will blink either blue or red, depending on the phone.Furthermore,if you're an Android user , you'll be able to control your head unit via Bluetooth® like a wireless remote control using an application called "JSMC" .This application displays your receiver's source information on the smartphone's screen, allowing you to command basic controls (Play/Pause/FF/Rev/Random/Repeat/Search) simply by voice command or by finger swipes and gestures operations on the screen of the smartphone — for example, tap the screen to play and pause, or swipe right or left to go forward or backward.For your safety it's highly recommended that you mount your Android phone in a way that you can easily reach it without taking your eyes off the road.
This receiver also allows you to retain the convenience of your steering wheel controls, simply by using an adapter to connect your vehicle's steering wheel controls to this stereo.
Highlights:
Built-in MOSFET amplifier (20 watts RMS /50 peak x 4 channels)
Control PANDORA® from your iPhone, Android, or Blackberry smartphone
Built-in Bluetooth
Detachable face with 5 variable-color illumination
6-channel preamp outputs
High- and low-pass filters
3-band parametric equalizer
Remote control
PANDORA® Internet Radio
1 year warranty
Pioneer is at the forefront of car audio technology. They have an awesome reputation among mobile audio enthusiasts, and their in-dash receivers are always a good bet. Pioneer is addressing the growing single DIN market demand by offering a few high quality models featuring various configurations and features. Pioneer DEH-X3600UI is actually one of their best selling and the most highly rated single din head unit, even tough it lacks some features.
Pioneer has packed this receiver with the best and most desirable features including MIXTRAX technology, Pandora control through iPhone,a built-in MOSFET amplifier and a remote control for maximum convenience and versatility.
That aside, we have come across a ton of you who have used and loved Pioneer head units. The head unit linked to above seems a bit expensive when compared with other models available in the market. However, this head units comes with plenty of features and a well designed front face, which speaks for itself. If elegance and quality mean anything to you, we would recommend giving this receiver a try.
While there's plenty to like about the Pioneer DEH-X3600UI, its appeal is undermined by its lack of Bluetooth connectivity and HD radio capability. Don't let the lack of some features fool you.Pioneer DEH-X3600UI is still a fantastic product! Pioneer specializes in just that… Improving your overall listening experience(obvious and cheesy fact, but it had to be said sometime). If you are not into complicated sound systems that involve amps, subs, equalizers, the built-in amp at the heart of this head unit is powerful enough to power your speakers. Otherwise, the high- and low-pass filters built into the unit will come handy if you're building an evolved, expandable sound system with amps and subs.
Highlights:
Built-in MOSFET amplifier (14 watts RMS / 50 peak x 4 channels)
Built-in iPod/iPhone control
Pandora Control through iPhone
MIXTRAX
Remote control
5-band equalizer with 7 preset tone settings
Low-pass and high-pass filters
Variable color illumination with separate control of display and buttons
4-channel preamp outputs
1 year warranty