You're an on-the-go person. You don't want to miss your calls. You don't want to pull over to the side of the curb of the highway to answer on your phone either. Luckily in today's busy and on-the-go world, you don't have to – especially if you got a Bluetooth Car Stereo! Obviously, having a Bluetooth car stereo will also save you from the hassle of fumbling through your pockets or purse for a ringing phone.
Nowadays, Bluetooth compatibility is one of the most desired features and has become a top priority for shoppers when deciding on a new car head unit. It's a great feature to have on your receiver. Even better, it's downright practical! Life in your car will get a lot easier with your phone being paired wirelessly to your stereo.
However, finding the best Bluetooth car stereo can be tough, so we've put together this resource – a detailed, all-inclusive guide so you can make an informed decision on your purchase – take a look!
What Are the Benefits of Car Receivers With Bluetooth?
Bluetooth connectivity allows hands-free calling, making your drive time safer as you can take the call just with a touch of a button on the receiver and talk while keeping your hands on the wheel and your eyes on the road.
Bluetooth connectivity also allows streaming music wirelessly from almost any Bluetooth supported device through the receiver. Some advanced receivers can even be configured to display the incoming call number. Incoming calls can also be set to either pick up automatically or at the touch of a button.
Besides other features such as CD playback, HD Radio™ tuner, AM/FM tuner, and SiriusXM compatibility, the addition of Bluetooth feature rounds out an already wide array of car audio options.
BEST BLUETOOTH CAR STEREO
Invalid table id.
Pioneer still boasts as one of the most reliable manufacturers of top quality and durable car audio systems components.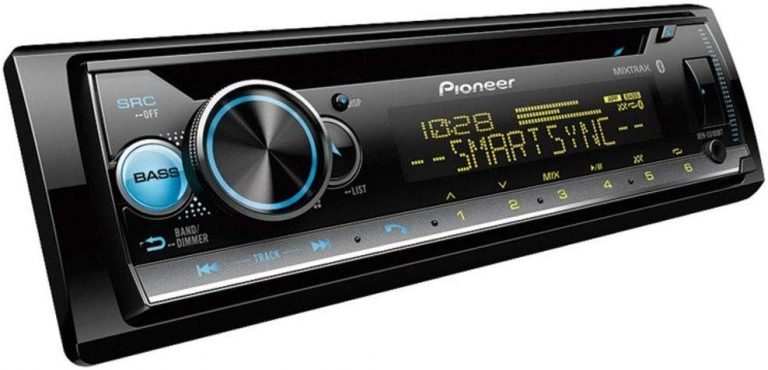 What's more, all their products produce excellent sound quality at an affordable price point.  
We had an easy time choosing our best Bluetooth car stereo. You can never go wrong with this Pioneer Bluetooth receiver. It comes with all the features needed for a flawless driving to allow your hands and eyes concentrate on the path ahead. 
To begin with, it has built-in Bluetooth which lets you make calls or stream music from a Bluetooth device completely hands-free. On top of that, this single Din Bluetooth receiver has a built-in amp for a better listening experience.
The LCD screen has a clear display and LED lights that are customizable and dimmable to allow easy operation even at night. And, the USB ports double up as a charging port for your smartphone. Installation is also straightforward. 
To make your listening experience even better, the Pioneer stereo receiver is compatible with both iPhones and android. It also works well with Spotify, Pandora, SiriusXM-Ready. 
Pros
Easy to install
Customizable to user preference
Great sound
Cons
Screen could have been more visible at night
If you want to upgrade your factory car stereo with an aftermarket option, here is yet another great Bluetooth Car Stereo that is worth considering.
And although many car owners are afraid of trying out the not so "major" brands in the market, this one will not let you down. It is perfect for anyone who wants an affordable option with great features.
The JVC KD-X260BT is a great in-dash car Bluetooth receiver for USB, android, or iPhone. It has a peak power rating of 50 watts * 4 channels and an RMS of 22 watts 4 channels. Additionally, it has other thoughtful features such as graphic equalizer, front USB port, music sync effect, and it can support MP3/Wav/WMA/FLAC playback via the USB port. 
Like most other Bluetooth car stereos, the JVC KD-X260BT allows you a smooth ride as you can operate your audio system hands-free. On top of that, there is an external wired mic for crisp, clear, and distortion-free talking. 
You'll also be pleased with the new improved audio and listening experience you'll get from this stereo. 
Pros
Easy installation
Clear sound
Includes a lot of great features
Cons
Mic could have been better
This list could not be complete without a product from Alpine. Alpine has continuously put in a lot of work to be a top producer of high end and great car audio components.
Here we review the Alpine CDE-HD149BTsingle-din Bluetooth car stereo.
This receiver has an HD radio that allows you to listen to all your favorite radio stations anywhere and at any time. With an RMS power output rating of 18 watts * 4 channels and a peak power rating of 50 watts * 4 channels, this car stereo system is perfect for any car.
The Alpine CDE-HD149BT has a large 7-inch display that can be customized to four different colors, with a signal-to-noise rating of 105dB. The user interface is easy to understand and navigate. The colors on the display and buttons make the receiver very beautiful.
That's not all. The stereo is also compatible with iPhones, iPods, USB, and more. Thus, you can listen to the songs on your phone's playlist as you enjoy your drive home.
Pros
Sounds great
Easy to install
Excellent display
Cons
Mic could have been better
Excelon receivers are the new flagship in-car receivers by Kenwood. These receivers are top-notch quality and look fantastic.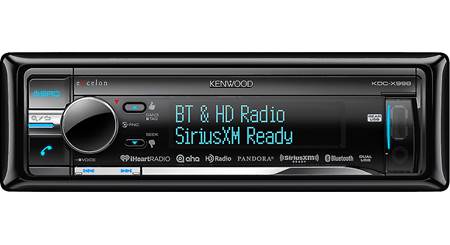 It's noticeable that Kenwood put a lot of thought and commitment to creating these impressive head units.However, the price tag is fairly steep floating around 120 – 200, and even more on high-end models. Yeah, that's pricy but these receivers carry a HUGE return on investment.
On its own, the eXcelon KDC-X998 by Kenwood boasts a wide array of options and features including a built-in HD Radio, a CD receiver with AM/FM tuner, Siri Eyes Free control capability, Pandora and iHeart Radio, not to mention Bluetooth which allows for an easy and fast pairing – secure pairing (SSP) technology, with the ability to prioritize a phone. The KDC-X998 comes with an external Bluetooth microphone that will allow you to be heard clear and loud on the other end when placed in an optimal location within your car.
With Bluetooth connectivity, you'll not only enjoy hands-free-calling and wireless music streaming, but you'll also be able to scroll through your phonebook right on a multiple line display and use the advanced Alphabet Search function to speed up the process. If you have a new smartphone (Android 4.0 or later), you'll some of the metadata, for example, artist, track, and album on the display.
Pros
The display is easy to read
Great fine-tuning options
Decent screen quality
 Cons
Configuration could have been better
To wrap up this list of the best Bluetooth car stereo is yet another awesome product from Pioneer. And, being a product from Pioneer, you can rest assured that this is a great product.
The Pioneer AVH-210EX is one of the best Bluetooth car stereo available in the market today. It has an impressive hands free profile and an audio/video remote control profile. On top of that, it comes with 5 display 6 colors that work perfectly to accentuate the music vibe in any car.
Another very impressive feature of this receiver is its versatility. You can use it with a USB. Plus, it has an AUX input, and is compatible with both Android and iPhone. With the wired remote control, you can operate the receiver remotely without having to press a button.
What's more, the receiver can play a wide variety of music and video formats including DVD, CD, MP3, WAC, MPEG and more. Phone calls are crisp o both ends and the unit is also easy to install. Regardless of your type of car, this receiver fits and blends in perfectly. You will be happy with your purchase.
Pros
Fits perfectly in most cars
Perfect sound quality and great resolution
Includes a backup camera
Great touch screen display
Cons
Could have been more user-friendly
Conclusion
If you are searching for a Bluetooth car stereo, you can rest assured that one of the options listed above will work for you. One common feature with all the receivers in this list is their ease of installation. On top of that, all the options listed above are very affordable and fit perfectly in any car model.
However, as usual, the most ideal option for you depends on your individual preferences. Do you want a touch screen? What size of display do you want?
In any case, we sure hope this helps you make a wise and informed purchase decision! Happy Shopping!