Polk Audio has created one of the best quality speakers for your travel adventures with their Polk Audio DB651 6.5 Coaxial Speaker. Since 1972, it has been their sole focus to provide the ultimate listening experience with high-quality speakers in terms of design, engineering, and audio innovation for movie and music geeks at home or drivers, boaters, off-road lovers, and motorcyclists out there.
Here are some of the top reasons why you'd love the Polk Audio DB651 6.5 Coaxial Speakers.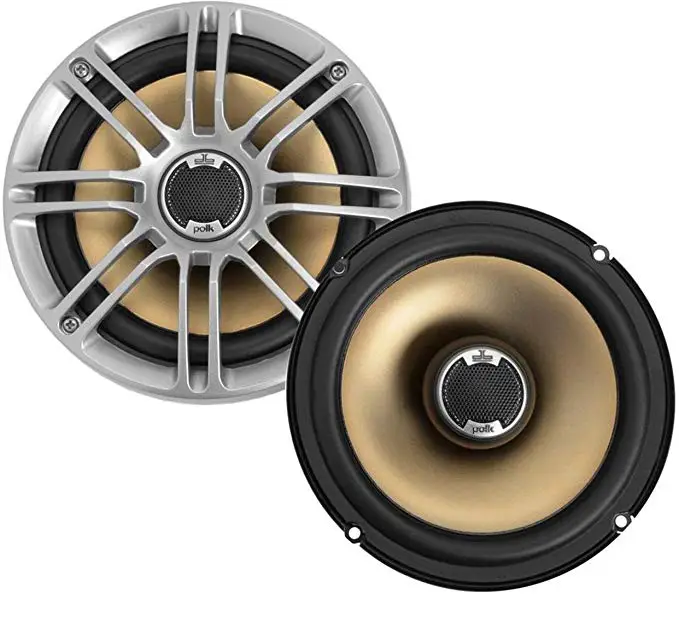 Summary of Features
Includes mounting hardware in stainless-steel for stylish look and durability
Includes a user manual on how to install the speakers or adjust the tweeters
Has swivel-mount tweeter which allows the speakers to be customizable
120 watts of RMS on each pair and 60 watts on each individual speaker
Speakers covered with rubber for better sound and protection
Marine-certified – great for Powersports and freshwater applications
Built-in crossover with separated high and low frequencies
Easy Installation
It's a 2-way speaker, and they are great for DIY installation whether one has experience in replacing speakers or not. Most measurements of OEM speakers is 6-1/2", and the Polk Audio DB651 6.5 measures 6-1/2" or 6-3/4" which will fit perfectly with zero problems.
Great Sound Experience
It is a 2-way speaker with rubber surround which is best in giving quality bass. The tweeter is silk polymer composite which gives off a nice smooth detailed sound. This speaker also has a magnetic fluid around it which dissipates heat which keeps the sound clear and detailed even when the volume is cranked. It is also surrounded by rubber which is flexible and allows optimal movement of the cone, delivering the bass with the utmost quality and clarity from the woofer.
Marine Certified
The Polk Audio DB651 6.5 Coaxial Speaker is perfect for use in marine vessels. It can be installed in boats or motorcycles where the speakers are going to be exposed in the elements and the will be just fine.
Highly Durable
The speakers are surrounded by rubber which protects them from exposure to extreme temperatures. The rubber holds up well and is not be affected by moisture at all.
Great Crossover Filter Feature
Most people would not go for coaxial speakers due to having a jumbled up lows and highs. However, Polk audio included a built-in crossover that separates the high frequencies from the lows. The low frequencies will be going to the woofer, and the high frequencies will be going to the tweeters. This way the soundstage will be better, giving you quality sounds all day.
Amazing Swivel Mount Tweeters
Besides having a high pass and low pass crossover for this speaker, the Polk Audio DB651 also has a flush and swivel-mount tweeter. This allows the speaker to be more customizable. It can be pointed to one's desired direction to achieve the best soundstage.
Eye Appealing Apperance
Other than the rubber surrounding and durable tweeter cones and woofer, the entire mounting hardware is made from stainless steel, thus maintaining that shiny appearance and strength. This does not only makes the speakers stylish but also highly durable for greater protection in any physical damage.
Affordable – Bang for Your Buck!
With its price and the multiple features this speaker offers, one would understand why the company has lasted so long in the industry. Though it's not the cheapest in the market, with the quality performance it gives, these speakers are worth every penny. It's easy to install which means no more additional charges for installation. Plus, it's long-lasting and highly durable which means it will serve for a very long time.
Design Specifications
Speaker Size: 6-1/2"
Peak Power Handling: 200 watts
RMS Power Handling: 100 watts
Frequency Response: 35-22,000 Hz
Sensitivity: 92 dB
Impedance (Per Voice Coil): 4 ohms
Speaker Design: 2-way
Tweeter Composition: Silk-Polymer Composite
Woofer Composition: Mica Injected Polypropylene (MIPP)
Woofer Surround: Butyl Rubber
Top-mount depth: 1-5/8"
Bottom-Mount Depth: 2-5/16"
Cutout Dimensions: 5"
Speaker Grilles: Yes
Shallow Mount: Yes
What We Liked:
Durable design
Fits most cars
Great customer support
Budget-friendly pricing
Easy to install in any locations inside the car
What We Didn't Quite Like
Not the right size for some vehicles
Bass doesn't have a very deep sound
FINAL THOUGHTS
If you want to replace your old car speakers or simply want to upgrade your sound experience while on the road or on the sea, Polk Audio DB651 6.5 Coaxial Speaker is truly a great choice. The best part about these speakers is that you don't have to go broke to enjoy better music. It offers all the great features a car speaker system would need and more. It's affordable with a high quality performance which offers great value for your money, making it a totally great investment.