Looking for the best 6×8 speakers? You've come to the right place.
At ridebass.com, we've spent hundreds of hours testing and researching just to find out the answer for you. We've taken the time and have done the research of the best 6×8 speakers, and we've compiled all the details for you in one convenient, interactive comparison chart.
Check it out and read the reviews to find out the right speaker pair for your needs.
Ultimate 6×8 speakers Comparison Guide
The interactive chart of speakers below and the analysis that follows will help you decide which set of 6×8 speakers is for you.
[table id=7 /]
Our Reviews and Top Picks
Still can't decide which 6X8 speaker to get ? Then you should read the following reviews of the top rated 6X8 car speakers. The following reviewed speakers are truly the best rated ones around.
First up is the Infinity 6829CF, which is a pretty solid 6×8 speaker pair on its own – it's probably considered to be the best of Infinity's 6×8 car speakers – all things considered.
Most importantly, these speakers can deliver an excellent sonic performance over a wide frequency range.Infinity likes to brag about its patented "Plus One woofer cones" technology, which extends the cone right up to the edge of the basket, giving you more surface cone area than competing models of the same size.
This translates to more bass with very little (if any) distortion to complement the sharp,ultrahigh-frequency response (up to 35 kHz).
I mean,think about it: The more cone area the subwoofer has, the more deeper the bass is going to sound and feel.Same concept.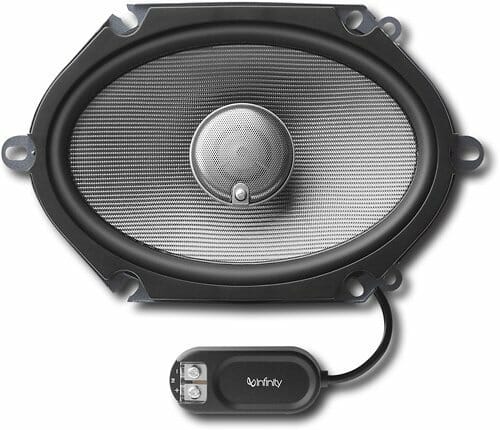 The Infinity 6829CF feature a sensitivity rating of 94 dB ,which is actually the highest among the speakers we are including in this article.Sensitivity rating is a vital key spec you should take into consideration when you're shopping for new speakers. It measures how speakers respond to power.
The amount of wattage required to deliver the same volume decreases by half with every increase of 3dB.
This means that the 94dB Infinity 6829CF speaker only needs 50 watts to produce the same volume of a 91dB speaker using 100 watts.
On top of everything else, this thing sounds fantastic. It's a bit wattage-needy than other Infinity speakers, but it still gets the job done running off an aftermaket stereo, but you'll get the best results feeding them plenty of power from an outboard amplifier. That being said, you'd have to push the speakers really hard to damage them.
What we love the most about these speakers is that they also feature one of the highest continuous power handling rating. Combine that with their highest sensitivity rating and you get speakers that can really rattle some eardrums.
One thing to keep in mind is that it's power-needy.I wouldn't recommend it to a novice with only a factory installed stereo.Only audiophiles get to play with this,since they'll know what they're doing and be able to afford an external amplifier or an aftermarket stereo at least.
Design : 2-way
Size : 6 x 8
Power Handling
Frequency Response : 40Hz – 25kHz
Sensitivity : 94 dB
Warranty : 3 year
Top-mount depth (Inches) : 2-7/16″
Bottom-mount Depth : 2 15/16
Impedance : 4Ω
The Infinity Reference 6832cf is another solid pair of speakers, and we like it for a lot of the same reasons we like the 6829CF. The Infinity Reference 6832cf is a slightly less expensive, slightly less sophisticated version of the 6829CF.
The sound quality that the Infinity 6832cf speakers deliver is still impressive. Decades of innovation are built into Infinity products and their excellence stem from their passion for music.
The Reference Series builds in top engineering,from larger cones to True Four Ohm Impedance technology.
Combined with high-quality materials and smart design elements like "Unipivot" that allows the edge-driven textile dome tweeters to be pointed at the listener's location even when the speaker is mounted off axis, resulting in improved stereo imaging.
These tweeters are equipped with a level control so you can fine-tune the degree of brightness to match your taste. It's the ultimate sound system for your car.
As for design,this is virtually identical to the 6829CF; to that end, Choosing between these two is really a toss-up. They are both good. Do you want a gentle sound output or a more efficient one? what's the difference between $50 and $80 really? That's more or less the same market. So, the choice is yours, but either one of these pairs of speakers would be an awesome buy.
One of the major drawbacks of Infinity Reference 6832cf speakers, for us, is the lack of low-end frequencies. These speakers are rated at 49Hz to 21 kHz.So the low-end frequencies are not that deep. The bass sounds punchy and alive but lacks much of the fullness that you'll hear with speakers that have a deeper frequency response.
Product Specification
Design : 2-way
Frequency response : 49 – 21,000 Hz
Sensitivity : 93 dB
Power Handling

Peak : 180 watts
RMS : 60 watts

Impedance : 4 ohm
Top-mount depth (Inches) : 2-3/8″
Bottom-Mount Depth (Inches) : 2-1/4″
Warranty : 1 year
The Pioneer TS-A6885R is one of the best 6×8 speakers you can get for under $50. It's another reasonably priced one, but again, it's very well-engineered and would be a great buy for anyone who's tired of the flat,boring sound produced by factory installed speakers (believe me, I've been there).
Pioneer designed their A-Series speakers from the ground up to breathe a new life into your music.
You'll be able to enjoy clear and realistic sounds, driving rhythms, chunky guitar riffs, and distinct bass lines that have always been a part of your favorite tracks, but have remained hidden behind worn-out speakers.
Pioneer equipped the TS-A6885R speakers with multilayer mica matrix cones that maintain their lightness and rigidity to reproduce smooth and subtle mids with outstanding responsiveness sensitivity, keeping distortion to a minimum so your bass sounds clean.
Additionally, the built-in passive crossover network is engineered to blend the mid-woofer and tweeter for a perfectly balanced sound all throughout the audible frequency range.
These speakers feature one of the widest frequency response and a perfectly balanced and detailed sound all throughout the audible frequency range from the kick drum to the vocals to the trumpet.
That means you can listen to various music genres without having to fool with your car headunit's E.Q settings very much in order to hit the sweet spot.
The Pioneer TS-A6885R are built to perform. They're rated for 60 watts continuous power handling, backed up with 350 watts peak wattage rating that gives the speakers enough room to handle huge musical spikes and therefore prevent damaging the speakers.
Other pros are shorter and direct to the point :
Lightweight elastic polymer surround for high sensitivity.
Heat-resistant voice coil wire for heat dissipation and long lasting.
Hard hitter woofer that can reach very low frequencies.
Product Specification
Design : 4-Way
Frequency response : 31 – 42,000 Hz
Sensitivity : 90 dB
Power Handling

Peak : 350 watts
RMS : 60 watts

Impedance : 4 ohms
Top-mount depth (Inches) : 2 1/2″
Bottom-Mount Depth (Inches) : 2 13/16″
Warranty : 1 year
Looking at the Pyle PL683BL speakers, we can readily see that it's not necessarily for everyone. It's clearly outclassed by most of the other top speakers we're including in this article.
It's got a wonderful low price, and a fascinatingly flashy design, but might not sound quite as well as more high-end speakers.
Still, it can absolutely get the job done, and it's a very pretty and affordable pair of speakers to use.
We consider these speakers to be a good entry level speakers if you want to test the waters before upgrading to something more advanced.
Product Specification
Design : 3-Way
Frequency response : 70Hz – 20,000 Hz
Sensitivity : 91 dB
Power Handling

Peak : 360 watts
RMS : 180 watts

Impedance : 4 ohms
Top-mount depth (Inches) : 2-3/8″
Warranty : 1 year
Sale
6" x 8" Car Sound Speaker (Pair) - Upgraded Blue Poly Injection Cone 3-Way 360 Watts w/ Non-fatiguing Butyl Rubber Surround 70 - 20Khz Frequency Response 4 Ohm & 1" ASV Voice Coil - Pyle PL683BL
70Hz - 20Khz FREQUENCY RESPONSE: Pyle, 6" x 8" three way sound speaker system has a 40 oz magnet structure, 1'' neodymium film dome midrange and frequency response. This car speaker is pack with exceptional 91dB (1w/1m) decibel sensitivity
4-OHM IMPEDANCE: This car speaker has 4-ohm impedance rating that compensates the undersized wire found in many of today's cars. The blue poly injection cone also looks great and allows your music to resonate with full power
1'' ASV VOICE COIL: Pyle car sound speaker system is capable of 1'' high-temperature ASV voice coil. It will increase performance and efficiency of heavy-duty play time through lower weight and higher operating temperatures
180W RMS AND 360W PEAK: This 6" x 8" car speaker can provide up to 180 watts RMS or 360 watts peak power because it is 40 oz magnet structure. A pair of 6" x 8" 180 watt speakers - carrying both the high and low end for a fuller range sound
LOUD AND CLEAR: Pyle car speaker were carefully combined to reproduce sound clearly with outstanding responsiveness. The non-fatiguing butyl rubber surround keeps your speakers secure as well as extending the life of the product
We wanted to save this bad ass set for last. There are many different speaker series in the JBL arsenal, but I'm particularly fond of the GTO speakers.
We have reviewed a few JBL speakers on this site. We generally enjoy them, and we think you guys do as well.
The JBL GTO8629 Premium set is going to be the most expensive pick of the lot by far.
Our purpose here isn't to convince you guys to go out and splurge on the most expensive pair possible. Quite honestly, this set isn't even close to the most expensive speakers we've come across.
We do think you get nice bang for your buck with this set.
Product Specification
Design : 2-Way
Frequency response : 49 – 21000 Hz
Sensitivity : 93 dB
Power Handling

Peak : 180 Watts
RMS : 60 Watts

Impedance : 4 ohms
Top-Mount Depth (Inches) : 2-3/16″
Bottom-Mount Depth (Inches) : 2-5/16″
Warranty : 1 year