Contrary to popular belief,all those hours you spend driving to and from work could surely be used for some entertainment,relieving yourself from the chaotic urban lifestyle with endless traffic jams.You may be asking yourself how is that possible? Well, It's entirely possible with the right car stereo , especially those that boast various facilities and plenty of cool entertainment options .
With that being said,we are going to ensure that you can choose your car stereo from only what's  deemed to be the best touch screen car stereo currently available on the market. It has been a bit of a task going through all these to get you the best touch screen stereo, but here are our recommendations.
Pioneer has introduced various touch screen car stereos that meet the growing consumers demand for on-the-go connectivity,smooth design and excellence in sound quality, adding a touch of elegance and glamour to your car's interior and making look as great as it sounds.
Pioneer raised the bar with the new AVH-X4600BT DVD receiver. This touch screen stereo features a large screen of 7″ inches, as well as various advanced functions and plenty of cool entertainment options.
Thanks to the built-in Bluetooth,you'll enjoy hands-free calling with your compatible phone,plus the ability to wirelessly stream and control music from your phone or any other Bluetooth-supported device.Furthermore,this receiver support Siri® Eyes Free functionality for a safer and more convenient smartphone experience.It can be activated with a touch of a button,allowing you to use the power of voice control to access iPhone's functions such as music selection; making phone calls; and listening to text message, get mapping information, listen to notifications, and even to add reminders.To put it simply, you can take control all over your smartphone either using Siri® Eyes or the MirrorLink system which provides unparalleled in-dash control over an ever-growing list of Android™ smartphones, simply by plugging in your compatible phone via USB then you can enjoy a seamless experience.This compatibility enables basic controls (Play/Pause/FF/Rev/Random/Repeat) and the display of song/artist/album and time information when your head unit is paired with a compatible device.
Pioneer went the extra step and implemented an Advanced App Mode which allows running your Iphone apps from your receiver's touch screen, putting a variety of music, navigation, and various apps at your command.And that's what we love most about this head unit.
Additional Music And Entertainment Features :
Pioneer continues to add exciting features and cool entertainment options into the AVH-X4600BT to enhance the driving experience and complement customers' increasingly connected lifestyles.
PANDORA INTERNET RADIO – With the ever popular Pandora internet radio ,you can connect your iPhone to the receiver and take full control of your Pandora® account from the touchscreen and enjoy music streaming.Using this feature, you are also able to rate tracks (thumbs up or thumbs down), bookmark a song to be purchased later and easily shift between radio stations.
MIXTRAX – Pioneer continues to innovate entertainment and audio technologies and they introduced MIXTRAX™, which is pionner's proprietary technology that creates a nonstop mix of an entire music library to immerse you in a pleasurable club-like atmosphere.
To further enhance your car's interior, you can choose from plenty of color options to match up your receiver's buttons and display illumination to your vehicle's dash to give you a cool and fun experience.
Another contender in our lineup of the finest touch screen car stereos is the JVC KWAV71BT. It's truly of one the best touch screen car stereo out there. It boasts a healthy concentration of features,sound quality ,as well as a set of cool entertainment options.
JVC is one of the industry leaders in high-performance mobile technology,demonstrating their passion and commitment to excellence with a variety of exceptional car audio components including speakers,subwoofer, amplifier and headunits. The same can be said with their stereos. They have one of the best touch screen car stereo with their JVC KWAV71BT stereo.
On its own, the JVC KWAV71BT touchscreen car stereo is actually impressive.Its various features are truly outstanding.The built-in Bluetooth comes handy in various situations, and you'll never have to be fidgeting or fumbling around in your car when a call comes in.You can simply touch the screen and carry on your conversation while staying focused on the road.Additionally, you can stream any audio from Bluetooth-supported devices to your receiver wirelessly,and even control basic functions of some music apps.
With the JVC KW-AV71BT you can use the rear audio/video inputs to hook up your favorite portable audio player, a camcorder,a rear view camera or an other video source. This receiver comes also with a video output to send movies to a rear video screen, to keep backseat passengers happy with videos, music and photos on long trips. If you've got a large vehicle, you'll certainly appreciate the input for a rear-view camera — helpful when you're parking your vehicle in tight spots.
You can also retain the convenience of your steering wheels control using an adapter to connect your car's steering wheel controls to this receivers.
Pioneer AVH stereos are actually one of the best touch screen car stereo that you can buy. The AVH-X5500BHS multimedia DVD receiver linked to above features a beautiful 7″ inches motorized touchscreen display as well as an impressive set of features that will breathe a new life into you sound system, and  make your ride truly enjoyable. Here are the highlights:
Built-in Bluetooth® : It's actually one of the best features of this stereo.It allows you to enjoy hands-free calling with your compatible phone.The receiver automatically detects and pairs the registered device in close proximity without having to enter any pin codes or go through complicated settings.Additionally, it also allows to wirelessly stream and control music from your phone or other Bluetooth-supported devices.
MIXTRAX : MIXTRAX is an innovative Pioneer technology that adds cool effects between songs as variable color illumination pulses with each beat of your music.It also makes the illuminations on the receiver's display move in rhythm to the music you are playing to keep the party vibe going.Furthermore,you can also change your receivers' appearance to match your car's dash which will result in an elegant and refined touch added to you vehicle's interior.
Built-in HD Radio, More Stations. More Music : The AVH-X5500BHS is designed to receive high-quality HD Radio™ broadcasts,and to allow you to enjoy your radio in an all-new way.HD radio will allow you to enjoy HD quality on all your favorite stations.It offers new extra stations so you can enjoy more music, sports, news  – All 100% subscription FREE!
What are the Benefits of Having the Best Touch Screen Car Stereo ?
You may be asking yourself, what is the point of putting a large screened receiver in my dashboard? Besides it just looking cool, you can benefit in other ways. You can view any information needed on one screen, this allows you to pay more attention to the road. You can also install additional features such as a rear view camera and GPS navigation.
Safety & Easy Car Parking
Installing a rear-view camera will help you turn your large-screen receiver into a valuable tool against accidents, as a result you will be prepared for what ever might be behind you, whether it be a little one, a pet, or even a neighbor. Rear-view cameras will help you to easily  park in tight spaces as they offer a wider field of vision than your average rear-view mirror.Moreover,you won't have to constantly turn your head to catch every glimpse and see what's coming at you from the right and left.
There are several types of cameras out there that can be used but the Alpine HCE-C305R camera with Active View has an additional safety feature over other standard rear-view cameras. It comes with an alert feature for any moving objects that are behind you and that are in the perimeters of your vehicle. You will have things tracked and outlined as they move across your large screened monitor . You can also hear audible alerts that increase in volume in proportion to the proximity of the threat. It also provides 4 different modes that guarantee you will have every angle covered. Not to mention it is a universal camera,which simply means it will work with any aftermarket receiver equipped with a camera input.
Nice big display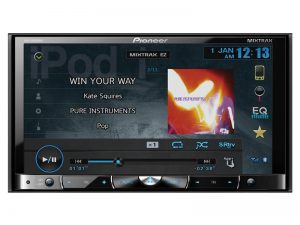 Having a large display screen is a great deal easier to browse than a typical 2 or 3 line display car receiver. You'll enjoy being able to view and read metadata (such as song title,artist,category,type ….etc) of what you are listening to. The larger icons, split-screen capability, and additional screen real estate add up to a better user experience. You will be able to make your drive safer and enjoyable a whole lot more if you are not constantly squinting at your regular small display , or waiting for your playlist to scroll by.Actually everything you do with your receiver is smooth and quite less complicated once you have a large touchscreen interface mounted on your car's dashboard.
The best touch screen car stereos boast a wide range of features and advantages.And here are some examples of how these touchscreen receivers can make your drive more pleasurable.
Bluetooth® Connectivity
Nowadays, Bluetooth is an essential feature that every car receiver should be equipped with. You're a man on the go, you don't want to miss your calls, and you don't also want to pull over and answer your cell phone. If that's the case, then look for a car stereo with bluetooth functionality.
Bluetooth lets you enjoy hands-free calling with the ability to stream music from bluetooth compatible devices.So you can keep your eyes on the road and your hands on the wheel avoiding hefty fines or possible imprisonment for violating laws that ban handheld calls or texting while driving.
Easy Controls
What we like most about large touchscreen stereo is their user-friendly designs and intuitive controls.These stereos will make your life a lot easier.Whether you're looking for a song on your media device,a favorite satellite radio station,or if you're simply adjusting stereo settings,a wide, colorful touchscreen  makes the process a lot more pleasant.
HD Radio
If you have never had an HD radio, you have no idea what you have been missing. HD radios have better sound quality and on a larger screen receiver, you will see more information about what you're listening to than on a regular stereo. You will see metadata like station logos, song, artist, and album information as well. You can even tag certain songs that you can purchase from iTunes at a later time.
HD Radio technology allows radio stations and broadcasters to transmit a high-definition digital signal. Here are some advantages of HD radios over AM and FM radio signals :
FM radio sounds equivalent to CD quality.
AM radio sounds as good as today's FM radio.
No more breakups,crackles, hisses,  or fades.
Transmission of metadata, such as artist name,song titles,album …etc.
Tagging a song for later purchase through the iTunes® Store.
Dual-Zone Listening
If you have a family trip planned or if you have family members who only like certain types of music, then dual-zone capability is something that you'll definitely enjoy. It will allow you to separate the front-seat entertainment from the rear. This means while you listen to your favorite oldies in the front, your little ones can watch Spongebob Squarepants on the monitors in back and everyone is happy.
GPS Navigation
A better way to find out where you are going than constantly looking at your phone or calling friends. Most newer model large screened receivers have this built in but if that's not the case with your unit, you can use an outboard unit,or connect to your smartphone app that works over 3G network.
Factory Replacement
There are some receivers out there that are a direct replacement for your vehicle's make and model. It is meant to replace that old boring stereo that you have been listening to for many years. The new custom fit stereos are designed to fit in unique openings in certain cars and made to look like they are factory installed. Along with their simple factory look, you get awesome additional features including built-in navigation and Bluetooth like other aftermarket receivers.
>>Click here to see prices, specs and reviews of touchscreen car stereos<<