Did you know that you could do a lot of other things while behind the wheel aside from driving?
While law enforcement agencies are starting to buckle down on distracted drivers, the fact is, you don't really need to be distracted enough to cause an accident to relieve yourself from the endless traffic jams that you're bound to encounter every day.
So, while using your smartphone or tablet is a big no-no while driving, the right car stereo can supply you with plenty of entertainment.
With that said, we took our sweet time making sure that you have exactly the right kind of car stereo that you need to keep you entertained while on the road. Sure, it took us quite a bit of time to round up the list, but, in the end, it was all worth it.
Without further ado, here are our recommendations!
Top 5 Best Touchscreen Car Stereo
What are the Benefits of Having the Best Touch Screen Car Stereo ?
You may be asking yourself, what is the point of putting a large screened receiver in my dashboard? Besides it just looking cool, you can benefit in other ways. You can view any information needed on one screen, this allows you to pay more attention to the road. You can also install additional features such as a rear view camera and GPS navigation.
Safety & Easy Car Parking
Installing a rear-view camera will help you turn your large-screen receiver into a valuable tool against accidents, as a result you will be prepared for what ever might be behind you, whether it be a little one, a pet, or even a neighbor. Rear-view cameras will help you to easily  park in tight spaces as they offer a wider field of vision than your average rear-view mirror.Moreover,you won't have to constantly turn your head to catch every glimpse and see what's coming at you from the right and left.
There are several types of cameras out there that can be used but the Alpine HCE-C305R camera with Active View has an additional safety feature over other standard rear-view cameras. It comes with an alert feature for any moving objects that are behind you and that are in the perimeters of your vehicle. You will have things tracked and outlined as they move across your large screened monitor . You can also hear audible alerts that increase in volume in proportion to the proximity of the threat. It also provides 4 different modes that guarantee you will have every angle covered. Not to mention it is a universal camera,which simply means it will work with any aftermarket receiver equipped with a camera input.
Nice big display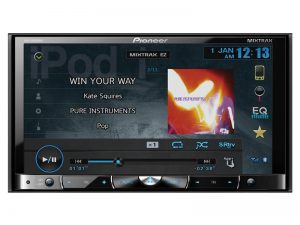 Having a large display screen is a great deal easier to browse than a typical 2 or 3 line display car receiver. You'll enjoy being able to view and read metadata (such as song title,artist,category,type ….etc) of what you are listening to. The larger icons, split-screen capability, and additional screen real estate add up to a better user experience. You will be able to make your drive safer and enjoyable a whole lot more if you are not constantly squinting at your regular small display , or waiting for your playlist to scroll by.Actually everything you do with your receiver is smooth and quite less complicated once you have a large touchscreen interface mounted on your car's dashboard.
The best touch screen car stereos boast a wide range of features and advantages.And here are some examples of how these touchscreen receivers can make your drive more pleasurable.
Bluetooth® Connectivity
Nowadays, Bluetooth is an essential feature that every car receiver should be equipped with. You're a man on the go, you don't want to miss your calls, and you don't also want to pull over and answer your cell phone. If that's the case, then look for a car stereo with bluetooth functionality.
Bluetooth lets you enjoy hands-free calling with the ability to stream music from bluetooth compatible devices.So you can keep your eyes on the road and your hands on the wheel avoiding hefty fines or possible imprisonment for violating laws that ban handheld calls or texting while driving.
Easy Controls
What we like most about large touchscreen stereo is their user-friendly designs and intuitive controls.These stereos will make your life a lot easier.Whether you're looking for a song on your media device,a favorite satellite radio station,or if you're simply adjusting stereo settings,a wide, colorful touchscreen  makes the process a lot more pleasant.
HD Radio
If you have never had an HD radio, you have no idea what you have been missing. HD radios have better sound quality and on a larger screen receiver, you will see more information about what you're listening to than on a regular stereo. You will see metadata like station logos, song, artist, and album information as well. You can even tag certain songs that you can purchase from iTunes at a later time.
HD Radio technology allows radio stations and broadcasters to transmit a high-definition digital signal. Here are some advantages of HD radios over AM and FM radio signals :
FM radio sounds equivalent to CD quality.
AM radio sounds as good as today's FM radio.
No more breakups,crackles, hisses,  or fades.
Transmission of metadata, such as artist name,song titles,album …etc.
Tagging a song for later purchase through the iTunes® Store.
Dual-Zone Listening
If you have a family trip planned or if you have family members who only like certain types of music, then dual-zone capability is something that you'll definitely enjoy. It will allow you to separate the front-seat entertainment from the rear. This means while you listen to your favorite oldies in the front, your little ones can watch Spongebob Squarepants on the monitors in back and everyone is happy.
GPS Navigation
A better way to find out where you are going than constantly looking at your phone or calling friends. Most newer model large screened receivers have this built in but if that's not the case with your unit, you can use an outboard unit,or connect to your smartphone app that works over 3G network.
Factory Replacement
There are some receivers out there that are a direct replacement for your vehicle's make and model. It is meant to replace that old boring stereo that you have been listening to for many years. The new custom fit stereos are designed to fit in unique openings in certain cars and made to look like they are factory installed. Along with their simple factory look, you get awesome additional features including built-in navigation and Bluetooth like other aftermarket receivers.
>>Click here to see prices, specs and reviews of touchscreen car stereos<<
Now that you know why you should go out and buy a touch screen car stereo, as well as know some of the best on the market, we have one last word of advice: do make sure that you buy from a trusted dealer.  
Where you buy the touch screen car stereo is just as important as its features.  
Remember, we are dealing with electronics here. Sometimes, they break down well before they're intended. Sometimes, it's because they were not installed properly. Other times, it's just because.  
Buying from a good dealer with a long track record will help make sure that the touch screen car stereo is installed properly. Or, at the very least, you get proper instruction on how to install it, and will receive proper assistance if the time comes that the unit breaks within the warranty period.  
With that said, good luck, have fun, and be prepared to have your daily drive changed forever with a touch screen car stereo.