If you're looking for one of the best 8 inch subwoofers then you probably are a little limited on space in your car.
I know exactly what you're thinking.
If only you had a little more room you could fit a decently sized subwoofer in your ride.  But you don't.
That's exactly why the 8 inch subwoofer size was created.  You'll get a much better pound with these little subs than with a nice set of speakers with decent bass.
When you're looking for these types of woofers there are a few variables you'll need to consider such as sensitivity, enclosure type, and power handling.
So we have compiled a list of the best 8 inch subwoofers full of brands we trust and review frequently on here.  We know how you fellas like bass, so we've only picked the subs from what we deemed to be the best 8 inch subs available on the market.
Table could not be displayed.
Contents:
The Best 8 Inch Subwoofer Reviews
What do you know?  Another Pioneer product on the top of my lists.  I can't help it.
Pioneer simply makes top notch car audio equipment and they deserve to be on the top.
This specific subwoofer from Pioneer comes already installed in an enclosed box.  This is incredibly convenient when you don't want to mess with creating your own box or installing the sub yourself.
The TS-SWX2002 is a shallow mount subwoofer.  This just means that it isn't as deep and will take up less room.
This woofer has an oversized cone structure to help compensate for the "shallow mount."  This helps you to get the deeper bass you'd expect to get from the regular sized subwoofers by moving more air.
Features:
Power Handling, RMS : 150 W
Power Handling, Peak : 600 W
Frequency Response     : 20-250Hz
Nominal Impedance      : 4 ohms
Sensitivity                       : 86 dB
Warranty                         :   1 year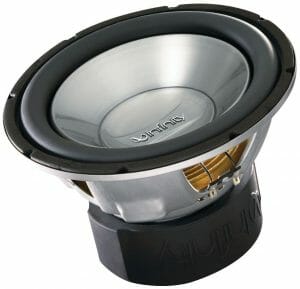 The Infinity Kappa 800w is relatively new to the market but is one you won't regret getting.  With the Infinity brand, you know you'll be getting a quality made woofer.
A lot of reviews out there recommend to not go cheap on your sub.  However, we think this subwoofer is great for the price, and it's a great upgrade to your factory system or where space is an issue.
Over the years we've had the opportunity to try different equipment from Infinity.  We've installed and tested their products from different angles, we've also compared performance, ease of installation, and we think this one is great for the price.
You will certainly be pleasantly surprised with this sub.  So what's so special about this sub?  Apart from the fact that you'll need an enclosure as well as an external amplifier to take full advantage of it, there are umpteen numbers of 'super-cool' specifications which are definitely going to impress you.
The Infinity Kappa 800w is built with high grade material ensuring maximum quality and performance.  The large roll rubber surrounds for example provides and excellent cone-edge suspension and absorbs distortions that may travel up the cone edge, ensuring clean, tight bass.
Additionally, the sub's thermal dissipation capabilities and power handling are enhanced by some vented pole pieces that allow for greater cooling and optimum heat dissipation.Furthermore, the lightweight polypropylene used for the woofer cone ensure maximum woofer efficiency. The benefit is high output even with modest amplifier power.
Highlights:
Power Handling, RMS : 400 W
Power Handling, Peak : 1600 W
Frequency Response     : 30Hz – 200Hz
Nominal Impedance      : 2 or 4 ohms
Sensitivity                       : 89 dB
Warranty                         :   1 year
JL Audio is an American manufacturer of consumer audio products. They've been in business for decades.They are known for providing high-end products for people who don't mind shelling out a few extra bucks for added benefits.
JL Audio is addressing the growing market demand for 8″ inch subs by offering very few great models,featuring high durability and reliability.
JL Audio W3V3 Series is one of the best and most expensive 8″ inch subwoofers built by JL Audio, it's also the most expensive sub that we are going to review.  Although this subwoofer is quite a bit more expensive than the other subs out there, it provides excellent bass response on bass-heavy tracks.
If you're sill reading this, we assume that is important to you.  It would be very beneficial to take advantage of this sub.
JL Audio built this sub with high-quality and ever-lasting materials that won't fall apart under stress from heat, moisture, or time – ensuring accurate and consistent bass output with a medium-power amplifier.
Their excellent heat management features shunt heat away from the sub's internal motor structure, thus increasing durability, and reducing distortion.
Furthermore, JL's extensive research led to a surprising motor structure design that ensures smooth, precise cone movement at any power level for increased reliability and consistent bass output.
The only downside with this subwoofer is that its sensitivity rating is below average which negatively impacts its ability of converting power (Watts) into sound (Decibel).
Highlights :
Power Handling, RMS  : 250 watts
Power Handling, Peak : 500 watts
Frequency Response     : 50-250 Hz
Nominal Impedance     : 4 ohms
Sensitivity                      : 83 dB
Warranty                        : 1 year
Got a passion to get the lows bumping that shakes you up and gets you right in the gut?  JBL subwoofers may just fit the bill.  They actually perform admirably in both sealed and ported boxes, so you'll get bass the way you like it.
JBL has been in business for decades, and they have been providing a great product at a reasonable price for the entire time. JBL subs are probably the most economical subs on the market given their specifications, but don't let the low price fool you.
The sub linked to above is still an impressive product!  With an RMS power handling rating of 200 RMS watts and 4 ohm impedance as well as a sensitivity of 88 dB, this sub is certainly going to revitalize your sound system, bringing you music you're less likely to hear unless you drop a powerful sub into the mix.
Moreover,this sub offers a lower profile making it able to fit into tight spaces (smaller enclosures that save you space).
Additionally, this sub features a polypropylene cone woofer with large rubber surround giving excellent performance and free movement of the cone without sacrificing control.  On the other hand, an integrated vent allows rapid heat dissipation that'll keep your sub running cool and improves power handling capability.
Highlights :
Power Handling, RMS  : 200 watts
Power Handling, Peak  : 800 watts
Frequency Response     : 38-200 Hz
Nominal Impedance      : 4 ohms
Sensitivity                       :  88 dB
Warranty                         : 1 year
When it comes to subwoofers, I can't leave out the Rockford Fosgate brand.
These guys have been nailing car audio for many years and the P3SD2-8 is no exception.
This is also one of the best 8 inch subwoofers you can get.  This model is a shallow mount just like the Pioneer TS-SWX2002.
One of the main features of the P3SD2-8 is that it has dual 2 ohm voice coils.  If you're that guy who likes to wire you'll get more flexibility with what you want to do.
A major drawback is that it has a pretty low sensitivity rating.  If you're running a lot of power to this subwoofer you're won't get the right kind of sound back to you.
Features:
Power Handling, RMS  : 150 watts
Power Handling, Peak  : 300 watts
Frequency Response     : 38-250 Hz
Nominal Impedance      : Dual 2 ohms
Sensitivity                       :  82 dB
Warranty                         : 1 year
>>Click here to see prices, specs and reviews of the best 8 inch subwoofers<<
So what's the bottom line?
Whether or not we'd recommend the subs reviewed above mostly depend on what you want out of your sound system.  If you don't care anything else besides getting decent bass, and space is a real issue for you, we would definitely recommend you give one of these subs a whirl.
However, if you're like me, and you put a lot of stock into your listening experience, you may want to hold out for something else.  Even If you're on a tight space-and-money budget, there are plenty of other shallow mount subwoofers that will get the job done.
Larger subs have the ability to radiate more energy(low frequencies) into your listening environment than a smaller sub given than you've applied the same amount of power to both of them.  The trade-off is that larger subs typically require more air space to achieve optimum performance, and thus they take up more room.
Whereas, smaller subs have reduced mounting depth and work well in tight locations such as under seats or behind truck bench seats, which makes them best suited for vehicles with limited space.
For those of you who are looking for an easy off-the-shelf 8 inch subwoofer, here are some great options for you :
So what's the absolute bottom line? The best 8 inch subwoofers aren't intended for those who are looking for big bass and booming sound, but they make a great upgrade to factory systems or where space is an issue.