Alpine is easily one of the most reputable car stereo brands today. They are industry experts who stake their name on the quality of their car audio components. Buying any one of their car audio products is a surefire way to feel satisfied with your purchase.
But, even among the best line of products, there are bound to be standouts, and Alpine's car audio components are no exception.
For that very reason, we have decided to round up five (5) of the best Alpine head units available on the market today.
From the mid-range models up to their high-end variants, as well as some of their most competitive budget units, buying any one of these Alpine head units is a sound investment (get it?).
Best Alpine Head Units
Invalid table id.
Not everyone needs a head unit that has all of the modern features. Sometimes, a stylish digital media receiver that allows you to play music directly from your smartphones is more than enough.
With the Alpine UTE-73BT, you get that and possibly more.
Doing away with the CD player, the Alpine UTE-73BT is a complete and compact package that allows you to enjoy your favorite songs on the go.
The receiver works seamlessly with both iOS and Android devices and allows you in-dash controls over the music that you want to play and listen to. Meanwhile, the additional built-in Pandora controls makes streaming very easy as well. But, of course, the main draw is the Bluetooth connection. This allows you to enjoy hands-free conversations and listen to your tunes without relying on a wired USB connection.
The Alpine UTE-73BT also comes with a bit of headroom for future upgrades as well. Because it has three sets of 2-volt preamp outputs, it's very easy to add more amps to your sound system down the line.
Finally, you can rest easy knowing that sound quality won't be a problem because the UTE-73BT comes with a premium 24-bit digital-to-analog converter.
Pros:
Comes with external microphone
Compatible with default steering wheel audio controls using an adapter
Variable color illumination for added ambiance and atmosphere inside the car
Cons:
If you're looking to improve the audio experience of your car without necessarily wanting all of the modern niceties, the Alpine CDE-172BT is an excellent option that's available at a fairly affordable price point.

Space-wise, the Alpine CDE-172BT won't consume much, even when compared to other single DIN head units.. But, don't let its small size fool you. It has a robust feature set that includes, among others, manual control of your audio's high and low frequencies for the best listening experience, as well as 6 preamp outputs to minimize any compromises you might have to make while listening to your favourite tunes.
Paired with a 3-band equalizer, the Alpine CDE-172BT makes fine-tuning audio while on-the-go easy and enjoyable.
Perhaps the only issue with the Alpine CDE-172BT is that it can be quite the hassle to install. This is especially true if you're looking to connect it with your steering wheel controls. DIY installation is possible, but not easy, so keep that mind.
Pros:
Bluetooth wireless connectivity
Multiple visual and audio controls available
Pandora radio control
Cons:
Installation can be a pain
Screen can be difficult to operate in direct sunlight
Although Single DIN head units are very functional, they aren't exactly what you'd call feature-packed.  Except, maybe, when we're talking about the Alpine CDE-HD149BT.
Easily one of the best single DIN headunits in Alpine's line of products, and one of the best in the market, the Alpine CDE-HD149BT comes with all of the bells and whistles that anyone could probably ask for in a reasonably-priced single DIN headunit. This includes, among others, Bluetooth for hands-free audio streaming and calling, as well as the "Alpine TuneIt App" that allows you to fine-tune your audio system for a much better listening experience.

The Alpine CDE-HD149BT also comes with a rich three-line LCD display, a rear-mounted USB port and auxiliary input, a 9-band parametric equalizer with preset tone curves, and Alpine's very own Media Xpander.
To sum it up, the Alpine CDE-HD149BT is everything that the average user and enthusiast could ever ask for in a single DIN headunit.
Pros:
Plenty of features for true audiophiles
Satellite ratio capability
Works seamlessly with iOS devices
Cons:
Apple Carplay and Android Auto? Check.
Intuitive interface? Double check.
Responsive touch screen? You bet.
Excellent sound quality with room for a full high fidelity sound system? Definitely.
Enthusiasts looking for a more modern single DIN head unit will be hard-pressed to have a hard time finding anything as feature-packed and as powerful as the Alpine iLX-W650.
The Alpine iLX-W650 isn't just great because of its features though. Yes, it comes packed with tons of features. However, what really sets the Alpine iLX-W650 apart is its shallow mount and clever design that just seems perfect for tight installations. Plus, it's sturdy build belies its small stature – not a single part of the Alpine iLX-W650 feels cheap.
For vehicles that normally require a lot of work to have regular single DIN head units installed, the Alpine iLX-W650 is a no-brainer.
Pros:
Perfect for small enclosures and tight installations
Support for Apple Carplay and Android Auto
Dual camera input
Cons:
Not iDatalink Maestro compatible
A double-din sized frontage wrapped by a single-DIN chassis, the Alpine iLX-107 comes with a 7-inch LED-backlit LCD display and pretty much everything anyone can expect from a flagship head unit.
To say that the Alpine iLX-107 is a multimedia marvel is only fitting.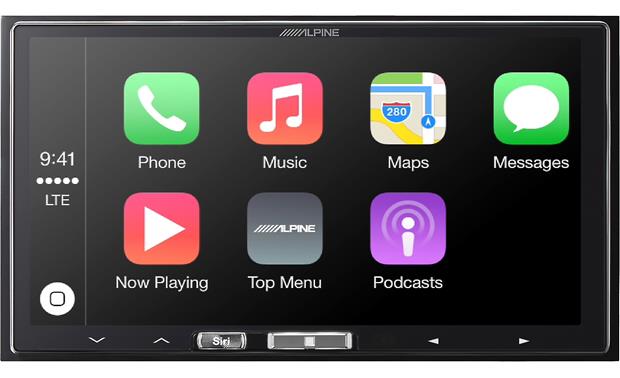 Featuring a built-in Wi-FI connection and designed to work seamlessly with Apple CarPlay, the Alpine iLX-107 even lets you use Siri voice to make calls, text, navigate, and anything else that you might have had to take your hands off the wheel for, with the only difference being that you can do it while focusing solely on the road.
The Alpine iLX-107 also comes with a rear camera input, four 6-channel preamp outputs and an 18-watt RMS separate amplifier.
Other important features include a high-pass/low-ass filters, digital time correction, a Preset EQ, and a Bass Engine SQ, tone controls, and a 9-band parametric equalizer, as well as the Alpine TuneIt™ app.
Pros:
Seamless Apple CarPlay integration
Built-in 5Ghz Wi-Fi
Built-in 18 watts amplifier
Cons:
No satellite and HD radio
No volume knob
FINAL THOUGHTS
And there you have it! You've got a solid list of five of the best Alpine head units available on the market.
Whether you want a simple and basic car receiver or you want to have as seamless of a driving experience as possible while listening to your favorite tunes or you want to set-up your very own complete sound system on the road, Alpine has got it all for you.
More importantly, regardless of which of the five Alpine head units reviewed above you end up purchasing, what's important is that each one will give you the ability to answer calls and listen to your favorite tunes without having to touch your phones.
This is an important bit of information to keep in mind given the stricter laws and regulations passed and/or implemented in recent years concerning the use of phones while driving.