Now, in my quest to make sure I've always got the best headunits to recommend to my clients and readers alike, I came across a stunning DEH series receiver by Pioneer.
When looking for that perfect receiver that combines all the desired features and requirements in a single unit,it's not advisable to err on the side of cheap.After all, one headunit is just as good as another, right?It's just there to play your music stored on different media devices,and to keep you entertained along the way, yeah ? Au contraire, mon ami – nothing could be more important than the undeniable "wow" factor of hearing your music through this receiver for the first time,not to mention a great array of features that it has to offer.
If you really want the best of in-car entertainment,you'll want to shell out for the high-end headunits; however, you still want to make sure you're getting the best value for your hard-earned buck.
You'll find plenty of car headunits that offer great sound quality, futuristic design and display,and a wide array of features.
But if you are hard to please and very picky ,you'll need to look beneath the surface for a headunit that's built with veterans and audiophile's needs in mind.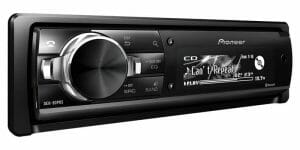 Pioneer DEH-80PRS receiver is the forerunner in every single aspect of its design and engineering. It goes well beyond most today's receivers with the quality of its internal components and architecture.Let's find out what makes this CD receiver stand out from the crowd!
Review of the Pioneer DEH-80PRS Receiver
High-quality components
 To achieve the ultimate in sound quality,Pioneer incorporated its fully exclusive sound field technologies into building this receiver.Technologies like Auto EQ and Auto Time Alignment are what makes this receiver shine out.Its versatile connectivity options allow you to enjoy your music at its best from various digital devices.Audiophile-grade internal components and build materials are also part of the picture for achieving optimal sound performance and user-friendly features.
Sound Master Clock Circuitry :
Pioneer's new sound master clock is the part responsible for reading and processing digital signals with high precision – eliminating jitter,latency and other risk factors that affect the overall quality of sound.With Sound Master Clock Circuitry, signals now can be accurately reproduced as as they were originally.
Custom-Built High-Capacitance Power Supply Capacitor :
to ensure clearer and consistent sound, Pioneer went the extra step and custom-built a few capacitors in the power supply.
4-Layer Circuit Board architecture :
This is a revolutionary design in this field.It consists of using 4-layer copper foil circuit board with internal components being mounted on both sides of the board – resulting in a significant internal noise reduce.
The DEH-80PRS also uses a set of three Burr-Brown® 24-bit D/A digital to analog converters – one for each low,mids,and high frequency ranges,along with a 28-bit binary floating-point DSP (Digital Signal Processor),which is far advanced than the regular fixed-point DSP.
Pioneer's 28-bit binary floating-point DSP allows for highly accurate sound signal processing and tuning without impacting the source's digital signal.If you don't know what all these technical terms means , it simply means that you can easily tweak and adjust the time alignment and other acoustic parameters to get the perfect stereo sweet spot.
Plenty of expansion opportunities
The DEH-80PRS can play music stored on almost every media devices.It has dual rear USB inputs,front and rear aux inputs , SD card slot.Just plu g in your media device and enjoy your playlists.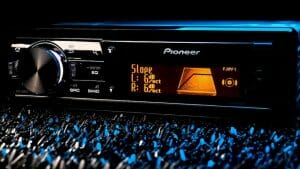 Powerful tools such as Link Play and Alphabet Search come in handy to help you find a specific song or album in a flash.
Unparalleled sound controls
The DEH-80PRS offers a wide variety of settings and sound controls, as well as mulitple expandability options and adjustments.Its 16 band EQ lets you set the left and right channels independently.
But if you really want this receiver to shine out,it's highly recommended to attach it to an external subwoofer.
The DEH-80PRS also comes with a robust 3-way active crossover network that lets you adjust the lows, mids, and highs separately.This impressive control is what we love most about this receiver.
If your sound system only consists of a pair of speakers , no sub, no amp , upgrading to this headunit will significantly improve your overall listening experience,no muss, no fuss.
Pandora:

Pandora is free personalized internet radio. It allows you to enjoy superb sound quality. It also gives you a full control over Pandora experience right from the face of your receiver.With your iPhone® or Android smartphone connected,you'll have full control over your Pandora® Internet radio including rating and bookmarking songs for future purchase.If you don't already have a Pandora account, you can sign up for a free one at www.pandora.com.
Bluetooth:

This is one of the most desired features.It allows you to keep your hands on the steering wheel and your eyes on the road.Bluetooth also allows streaming music wirelessly from bluetooth supported devices. Nowadays,so many states enact a complete ban on the use of cell phones by drivers,for this reason ,being able to "hands-free calling" is a great option to have in your vehicle.Luckily, almost all receivers we've come across support this option.
The best part of this receiver bluetooth connectibity, is that you don't need to get into complicated settings in order to pair your phone to the receiver. Do it once and you're done. When a registered phone is detected,the auto connection function automatically pairs it the two units.
Concluding Thoughts
When trying to figure out which aftermarket receiver to get for your vehicle, whether you're upgrading your entire sound system or simply replacing your factory headunit,you can't really go wrong with the Pioneer DEH-80PRS Receiver. When compared to other line receivers on the market, it is clearly ahead of the pack in terms of performance; it also looks pretty sweet mounted on your dash.