Polk Audio is one of the leading US consumer electronics brands in the country. Backed by 50 years of experience in the industry, Polk Audio is widely known for its wide range of high-quality speakers, subwoofers, and soundbars.
However, with the current competition going on in the budget end of hi-fi speakers, are Polk Audio's products even worth your money? Well, they certainly are. The Polk Audio DB6501 component speaker, in particular, offers you with a 2-way component system which is capable of producing high quality and detailed audio quality. Find out why it's one of our top picks for best 6.5 component speakers out there!
Without further ado, let's get into its features!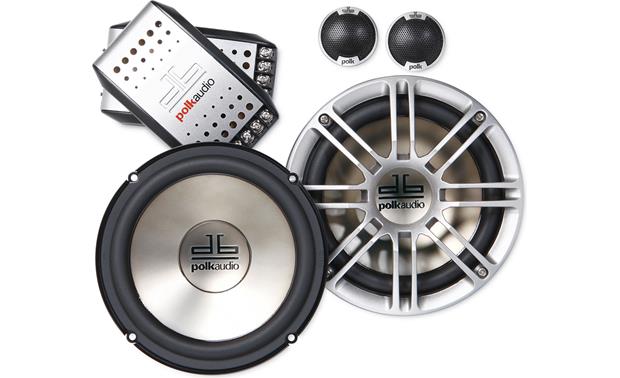 Features at a Glance
Excellent sound quality
Marine certified, allowing it to withstand harsh environments with no worries
Can be installed on a variety of vehicles including cars, boats, RVs, convertibles, and motorcycles
25mm liquid-cooled dome tweeter
Lightweight yet durable woofers for distortion-free sound
Features adapter ring for fitting various applications
Built-in crossover design
Excellent Audio Quality
One of the most notable features of the DB6501 speaker is its excellent audio quality. It comes with a liquid-cooled silk/polymer composite dome tweeter which has a neodymium magnet to provide you with clear and detailed audio as well as soundstage optimization in your car. This effectively removes any distortion which might happen throughout the ride.
This allows you to enjoy excellent sound with little distortion due to a mineral-filled cone. Meanwhile, it has a 22mm Kapton voice coil for even better reliability and higher power handling. It's also capable of handling a lot of heat, thereby removing the need for you to worry about heat dissipation.
Built-In Cross Over Design
The Polk Audio DB6501 speaker features a built-in crossover design and is made of expensive materials. This makes sure that the speaker is capable of delivering excellent audio quality while allowing it to last for a long period of time as well. In fact, you can use it on your car many times without even experiencing some sort of disturbance.
Easy Installation
When it comes to installation, there's no need to worry too much. You can install the Polk Audio DB6501 component speaker on your own. It comes with adaptor rings which can easily fit 6 ½ to 6 ¾ inch applications. This makes it super easy for self installation!
Durable Build
In terms of durability, the DB5601 speaker is marine certified. This means that they are built to withstand even the toughest environments. With this, you don't have to worry about getting it exposed to rain or water. This also means that you can have it installed on your boat as well. You can now have some boomin' tunes as you set sail across the seven seas!
Product Design Specifications
Frequency Response: 35Hz-23kHz
Impedance: 4 Ohms
Power range: 10-100 Watts (peak at 300 Watts)
Efficiency: 92 dB
ABS wheel-design grilles
Stainless steel mounting hardware
1-year warranty
Neodymium tweeter magnet
Two tweeters, 6 ½ woofers, and crossovers
Marine certified
What We Liked:
Its Butterworth outboard crossover offers a protective circuit
Excellent sound quality
Detailed audio, thanks to its neodymium magnet
Adapter ring makes for easy and quick installation
Ideal for use on convertibles due to its powerful sound
Produces powerful bass tones even without using an amplifier
Doesn't rattle when driving regardless of the volume
Comes with all the materials you need for installation
Includes a one-year warranty
What We Didn't Like:
Some complained about the lack of bass, particularly on the midbass
Sound quality might suffer it not installed properly
The volume range is lacking since higher volumes can cause distortion
Some parts tend to deteriorate quickly after purchase
The high tones can sometimes sound harsh; in such a case, you'll have to seek professional help to modify it
Only available in metal gray
THE VERDICT
Overall, the Polk Audio DB6501 component speaker is a good quality and long-lasting speaker which is marine certified. Compared to the other products in Polk Audio's 2007 DB Series, this one surely looks and sounds a lot bitter.
Aside from that, it is waterproof so you can use it on your boat. You don't even have to worry about having it exposed to rain and water. For installation, you can install it all by yourself, thanks to its adaptor rings.
It's no doubt a top-notch speaker which is built from the ground up. If you're looking for speakers that features excellent sound quality, then you might want to give this one a try!