In your quest for the best under seat subwoofer, it's important to remember one crucial fact: these subs aren't going to turn your ride into a rolling thunderstorm of bass when compared to larger subs.
They may not be a great option if you're looking for ground-pounding bass, but they can certainly add some depth and punch to your music.
Their relatively easy installation process and small size make them a great add-on to factory stereo systems.
Admittedly, larger subs might have a few advantages over smaller subs, but they aren't intended for vehicles where space is an issue.  Smaller subwoofers, specifically slim subwoofers, can literally fit anywhere which makes them best suited for compact and sport vehicles.
Table could not be displayed.
Some of The Best Under seat Subwoofers Reviews
This is not by any means a comprehensive list.  There are loads of great under seat woofers out there.  Actually too many to possibly cover in a single article.
However, we wanted to give you a breakdown of some of the best under seat subwoofers we've come across,
With any luck, you'll find something that meets your needs for your sound system in your car.
Contents: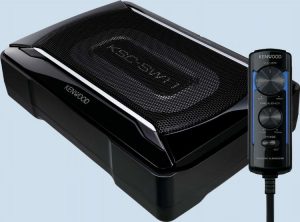 Founded in 1970,Kenwood is and always has been recognized as one of the best brands in car audio industry.  Kenwood offers a wide array of quality products ranging from speakers and subwoofers to headunits (both single and double din head units), and amplifiers.
Kenwood's KSC-SW11 is a tiny powered subwoofer that can fit almost anywhere, be it under or behind passenger seat, in the back wall of a pick-up or even in some storage areas.  If you're looking for an easy way to reinforce your sound system's bass without sacrificing too much space, I can't think of a better option as the best under seat subwoofer than the KSC-SW11.
The bass quality of the Kenwood KFC is definitely above par for most small subs.  What quickly caught our attention about this subwoofer was its highest sensitivity rating coming in at 110 dB.
I mean it's very sensitive – highly efficient, thus it plays louder with less power (remember that a subwoofer with a higher sensitivity requires less power to deliver the same amount of bass as a model with low sensitivity rating), and if you're still reading this, then that's important to you.
To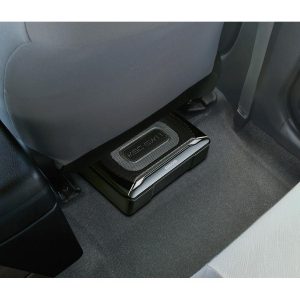 ensure you're getting the biggest bang possible out of this sub, Kenwood has stuffed it with an 8-1/4″ x 5-1/8″ woofer that is fed with 75 watts RMS by the built-in amplifier, while the rigid aluminum enclosure eliminates rattles.
The KSC-SW11 comes with a wired remote control to let you adjust the bass from the driver's seat.  The Kenwood KSC-SW11 can also be used in home theaters and media rooms to ensure that every chunk of music you hear reaches its full potential and simulate movie going experience.
In terms of drawbacks, I can't actually think of any. If anything I'd say its frequency range that doesn't reach as low as some of the best under seat subwoofers we've come across in the same category.  Otherwise, this is a great subwoofer with enough bass to satisfy anyone's craving for little bass.
Woofer Size (inches) : 8.25 x 5
Built-in amplifier – RMS : 75 watts
Built-in amplifier – Peak : 150 watts
Frequency response : 35 – 125 Hz
Sensitivity : 110 dB
Warranty : 1 year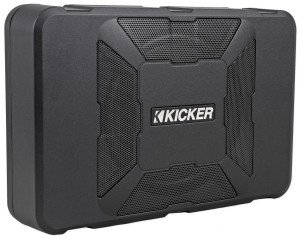 Kicker Hideaway is going to be the most expensive pick of the lot by far, and the most expensive that we're going to review – you'll be looking at almost $300.  That might be a bit much for those of you who are starting out.
While most under seat subwoofers are priced around $150, the "Kicker Hideaway" is much more expensive.  With this being said, the question we want to answer is: for those of you who have access to several under seat subs from just as many brands,  is Kicker Hideaway worth the price?  Let's find out.
One of the biggest things about this little piece state of the art that is noticeable immediately is its impressive low frequency output from a remarkably small enclosure.
At just 3-1/8 inches high and nearly 14 inches long, the Hideaway enclosure combines a powerful built-in 150-watt RMS amplifier and an 8-inch subwoofer that can hit low notes that'll really rock your ride and add depth and punch to any type of music you prefer.
This will make the listening experience even more intense, while setting a new standard in plug-and-play bass performance and convenience in compact vehicles.
Additionally, the Hideaway comes with a remote bass-control to let you adjust bass levels on the fly according to your mood.  It also comes with a wide array of fine-tuning controls such as variable +6dB bass boost, adjustable low-pass crossover, phase-cancelling switch as well as two automatic turn-on options.
One of the major drawbacks of "Kicker Hideaway" subwoofer is its hefty price tag, which pitches it in the same bracket as larger subs (in terms of costs).  Obviously, this subwoofer isn't budget-friendly.  However, there are still quite a few people I'd recommend it to.  First of all, I think audiophiles with smaller cars might benefit from this enclosed sub more than most.
I mean there are smaller barriers to entry using a compact powered subwoofer as opposed to typical subwoofers, which usually require tons of efforts building enclosures,wiring ,matching an amplifier to the subwoofer…etc.
Furthermore, it's a much tiny subwoofer with rich blend of capabilities and performance than you'd expect from such a small subwoofer, and it's an all in one unit, so there's only one piece of equipment you'll need to find a mounting place for.  Finally, when you pick one of these subs up, you'll know where the extra money you spend on it went.
Woofer Size (inches) : 8″
Built-in amplifier – RMS : 150 watts
Frequency response : 25 – 120 Hz
Sensitivity : NA
KickEQ boost : variable to +6dB @ 40Hz
Warranty : 1 year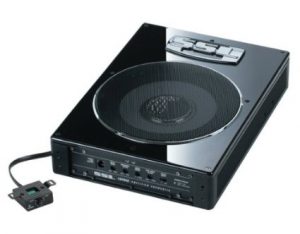 SSL LOPRO8 is definitely the less expensive amplified subwoofer we've come across, which is a great option for anyone looking for a solid car amplified subwoofer that doesn't break that bank.
SoundStorm Labs (AKA SSL) is a brand we haven't had a lot of chances to talk about.
Regardless, this is a brand which is making a name on the car audio market, it is considered to be one of the best brands that focuses on giving you more bang for your buck, and that really appears in the linked to above subwoofer.
The price isn't anything to sneeze at, but this is a very well-made subwoofer and it carries a huge return on investment.
The LOPRO8 combines a built-in amplifier and an 8 inch subwoofer in a super-compact ported enclosure.  It comes with various tunning controls to adjust your bass and give your music the extra punch it needs.
The amount of bass it can deliver is impressive given the fact that it lacks venting ports.  It is equipped with RCA low and high level inputs and a remote bass level control, not to mention low pass and subsonic filters as well as soft-delay remote turn on.
To put it simply, anyone who loves a good deal (which is everyone by the way!) will love this subwoofer for no other reason than it's cheap.
Woofer Size (inches) : 8″
Subwoofer Type : Amplified
Built-in amplifier – RMS : 300 Watts @ 4 Ohms
Built-in amplifier – Peak : 600 watts
Subsonic Filter : 20 – 50Hz
Low pass filter : 20 – 150Hz
Sensitivity : NA
Warranty : 1 year
The Rockville RW10CA was made to be a complete audio solution for getting great bass without taking up much room.  It is less than 3 inches thick making this a truly slim subwoofer.
Since it's an all in one solution, the amplifier is built in as well making installation and wiring super easy.
With this sub you'll get 800 watts of peak power and 200 watt RMS.  Since this model is CEA-2006 compliant, you are guaranteed to get the power that it says you will get.  (It's one of the only best under seat subwoofer on the market that is actually CEA-2006 compliant)
If you're looking for a simple solution to putting great sounding bass in you're car without taking up very much room at all, the RW10Ca is probably the choice for you.
Subwoofer size: 10″
Maximum Power RMS: 200 Watts
Impedance: 2 Ohm
Dimensions: 12.4 x 13.4 x 2.7 (L x W X H) Inches
Frequency Response: 20Hz – 150Hz
Sensitivity: 90dB @ 1w / 1m
The Rockford R2S is another great option for a shallow mounted subwoofer you can fit under your seat.  It's a bit bigger than some of the other options in this list but is still a great option.
You'll get 200 watts RMS and 400 watts max, which isn't the best either.  At the same time if you're looking for an under seat subwoofer, you probably have no space for bass.  The R2S will give you great sounding bass in a small enclosure.
The slim design of the enclosure is specifically made for single cab trucks but can also fit easily under the seat of a car. This alone makes it some of the best under seat subwoofer around!
Subwoofer size: 10″
Maximum Power: RMS 400watts
Impedance: 2 Ohm
Dimensions: 13.5 x 19 x 5.25
Advantages and Disadvantages of Under Seat Subwoofers: 
Advantages – these subs are tiny.  Granted!  Each of them has a different look, size and configuration.  The various pros of under seat subwoofers generally have to do with their lightness and portability.  Due to their mounting location and space constraints presented by some sport vehicles,they must be lighter and compact.  This makes them an easy fit even in shallow locations particularly under seats.  It also makes them easier to be moved or transported outside the vehicle.
Disadvanatages – obviously, under seat subs don't get the same quality of sound (bass depth) as larger subs do, and that is due to their small size and compactness design, and also due to the fact that their power handling capabilities are relatively low when compared to larger subwoofers.