Car subwoofers come in various shapes, variants and sizes.  That's the reason why even the most knowledgeable person in this field feel a bit overwhelmed.  However, it is this fact alone that allows everyone to get exactly what they want.
Bear in mind that size is an important key to take into account when you are considering buying a subwoofer for your vehicle.  The ideal subwoofer's size depends on many factors including your music taste, your vehicle and your sound application.
For example, certain subwoofer sizes are better for a particular type of music.  Additionally, some subwoofer sizes,especially the largest ones might cause some problems during installation,which might lead to undesirable performance trade-offs.
The four most common subwoofer sizes are 8, 10, 12, and 15 inches. Size is as important as other factors ,so let's get to it!
 12 Inch Subwoofers are by far the most common subwoofer size available on the market.  If you're seeking deeper and better overall sound, and more importantly, if you want to give your music a deep bass tone without sacrificing too much space, a 12 inch subwoofer is your best bet.
It generates a lot more extra bass than an 8 or 10 inch sub,which makes it ideal for people who listen to a mixture of country, metal, blues,and rock music.However,these are usually slightly more difficult to install than a 8 or 10 inches car subwoofer because of their relatively large size.
Disclaimer on Our Best 12 Inch Subwoofers
This is not by any means a comprehensive list. There' are tons and tons of great 12″ inch subwoofers out there. If you'd like more information, you can check out the lists on PriceGrabber and Wikpedia (car audio manufacturers and brands), both of which are excellent resources.
However, we did want to give you a few good options. These 12 inch subwoofers represent different price points, specifications and performance.With any luck, you'll find something that meets your needs and works for your sound system.
If we missed a 12″ inch subwoofer you love, let us know in the comments!
>>Click here to see prices, specs and reviews of the top rated 12 inch subwoofers<<
To be honest, we weren't too familiar with this brand prior to using. The sub's specs caught our attention.The Dual's BP1204 bandpass subwoofer enclosure showed a very good set of advantages and only minor disadvantages.It's one of the best dual 12 inch subwoofer out there.Furthermore,when more than 200 people recommend it,you cannot simply ignore the fact that it is actually worth the money.
Besides pumping out great bass,Dual's BP1204 bandpass subwoofer enclosure comes with an "Illuminite" bulb system that provides a cool blue glow that will add a touch of glamour and elegance to your vehicle's interior, and make it look as great as it sounds.And that's what we love most about it.
This dual chambered enclosure packs two 12-inch subwoofers with a total RMS of 600 watts,which is more than enough power to satisfy your craving for bass.No product is perfect and this one is no exception to the rule.However, the only drawback we found about this enclosure is its sensitivity rating which could be improved.other than that,this piece of equipment comes pretty darn close to being perfect.
Rockford Fosgate is an American manufacturer of aftermarket and OEM car audio and In-Car Entertainment (ICE) products and accessories.They were founded in 1973 and they offer a wide variety of subwoofers.This particular subwoofer is one of the higher quality subs that RF offers.
The company on the other hand has brought radical changes to the industry, by introducing several new approaches to the differences between mobile and home audio.
By running audio in both stereo and mono modes simultaneously,Rockford Fosgate's amplifier models are the first to feature this approach,which has lead to producing a far more accurate and clean sound in cars.
The most remarkable aspect of this sub is that it's available in both 2 and 4 ohm impedance configuration.It can also be ordered in various sizes including 10″ , 12″ and 15 inches (Please note that the specs vary from on size to an other).And while you will always have to match your amplifier to your car subwoofer,be sure to know the impedance of your subwoofer and try to match your amplifier's impedance accordingly.
This car subwoofer,despite its lower sensitivity rating, produces some impressive sound levels.In addition,the accuracy of its sound  is noticeable.
This 12 inch subwoofers might not pack as much power as some of the other models we've reviewed ,but its sound reproduction is exceptional,and it's truly a great deal for the money.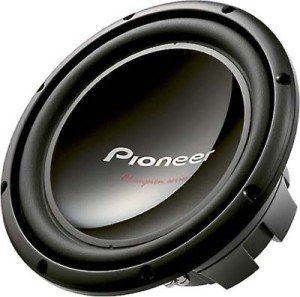 Pionner is one of the most authoritative brands in audio industry.They were founded in 1938,and they've been making high quality products ever since.
The sub linked to above is one of the top rated 12 inch subwoofers that you can get for under $80.  This thing is beautiful.It features dual 4 ohm voice coils, giving you the flexibility and control to wire the sub for 2 or even 8 ohm impedance.
This car subwoofer handles the most power of any product on our lineup, leading the way with a remarkable 1400 watts of peak power handling.
Combine this with a higher sensitivity rating and you have a very functional component subwoofer ready to deliver soul-shaking beats.
Pioneer TS-W309D4 sub is made to last.In order to prevent cone failure caused by high sound pressure levels,Pioneer introducted a new IMPP composite seamless cones to perfectly meet this need, while maintaining sound accuracy and powerful bass.
On the other hand, Pioneer has also used dual layer elastic polymer surround in order to enhance the sub's durability and lightness which results in superior response and louder volume.
The only pitfall with this sub is that it doesn't quite dip into the subsonic frequencies that some other car subwoofers do.Other than that, it does what it's supposed to do perfectly.
We have reviewed various Kicker audio equipments on this site before, and the story hasn't changed. Kicker produces quality products for a reasonable price.
If you are wanting to keep your box set under $80, we can't think of a better option for a subwoofer than Kicker 10c124.
Obviously, since we are putting together a mixed bag here, you can certainly sub this subwoofer out for another of your choosing. However, for the purposes of this article, the Kicker 10C124 Component 12-Inch Subwoofer is a fantastic choice.
Kicker 10C124 subwoofer is a smart alternative to people on budget, it provides excellent bass, while sticking to a tight budget.This sub offers almost the same performance as the other subs in the same range and category.
Although this speaker lags a bit behind the competition in terms of power handling, when compared to some of the other models on our lineup ,it's still capable of bringing out the depth your music has been missing.
Furthermore, Kicker configured this sub to handle 4-ohm impedance load,so you will have more flexibility in your wiring configurations and more compatibility with just about every amplifier on the market.
Kicker 10C124's continuous power handling is slightly disappointing coming in at only 150 watts,this might be inconvenient for some of you.However,it gets the job done for around $80.It's one of the best 12″ inch subwoofers at this price point and it's a good entry-level sub if you want to test the waters before upgrading to something a little more sophisticated.