When it comes to subwoofers, size really does matter. If you're seeking big bass and you've got plenty of room in your vehicle, there's no substitute for larger subs. Otherwise, if space is an issue in your vehicle,and you still want to experience some bass, there are plenty of options out there including,smaller subs (8″ inches , 10″ inches,…),powered subwoofers. These space-saving bass systems can certainly make bass, but the quality and quantity of the larger subs's deep bass is considerably better. If well-chosen and well placed, a large sub will deliver deep pounding bass that you can feel as much as you hear.
There are a lot of 15 inch subs on the market,and some of them are virtually worthless,so you should definitely make sure you do your research before you decide on the one you buy. Luckily, we've put together a little guide that should help you make the best 15 inch subwoofer decision. Enjoy!
>>Click here to see prices, specs and reviews of the best 15″ inch subwoofers<<
We'll go ahead and start off this review with possibly one of the most badass, crazy and all powerful 15″ inch subwoofer on the market.ORION HCCA-152 .
And, assuming you've got the cash to throw around, it's one of the most hardcore subwoofers Orion® has ever made,bar none. Buying one of these subs will make everyone with small subs in their trunk jealous and make you pride of your sound system.
These subs are highly recommended for bassheads seeking more bass than what smaller subs can deliver.However,there are a few things you need to be aware of before purchasing a sub of this greatness.
First of all, as this sub is very power hungry,you'll certainly need to upgrade your electrical system, by that we mean a big and powerful alternator, as well as at least an extra battery.That being said, you'll also need an external amplifier with superior high-power output to feed this beast.
Additionally, you'll have to build a customized box to accommodate it.Subs of this magnitude should be mounted facing up as they can rip apart what's facing the box.
Orion® is a brand we haven't come across very much at all, but we were quite pleasantly overwhelmed when we did.
Although this product's price tag is fairly steep, it provides excellent performance, and if you're here, then that is important to you.Buying one of these subs will shake the hell out of everything and everyone around you.Your neighbors will want you to move. It's just a whole different experience.
This particular subwoofer will set you back around $400,however it's one of the top 15″ subwoofers in the market.Not only is this sub built to last, but it is also oustanding in terms of performance – the results will blow your mind.
Clearly, due to the price tag and quality of this 15″ inch sub,I'd recommend it only to someone who thoroughly enjoys big bass,and has the funds to support it.If you are just starting out, it would not be a wise decision to splurge up to 400+ on a top of the line 15″ inch subwoofer.
Specification
Subwoofer Size : 15″
Power handling – RMS : 2000 watts
Power handling – Peak : 4000 watts
Sensitivity : 87.2 dB
Impedance : 4 Ohms
Weight : 87.00lbs
Frequency Response : 21-100 Hz
Warranty : 1 Year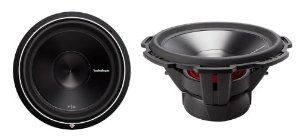 For those of you who read the last review and thought "this sub is very demanding, technically and financially" will be happy to give this bad boy a try.
We have reviewed several Rockford Fosgate products on this site before and the story hasn't changed.
Rockford Fosgate offers reasonably priced products.If you are wanting to keep your sub investment set under $200,we can't think of a better option for a 15″ inch subwoofer than the P3D2-15.
Rockford Fosgate has been in business since 1973.Their products reflect over 40 years of know-how by featuring state-of-the-art sonic technologies,dependable hardware and powerful music all with great style in mind, be it speakers, amps or subwoofers.
The linked to above Punch series subwoofer is designed for deeper,louder bass – resulting in an impressive sound that'll shine out in a crowd.
Rockford Fosgate has built the P3D2-15 15″ subwoofer to stay rigid in high demanding sound pressure levels conditions and heavy play,while staying light and responsive.
To make this sub deliver even bigger bass,RF used a new technique that consists of attaching the oversized rubber surround to the cone increasing available cone area by 25% – resulting in more air flow and eventually deeper bass.
For optimal results Rockford Fosgate has incorporated a special venting to cool down the voice coils.
Additionally,the aluminum cone serve the purpose of a heat sink, dissipating heat away from the copper-clad aluminum voice coils,so you can experience incredibly consistent bass on an ongoing basis.
Specification
Subwoofer Size : 15″
Power handling – RMS : 600 watts
Power handling – Peak : 1200 watts
Sensitivity : 86 dB
Impedance : 4 Ohms
Frequency Response : 22-250 Hz
Warranty : 1 Year
Weight : 87.00lbs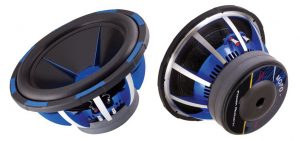 We have not reviewed Power Acoustik products here before, but that's not because we aren't fond of them.This is a decent brand,offering a wide range of products including subs,amps ,tweeters and a few speakers.
The brand is not the best and not the worst.Their products are above average in almost everything starting from build quality, performance, bass output,as well as their reasonable price tags. I would have to say, overall, it's a very good deal for what it's worth.
The MOFO-154X is a monster,it can deliver some ground shaking bass.This is a great budget-friendly option for anyone craving big bass and want to crank it up in the car without breaking that bank.
The MOFO-154X features a dual 4 Ohm voice coil and a 170 oz strontium magnet structure, and it offers 1700 watts of RMS power handling.
There are two sizes in the Mofo X series , a 12″ inch version and 15″ inch version,and each size is available in a dual 2 ohm or dual 4 ohm voice coil configuration.
The 12″ inch model is rated at 1500 RMS power while the 15″ inch model is rated at 1700 watts RMS.As you can notice ,it's a general rule that the bigger the woofer the more power required.
Specification:
Subwoofer Size : 15″
Power handling – RMS : 1700 watts
Power handling – Peak : 3000 watts
Sensitivity : 87 dB
Impedance : Dual 4 Ohm
Frequency Response : Not specified
Weight : 32 lbs
Warranty : 1 Year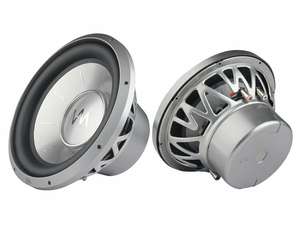 This subwoofer is by far the least expensive of all 15″ inch subs we've reviewed in this lineup by far,but don't let that fool you.
This subwoofer can handle up to 1300 watts RMS power and it features high excursion linear mechanical suspension system as well as a 4-ohm dual voice coil configuration – which allows a variety of wiring possibilities.
This subwoofer is built with stress-resistant materials including wide durable rubber surround, vibraducer feather light IMPP for the cone,it also comes with heavy duty stamped steel basket with a high impact-resistant one-piece magnetic cover.
The EXW15 sub also features a direct voice coil surface-cooling system,some nice push terminals and motor cover on the back side.
The cover isn't simply magnetized to the motor – which is usually the case with low end woofers, but it's securely adhered to the motor structure, adding a layer of protection to both the motor and to the magnets.
Overall, this is a solid 15″ inch subwoofer, for a competitive price. And it should last you for years if it is powered properly.
Specification:
Subwoofer Size : 15″
Power handling – RMS : 1300 watts
Power handling – Peak : 2600 watts
Sensitivity : 91 dB
Impedance : Dual 4 Ohm
Frequency Response : 23Hz – 340Hz
Warranty : 1 Year
Last but not least, we have Alpine Type-R SWR-1522D sub.We've already reviewed some products from Alpine,mainly speakers.We believe that Alpine makes a great product,and this subwoofer is no exception.Alpine offers a wide range of in-car-entertainment systems.
They have built their business by offering above par products at reasonable prices.
They offer a lot of great products for beginners and audiophiles alike.The company itself and their products reflect their comprehensive expertise and true commitment to professionalism and excellence.
The SWR-1522D sub is built for heavy-duty sound.The pulp material used for the cone for example has been reinforced with Kevlar® (the substance best known for its use in bulletproof vests and army helmets) for extra rigidity,so it doesn't distort at high volume levels or under hard play.
Additionally,the wide rubber that surrounds the cone significantly increases deep bass and the overall durability of the sub.Moreover,the SWR-1522D has multiple air vents to quickly and efficiently shed heat away from internal motor structure for better power handling.
Specification:
Subwoofer Size : 15″
Power handling – RMS : 750 Watts
Power handling – Peak : 2000 Watts
Sensitivity : 87 dB
Impedance : Dual 4 Ohm
Frequency Response : 18Hz – 400Hz
Warranty : 1 Year