An Overview of The Best Car Door Speakers
Car door speakers are a crucial part of your car stereo sound.They're the very first thing we would recommend you to upgrade before anything else.Given their location,they can be huge difference-makers.Sometimes swapping your speakers out is all you need to experience immediate,noticeable difference.Not to mention that replacing your speakers is the single most cost-effective way to a better listening experience.
One of the few downsides of upgrading your car door speakers however is the big money sink that goes into these speakers – if you really want to get a good set, you have to shell out some serious cash.Sure you end up saving a lot of money in the shorter term with how cheap some car speakers are nowadays,but going for high-end models in the first level can get kind of costly.To that end, when you're dropping upwards of $130 on a set of speakers, you want to make sure you're getting the right one.You cannot be an expert in everything and for this reason we are here to help.
First Things First : What to look for in your door speakers
Sensitivity : Some people think that the higher the sensitivity rating the better the sound quality – That's completely wrong.Sensitivity rating doesn't tell you how good a speaker sounds.It simply measures how well the speaker uses power applied to it.If you have a high-powered stereo system (an aftermarket receiver or an external amplifier is used),then consider speakers with low sensitivity.Otherwise speakers with higher sensitivity rating will make the best match.Properly powered speakers will give you the highs and mids your music has been missing.
Power-handling : the general rule says that your speakers should be able to handle the power your receiver or your amplifier can put out.So,if you have a powerfull amplifier mounted in your vehicle,you'll need to look for speakers whose power-handling is close to the output of your amp.On the other hand, speakers intended to be powered solely with an aftermarket receiver don't need to handle a lot of power.When it comes to power handling , there are two major key specs you need to be aware of.RMS and Peak power handling.RMS power handling refers to the level of power ( measured in watts) a pair of speakers can handle on a continuous basis.Brands and manufacturers usually like to brag about their speaker's peak power handling, don't be fooled by that.RMS is the accurate measurement you'll need to consider the most.
Build Quality : Most Factory speakers are known for being made with cheap materials that get worn down over the course of a few months.Low quality materials are responsible for flat boring sound that strains ears.Aftermarket speakers on the other hand provide the best bang for your buck.
Some of the materials you should look for in speakers you're about to purchase include :

Rubber surrounds last longer and provide better sound quality.
Foam and textile surround are also a second option.They're not the best but they're still of a much higher quality than foam and paper.
Speakers aren't designed to provide bass (low-frequencies reproduction).But if you still want to experience bass in your music to at least some extent,look for speakers with rigid ,yet lightweight woofer materials like PP (polypropylene) mixed with mica or metal-coated synthetic fabrics which tend to last longer.
At a glance
Top-mount depth : 2″
Design : 3-Way
Size : 6-1/2 – 6-3/4-inch
Frequency response : 50 – 21 kHz
RMS – Power handling : 120 watts per set / 60 watts each side
Peak – Power handling : 360 watts per set / 180 watts each side
Sensitivity : 92 dB
Impedance : 2 Ohms
Warranty : 1 year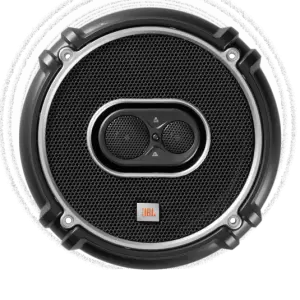 We've covered this brand before in previous reviews , but it bears repeating – It's one of the best car speaker brands out there.With a really great looking grille,a high sensitivity rating and a modest RMS power handling,the JBL GTO speakers are simply awesome.What we like the most about JBL Grand Touring Series (GTO) is that they are available in a wide variety of sizes,various designs and configuration options including component versions giving you the choice to choose whichever might meet your needs and fits your vehicle.
JBL has a pedigree stretching back for more than 70 years full of success and innovation.And they have earned themselves a reputation for innovative design and substantial experience in this industry.By incorporating their latest loudspeaker technologies such as JBL's Plus One woofer cone,built-in crossover network,edge-driven mylar-titanium tweeter and supertweeter,the GTO speakers are able to deliver stunning sound output,while keeping the costs at a reasonable level.For those who want to hit the road with rich, detailed notes,and for a price that deosn't break that bank, put your trust in JBL GTO speakers and you're good to go.
Another great advantage to the JBL GTO speaker series is their adjustable tweeter made from My/Ti (Mylar and Titanium composite) which allow for great efficiency and extended high frequencies.A large voice coil on the other hand increases power handling and limits distortion at an acceptable level.Furthermore,the ability to adjust the tweeter will significantly optimize the overall sound quality and the result ? Well,nothing but crystal clear music,better imaging and more accurate sound-stage.To enhance your listening experience,and to be able to direct that sound where you want,JBL went the extra step and designed a Unipoint rotating tweeter pod which allows higher-frequencies to be dispersed mainly towards the listener region.
All JBL GTO speakers are made using high-quality materials and most advanced manufacturing technologies. They pass the industry's most exhaustive quality tests and long hours of environmental testing,including long hours of variable temperatures floating between -35° C and +90° C,high levels of humidity and UV light exposure stimulating rear deck mounting.Not to mention extensive vibration testing.
Finally,it's not by coincidence that these speakers score higher and produce some of the finest sound quality.Nor is it random that they're one of the best selling speakers on the market.
At a glance
Top-mount depth : 2-1/8″
Design : 2-Way
Size : 6-1/2 – 6-3/4-inch
Frequency response : 45 – 25 kHz
RMS – Power handling : 150 watts per pair / 75 watts each
Peak – Power handling : 450 watts per pair / 225 watts each
Sensitivity : 95 dB
Impedance : 2 Ohms
Warranty : 3 year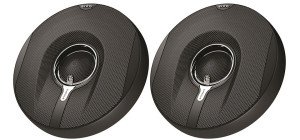 The Infinity Kappa series of car speakers provide a fantastic audio experience.One of the things that struck me about the Infinity Kappa 62.11I was their simple but elegant appearance.There are no visible mounting screws and the visually appealing chrome on the grille and on the tweeters match modern interiors. Behind this modern look,it conceals many treasures and strong specifications to be discovered.
First off,the Kappa series by Infinity is a set of speakers with the highest sensitivity rating out there,and the highest among speakers we are going to review.Sensitivity rating refers to the volume produced by 1 watt measured at 3 feet.The higher sensitivity means that speakers can function at their best with less power.Which makes these speakers suitable for factory speakers replacement.However if you want to take full advantage of what these speakers have to offer,drop an external amp into the mix and enjoy rich music even at high volumes.
The power handling rating, RMS particularly isn't the highest available,But it doesn't have to be because of the high,prominent sensitivity.These 6.5 speakers can handle 150 watts per pair on continuous basis and 450 watts at the peak.
In terms of drawbacks, the biggest one by far is that this set is slightly expensive when compared to other speakers in the same category – at about $130, you'll definitely want to be sure these are the speakers you want. It's a pricey set, and it might set you back a lot more than some other car speakers out there.Still,the price is absolutely,definitely worth it compared to the quality of sound you will get eventually.This set means business;it's well-made,and you'll definitely enjoy and fell that you got what you paid for.It's no brainer that Infinity has put a lot of effort and time into making Kappa speakers the best they could be,so I don't mind shelling out some extra bucks if it means i'm getting more effectiveness and high sound quality.
At a glance
Top-mount depth : 2-3/16″
Design : 4-Way
Size : 6-1/2 – 6-3/4-inch
Frequency response : 34 – 30 kHz
RMS – Power handling : 120 watts per pair / 60 watts each
Peak – Power handling : 350 watts per pair / 225 watts each
Sensitivity : 91 dB
Impedance : 2 Ohms
Warranty : 1 year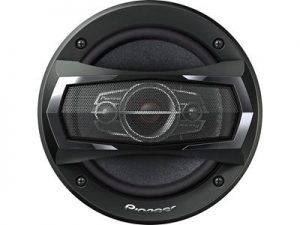 We have talked about Pioneer several times before.Pioneer is a major brand and one of the pioneers when it comes to car audio industry,so naturally we wanted to include them in this article.They offer a wide range of speakers series including D-series ,G-series , A-series , pro-series as well as marine certified speakers.
That being said, the Pioneer TS-A1685R is a really nice model with great looking appearance – These speakers feature a multi-layer mica-matrix,rigid woofers,yet lightweight for an outstanding responsiveness sensitivity and sound propagation with less distortion so you can experience fuller,clean bass.They'll deliver remarkable sound running off a modest factory stereo, but they'll really shine when driven by an external amplifier or at least by a powerful aftermarket receiver.
The TS-A1685R speakers feature a soft dome tweeter/midrange driver using a wave guide enclosure for smooth off-axis response.This design allows mid and low frequencies to be directed and widely dispersed inside your vehicle which results in a smooth on and off-axis frequency response.
This newly designed tweeter disperses sound more widely with superior control, providing you with the finest sound under all conditions, regardless of speakers mounting location.Pioneer has extended their tweeters performance, so they can reach as low as 34 Hz which is the lowest among all speakers in this lineup, and stretch to as high as 30 KHZ which is the highest.That makes these speakers the flagship in this guide in terms of frequency range coverage.
Don't drive another day listening to your flat,boring music, when you can truly revitalize and breathe a new life into your sound system with these speakers.
At a glance
Top-mount depth : 1-11/16″
Design/Conf : Component
Size : 6-1/2 – 6-3/4-inch
Frequency response : 35 – 23 kHz
RMS – Power handling : 100 watts
Peak – Power handling : 300 watts
Sensitivity : 92 dB
Impedance : 2 Ohms
Warranty : 1 year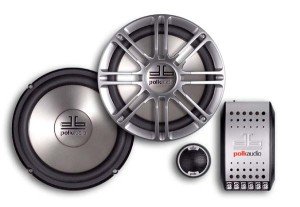 The other brand to consider when you're looking for the best car door speakers is Polk Audio,particularly their DB series. We've already reviewed a few Polk Audio DB speakers,and it bears repeating. They've actually mastered the art of providing speakers of high quality.
On its own ,the Polk Audio DB6501 is a 2-way component system featuring 6-1/2″ woofers made from a combination of polymer/mica and durable rubber surrounds for long lasting and reliability.The 1″ Liquid-cooled tweeters made from silk and polymer on the other hand rely on Neodymium magnets to deliver accurate high-frequency reproduction,resulting in sharp,detailed highs.The tweeters can be either surface or flush-mounted with the supplied swivel-mount-cups.And for powerful sound-imaging,mount them so they can broadcast toward where you're sitting.
Polk DB series are marine certified, which means the materials they're built with are durable, so you can enjoy your music for years and years to come.Polk db speakers come in 2 or 3 way options and are available in all common speaker sizes including slim/shallow mount versions.And they're also available in both coaxial and in component configurations.