Rockford Fostgate has always been a key player in the car audio revolution. When it comes to audio innovation, engineering, and design, they have always been passionate to do it right for the boaters, drivers, motorcyclists, and off-road enthusiasts out there. In this review, we take a look one of Rockford's very own Rockford Fosgate R165X3, and the top reasons why you might consider these speakers when you do your car speaker upgrade.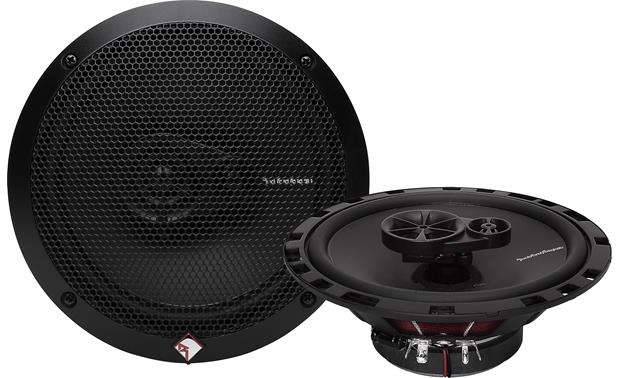 Summary of Features:
Has various tweeters, woofers, grills, midrange drivers, and crossovers.
Woofers designed with elastic polypropylene material
Can handle up to 40 watts of RMS power and generate 80-decibel level sound
Has steel basket for solid protection from unwanted objects
Car speakers covered surrounded with rubber to promote longevity
Tweeters designed with durable Mylar and titanium material
Can withstand high heat and offer great performance for years
Also made with high-quality, long-lasting foam
Produces different bass levels
Top 7 Reasons Rockford Fosgate R165X3 is an Excellent Choice
Appealing Aesthetic Design
The model has a flat-black and sleek design with its glossy dome tweeters. They look clean, chic, and attractive unlike other brands and models that don't quite fit the bill.
Great Sound Experience
Since it's a 3-way speaker, it has midrange drivers, woofers, and tweeters, promoting a better sound experience overall. The old R165 was just a 2-way speaker, and it definitely didn't sound this clear.
Highly Durable
The speakers are surrounded with steel frame to protect it from unwanted hard hits. There's also some rubber around it to further promote protection and secure the item's longevity. The product is also made with an elastic polypropylene material. And the speakers' tweeters are designed with Titanium and Mylar materials to make them stand the test of time.
Fantastic Crossovers
With these fantastic crossovers, Rockford Fosgate R165X3 Car Speakers can play sounds of any frequency without a lot of distortion, making it way better than the previous models. Technically, crossovers are the component that produces certain frequencies to the drivers. When gotten right, the drivers get to generate sound of better quality. The crossovers of R165X3 are designed with high-quality materials that generate high-quality music all the time.
Safe Speakers
R165X3 has many superior quality grilles to promote safety. They're installed on the front end of the speakers. The back end also inhibits foreign objects to hamper their performance. It's good to know how they have paid attention to detail on this sought-after model.
Lightweight & Low Impedance
Since it's lightweight, installation becomes a breeze and portability is not a problem. In terms of impedance level, it has low impedance which makes installation of multiple extra amplifiers possible. Thus, expect to enjoy even more enhanced music from coaxial speakers.
Affordable
These speakers aren't the cheapest available, but it definitely falls on the affordable and budget-friendly range. If you take a look at all its features, you would understand why many people choose it—it's not that pricey given its amazing inclusions. Also, this speaker system has all necessary drivers quartered in single boxes. Being able to adjust several drivers in single components helps you save time and money.
Design Specifications
Dimensions: 8.1 inches high, 7.1 inches long and 10.9 inches wide
Has a sensitivity of 91 dB and the RMS is 45W
Impedance: 4 Ohms
A pair of 6-1/2″ 3-way car speakers
1/2″ silk dome tweeter
Polypropylene woofer cone w/ rubber surround
Frequency response: 52-20,000 Hz
Sensitivity: 91 dB; RMS: 45W.
Topmount depth: 2-3/16″
Piezo supertweeter
Grilles included
Warranty: 1 year
What We Liked
Great high & mid
Durable design
Compact enough for small cars
Great customer support
Pricing at budget-friendly zone
Easy to install in different positions in the car
What We Didn't Like
Slightly Distorted Sound at High Volumes
Not waterproof
Bass not very deep, unlike the higher end models
CONCLUSION
If you need replacements for your old car speakers, Rockford Fosgate R165X3 Car Speaker is definitely a great choice. The best part is you get to enjoy decent sound without spending a fortune. It has all the great features you would want in a car speaker system. Although they're not perfect as these still belong to the budget-friendly, lower end of the market, they still sound good and definitely offer great value for money. Given its price and all its amazing features, this definitely exceeds expectations!