Searching to find the best 6.5 component car speakers for bass can be frustrating. Whether you're looking for coaxial speakers or component speakers, there are always dozens of highly-rated ones available – which is both a blessing and a curse – Variety is the spice of life, after all!
Amazon has such a vast array of car audio speakers to offer, that it can be overwhelming at times.
There are so many different brands and varieties to choose from.  It makes it challenging to figure out which ones you should pick up for your speaker system. Don't worry, because we're here to help.
Here at RideBass, we've spent hundreds of hours testing and curating the best 6.5 component speakers for every specific purpose, and we've now compiled them for our readers.  Here are our reviews of the best 6.5 component speakers for bass in 2019.
Reviews of the Best 6.5 component car speakers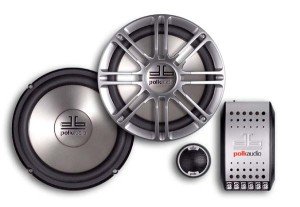 Polk Audio is a pretty big name in the audio industry,with over a 40-year legacy of sound expertise, and Definitive Technology in high-end loudspeaker solutions.
They have quite a few products on the market.  The dB series is one of their best models, and they give it a bitcoaxial more of a minimalist look.
One of the things that strikes you first about the dB6501 is the different design; there's a stylishness to the various design elements that makes it stand out from normal component systems.
The DB6501 features stainless steel mounting hardware and muscular ABS grilles that will add a stylish touch to your car's interior.
It's got a Rock solid, acoustically inert samped steel basket finished in rustproof gun metal gray.  More importantly,the dB series speakers are marine certified.
They're built to withstand harsh environment which makes them a great option for boats,vehicles, or ATV.
The Polk Audio DB6501 speaker set has a lot of fans among car audiophiles, and it's got a long history of being an amazing component system and it's easy to see why – it delivers rich lows that are free of detail-robbing distortion.  Its highs on the other hand resonate with clarity.
To put this clearly, the Polk Audio DB6501 has very high quality sound clarity.
The liquid-cooled silk/polymer composite tweeters that come with this component system use powerful Neodymium magnets to deliver precise high-frequency reproduction.They can be surface- or flash-mounted using the included swivel-mount cups.
Well-positioned tweeters will give you better stereo-imaging and raise the soundstage to your ears ,that's why it's highly recommended that you aim both the tweeters so the broadcast towards your ears.
Frequency response :  35 Hz- 23 kHz
Power handling

RMS Power    :  100 Watts
Peak Power   :  300 Watts

Sensitivity :  92 dB
Impedance :  4 ohms
Warranty :   1 year
Polk Audio DB6501 6.5-Inch 2-Way Component System...
Adaptor Rings make it easy to fit the db6501 in 6 1/2 inch and 6 3/4 inch applications
Two way Butterworth outboard crossover with vented housing, electronic tweeter protection circuit
Woofers feature polymer/mica composite cone with butyl rubber surround, Kapton voice coil former. 6.5 inch component system with pair each of woofers, tweeters, crossovers
25mm liquid cooled silk/polymer composite dome tweeters with neodymium magnet for clear, detailed highs
Special Shipping Information: This item cannot be returned to Amazon.com. For additional information concerning this policy, please visit our Product Specific Returns Policy Page
This product is by far the least expensive, but don't let that fool you. We have reviewed some Pioneer products on this site, and we are quite fond of them.
Let's start with the pros.
First of all, you can usually find it sold for under $70 at most retailers and many online sites; that is a major bargain, and it's a great starter component system if you want to ease into building a robust sound system but don't want to splurge on the most expensive set possible.
Some of you may want to start out small – there's nothing wrong with that whatsoever. With that in mind, the TS-A1606C is a good fit.
For one thing, it's cheap and it's going to be the cheapest pick of the lot by far.
We believe that Pioneer TS-A1606C is a great deal for newbies, but experienced audiophiles won't be disappointed with this system either; it can seriously perform.
Pioneer A series speakers are built from the ground up to bring back the life that your music's been missing.  They feature a wide frequency range and higher sensitivity rating.
So you'll be able to enjoy the clear vocals, chunky guitar riffs, heavy drums, and distinct bass lines that have always been a part of your favorite tunes, but have remained hidden behind blown-out factory-installed speakers.
The TS-A1606C speakers are equipped with mica-matrix woofers built to stay rigid even at high volume levels,keeping distortion to a minimum level so your bass sounds clean.
These speakers will sound great running off your factory headunit, but you'll be able to yield the best results out of them when driven by an aftermarket receiver or an external amp.
That being said, don't drive another day listening to tired-sounding tunes, when you can enjoy Pioneer sound quality with these speakers in your vehicle.
As for cons, it's really difficult to think of any. If anything, I would say that Heavy-bass lovers would probably find these speakers a bit lacking in terms of deep bass reproduction.
That being said, bear in mind that in case you opt out for these speakers and ground-pounding bass is high on your requirement list, you'll need to drop a subwoofer into the mix.  Otherwise, the TS-A1605C speakers will sound just fine on their own.
Frequency response :  34 Hz – 32 kHz
Power handling

RMS Power   : 60 Watts
Peak Power   : 350 Watts

Sensitivity : 90 dB
Impedance : 4 ohms
Warranty : 1 Year
Pair Pioneer TS-A652C 6-1/2 Inch 350 Watts 2-Way...
350 Watts Max Power (80 Watts RMS)
20 mm polyimide (PI) hard dome tweeter
1-5/8" cellulose fiber cone midrange
6-1/2" carbon and mica reinforced Injection Molded Polypropylene (IMPP) cone construction
Sound Pressure Level (Sensitivity) 85 dB (+- 1.5dB)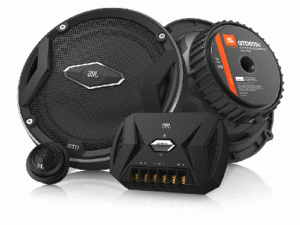 First of all, the folks at JBL know what they're doing when making a first impression; their GTO609C Premium features a great unique look and feel.  Just looking at this system feels like a privilege.
There are many different series of speakers in their arsenal, but I'm particularly fond of the GTO series.  All in all, the JBL GTO609C is one of the best 6.5 component speakers you can hope to find.
As a component system, it's fabulous; I find it incredibly attractive to look at, and it sounds like an absolute dream.
These speakers are built with a carbon-injected polypropylene cone material to withstand high output levels and to accurately reproduce each note with such clarity and coherency.
Additionally,the GTO609C features a vented magnet with a high thermal-capable voice coil which effectively dissipates heat, ensuring long-term, lasting, and effectiveness.
By integrating the most advanced JBL's loudspeaker technologies, JBL mobile products are able to effectively deliver stunning audio at a reasonable price.  More importantly, JBL GTO speakers are build to last.
Before they get released for production, they'all have to go through massive environmental testing, high and low temperatures, air humidity, UV exposure and extensive vibration testing.
If we had to find some criticisms for it, it would be that it's lacking in terms of low-frequency response.  However, this can be good and bad – depending on your musical taste.  Don't get me wrong, these speakers sound great, but they'll sound even better when coupled with a subwoofer.
Frequency response :  67 – 21 KHz
Power handling

RMS  Power  : 90 W
Peak  Power  :  270 W

Sensitivity : 92 dB
Impedance : 3 ohms
Warranty : 1 Year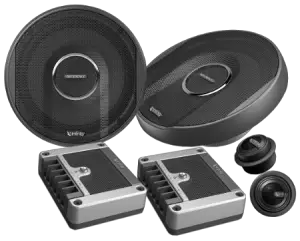 Infinity is another authoritative brand in the car audio industry.  They offer several different types of speakers as well as many different models in each specific line.
The Reference Series is one of their most effective lines.
The Infinity Reference 6500CX is simple – it's practically simplicity personified. The design is bare-bones, stark and simple, but not to a fault; we have reviewed many Infinity speakers on this site before, and the story hasn't changed.
Infinity  produces a quality product at a fair price.That aside, we have come across a ton of you who have tried and loved Infinity speakers.
Frequency response :  53 Hz – 21 kHz
Power handling

RMS  Power  : 90 W
Peak  Power  : 270 W

Sensitivity : 93 dB
Impedance : 3 Ohms
Warranty : 1 Year
We have reviewed limited Kenwood products on here, mostly their speakers and stereos because that's what we think they do best. They have medium quality products for more than a reasonable price.
We would recommend this component set for basically anybody who is looking for a replacement for their old, blown-out factory speakers.  And we do think you get a lot of bang for your buck with this set.
If you don't want to push the boundaries of car speakers replacement too much, and you are wanting to keep your speakers set under $60, we can't think of a better option for 6.5 component speakers than Kenwood's more pragmatic-looking Performance Series speakers, like Kfc-P709Ps.
Frequency response :  63 Hz – 24 Khz
Power handling

RMS Power   : 240 Watts
Peak Power   :  80 Watts

Sensitivity : 86 dB
Impedance : 4 ohms
Warranty : 1 Year
Components versus Coaxials : A Brief Overview
There are basically two kinds of car speakers – component and coaxial speakers. The difference between the two is actually quite simple, but I'll go ahead and give it to you since we're all friends here, and I've got the time.
When people ask for advice about car speakers, we usually tell them that component speakers, also known as "separates," with their separate woofers and tweeters, offer better stereo imaging and hence a great listening experience compared to coaxial speakers.
But coaxial speakers (also known as full-range), feature the woofer and tweeter mounted on the same chassis, which typically makes them much easier to install.
What advantages component speakers have over their counterparts – coaxial speakers ?
Because component speaker systems feature separate woofers, tweeters, and crossovers, they tend to deliver realistic sound with outstanding stereo-imaging in the car, making them the choice of serious audio enthusiasts.
Normal coaxial speakers, whether factory-installed or aftermarket combine the woofer and tweeter into one speaker, which is a convenient way to get great sound from a single speaker opening.
However, the placement of the woofer and the tweeter are both compromised in this arrangement.  Additionally, a tweeter mounted on top of the woofer cone will always, to some degree, interfere with the sound waves produced by the woofer.
What we like the most about component speakers is that the woofer and tweeter are mounted independently — which allows each component to operate to its full potential.  Also eliminating sound wave interference between the woofer and the tweeter.
More importantly, independent tweeters can be mounted wherever you assume they can perform at their best.  Well-positioned tweeters will provide an optimum imaging and sound staging.
Component speakers will work fine running off an high-powered aftermarket head units, but they'll really shine when powered by an external amplifier. Often,component systems are designed to handle higher amounts of power than their regular coaxial counterparts.