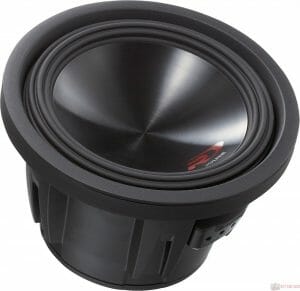 We've had a ton of requests to start including 10 inch subwoofers in our reviews. We have done a few. We feel we have left out some of the best 10 inch car subwoofers and brands, and well, we would like to redeem that.
10-inch car subwoofers are another very common size especially in compact vehicles.  They're usually fairly easy to install given that they can be placed in their enclosure with minor modifications (if anything at all), or in some other places (underneath a seat for example) without taking too much cargo or passenger space.
Thanks to their compact size and simple installation process, 10 inch subs can be used in a wide variety of applications and vehicles with a tight-space dilemma.
These subwoofers offer a decent bass response and clarity.  They also deliver a bit more extra bass when compared to 8-inch subwoofers.  These subs are best suited to drivers who mostly listen to a lot of rock, country and non-heavy bass tunes.
The most important thing about the following car subwoofers that we are going to review is that you must power them with a powerful amplifier in order to take full advantage of them.
>>Click here to see prices, specs and reviews of the top rated 10 Inch Subwoofers<<
Disclaimer on Our Best 10 inch Subwoofers
This is not by any means a list of all the greatest 10 inch subwoofers available out there.  There are hundreds of amazing, high quality 10″  subwoofers on the market.  Simply too many to possibly cover in a fairly short article.  However, we did want to give you a few good options from well-known brands to start with.
These subs represent different price points, performance, and specifications.  Our goal here is to find you something that meets your needs and works for your application.  If you feel we missed a sub you love, feel free to let us know in the comments below.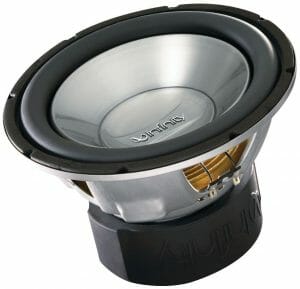 We're going to ask you to trust us on this one.  A lot of reviews out there say to not go cheap on your sub. However, we think this one is very reasonably priced.
Infinity makes a great, well-rounded collection of audio equipment, including subwoofers, speakers , and amplifiers.  Infinity is an American  company that has been specializing in all sorts of audio equipment since 1968.
They have mastered the art of providing high quality products that are built to last.
The Infinity Reference 1062w is no exception.  It is a solid sub for a great price.  It features a high-gloss polypropylene cone that's accurate and hard-hitting.  Infinity also used a large roll foam surround for precise linear movement of the cone and for optimum performance and durability.
Additionally, its dual 4-ohm voice coils give you a lot more flexibility in terms of wiring, and it will make your sound system easy to expand if you decide to go that way down the road.
The Alpine SWR-10D4 is one of the most expensive 10″ subwoofer out there, and the most expensive that we are going to review.  However, when you pick one of these up, you'll know where the extra money went.
With Alpine's type-R subwoofers you'll hear and feel satisfying bass.  The sub linked to above can handle an astounding 1000 watts of RMS power (500 watts per coil), which is actually enormous.
Furthermore, its dual oversized 4-ohm voice coils give you the wiring flexibility you'll need to build a dynamic sound system that can be easily extended by additional components (subs, amps, headunits…).  This subwoofer works well in both sealed and ported enclosures, so you can choose whatever works best for your application.
P.S : Make sure you choose a powerful amplifier as this big-bass monster requires lots of power.
We have done a few reviews on Pioneer products before; mostly their speakers and head units because that's what we think they do best.  They have high-quality products for more than a reasonable price, and this subwoofer is no exception.  It's a great sub for people on a tight budget.
Pioneer is one of the most well-recognized brands in this industry, given the fact that they provide high quality products that meet customer's demand efficiently.
The most impressive part of this component subwoofer is its 1200-watt dynamic peak power rating.  While it's not recommended to push it to this level, you'll be impressed with the immense power it's capable of handling.  It truly offers extremely low frequency reproduction, one of the lowest we reviewed, in fact.
This is truly a subwoofer devoted to bass.  It does effectively dip into the subsonic frequencies that some other car subwoofers can't reach.  Although this sub's power handling is above average, we found that it tends to distort relatively quickly as the power supplied to the sub increases, which is slightly disappointing.
I figured we would include this monster of a sub in our lineup of the best 10 inch subwoofers.  This MTX enclosure machine is literally huge and robust, meaning many drivers and audio enthusiasts use this unit and swear by it!
After all, if you're seeking big bass and you have enough space inside your vehicle to accommodate this enclosure, you can't just simply skip on this.
The elephant in the room is obviously its massive size.  However, they make up for it by making it more compact and fully self-contained package and a sleek black.
MTX Magnum MB210SP is a complete amplified bass package that bundles 2 x 10 subwoofer enclosure and 800 Watt mono block amplifier.  And that's what we like most about this enclosure.  It's a simple and easy way to add bass to any vehicle system.